FTC Disclosure: Delicious Obsessions may receive comissions from purchases made through links in this article. As an Amazon Associate I earn from qualifying purchases.Read our full terms and conditions here.

Okra lovers, unite! My Mama's Bhindi Okra will soon become a new favorite in your weekly menu rotation. Even if you're a non-okra lover, give this easy recipe a try. The rich Indian spices and coconut oil create a flavorful dish that even the pickiest of eaters might enjoy.
I have a confession. I pretty much HATE okra. I think it's gross. Slimy. Icky. I've always hated it, even since I was a little kid. I remember my mom occasionally cooking okra when I was a child and it was SO GROSS!
Except when it comes to my Mama's Bhindi Okra recipe. Something about this recipe has turned me into an occasional okra lover (I'm not full time in the okra love department yet). And I have my mom to thank for that. 🙂 Hence the reason this recipe is named Mama's Bhindi Okra.
A year or so ago, I went to my folk's house for weekend lunch and my mom (who is a fantastic cook) had made a pan of this Bhindi Okra. I initially planned on skipping this dish, but as she made it and the fragrant spices filled the house, I thought I might be brave and give it a try.
I was fully prepared not to like it.
But you know what? It wasn't bad. So I ate a little more. And then I realized it was actually pretty good!
I am a huge fan of curries and Indian flavors in general so it really isn't surprising that I liked this Bhindi Okra dish too. It just took me getting past my childhood memories of "ick!" to give it another go as an adult.
A Little Okra History
Y'all know how I enjoy me some food history. Well, I actually learned some really interesting things when I was researching the origins of this weird plant. Okra is big in the South and my family is all Southern. But, it's also used regularly in cuisines around the world.
First of all, I had no idea that okra is a member of the mallow family. Which totally make sense now seeing that okra is known for its mucilaginous juice that makes it a bit sticky and "boogery", especially when it's boiled or steamed. (source)
The mallow family includes other plants like hollyhock, hibiscus, cotton. Okra is actually the edible fruit of a specific variety of hibiscus. I am a HUGE hibiscus fan. How did I not know this?! (source)
Interestingly enough, the true origin of okra is a bit contested. Some folks say it originated in West Africa, while others say it hails from South Asia. As close as scientists can tell, it likely originated in Ethiopia and then made its way into the rest of the world from there. (source)
The ancient Egyptians cultivated it and even used its seeds as a coffee substitute (I guess it still is used like this in some parts). Today you will find okra as part of the cuisine in the Middle East, Africa, Turkey, India, Greece, the Caribbean, the Southern U.S., and South America (and our little houses here in Colorado!). (source)
Mama's Bhindi Okra Notes
For this Bhindi Okra recipe, you can use fresh or frozen okra. Either one will work. I always use frozen since it's rare that I see fresh okra around here. And it's easy to keep a couple of bags of frozen okra in the freezer for those nights when I need a super fast side dish.
If you use frozen okra, make sure you saute the okra first and get it browned before adding the onion and spices. Cooking the frozen okra first helps it not turn as slimy because you cook off a lot of the water that has built up in the freezer.
Speaking of sauteing, make sure you use plenty of coconut oil (or oil of your choice) in this Bhindi Okra recipe. Don't be afraid to use LOTS of oil. You'll be surprised how quickly the oil gets soaked into this recipe. I always use more than I think I'll need, only to need to add a bit more to the pan later on. The oil also helps the okra get a little crispy instead of mushy. My recommendation is to use coconut oil. The flavor pairs perfectly with the spices in this dish.
When it comes to the spices, feel free to experiment with what suits your own taste buds. My mom developed this Bhindi Okra recipe over time by adjusting a little here and a little there. She finally got the proportions just the way she wanted and now this is our classic go-to recipe for okra. But if you like more of one spice, feel free to adjust. Remember what I've said in the past about recipes being more like guidelines? Nothing here is set in stone. 🙂
Mama's Bhindi Okra :: Gluten-Free, Grain-Free, Dairy-Free
Ingredients
3+ tablespoons coconut oil
1 pound sliced fresh okra OR 10 oz pkg frozen okra (please see note below!)
1 medium onion, chopped
2-3 cloves garlic
1/2 teaspoon ground cumin
1/2 tsp turmeric
1/2 teaspoon ground ginger
1/2 teaspoon ground coriander
1/4 teaspoon ground black pepper
1/4 tsp sea salt (more or less to taste)
Instructions
IMPORTANT NOTE: If you are using frozen okra, you will cook that FIRST to get it to brown a bit before adding the onion and garlic. If you are using fresh okra, you will saute the onion and garlic first and then add the okra after those are browned.
DIRECTIONS FOR FRESH OKRA
Slice your okra and set aside.
Dice your onion and garlic.
Melt oil in a large skillet over medium heat.
Add the onion and cook until tender.
Add garlic and cook until fragrant (1-2 minutes).
Stir in the sliced okra.
Add the spices and salt and stir well to combine.
Cook uncovered for a few minutes and then reduce the heat to medium-low. Cover the pan.
Cook for 15-20 minutes, stirring occasionally until okra is fork tender.
Remove from heat and serve.
DIRECTIONS FOR FROZEN OKRA
Melt oil in a large skillet over medium heat.
Add the frozen okra to the pan. Be careful not to splatter yourself with hot oil!
Let that cook for 8-10 minutes, stirring occasionally.
While that's cooking, dice your onion and garlic.
Once the okra has started to brown, add your onion and garlic and stir to combine.
Sprinkle the spices and salt and stir to combine.
Cook uncovered for a few minutes and then cover, reduce heat to medium-low and cook for another 8-10 minutes or until tender.
Remove from heat and serve.
This Bhindi Okra Helps You Eat the Rainbow! (+ Special Coupon Code)
As you guys know, I am a huge fan of all things veggies. If there was just one single thing that I could tell people to do to improve their health, it would be to eat more vegetables. An increased intake of veggies helps boost your nutrition and your health in ways that you simply cannot achieve elsewhere. Science continues to explore and show how the antioxidants and phytonutrients in fruits and veggies can "talk" directly to our genes and help alter genetic expression. It's truly fascinating and I want to help you improve your health and your life with Nature's miracle "drug."
That's why I love sharing recipes like this (and all the other veggie recipes on this site) and also why I created my popular Eat the Rainbow eCourse. Most people know that vegetables are heath-packed powerhouses, but they simply do not feel they have the knowledge, time, or the ability to add more to their diet. I want to help change that and make eating vegetables easier and a heck of a lot more fun!
In the Eat the Rainbow eCourse, I show you how to do exactly that (and a ton more). This 30-day eCourse arms you with the skills and creativity you need to make vegetables a centerpiece in your diet — all in bite-sized nuggets that won't overwhelm or frustrate you. In order to really get the full spectrum of phytonutrients and antioxidants that vegetables provide, you need to eat a wide variety of types and colors (i.e. the rainbow), but so many people find themselves eating the same four or five veggies over and over and over again.
For a limited time, I am running a special on my Eat the Rainbow eCourse where you can enroll for 50% off. That means you can get a full 30 days of content + a bonus cookbook for only $10. This is a steal for one of the most important investments you can make for your health (eating more veggies).
Enroll in the Eat the Rainbow eCourse here (or click the image below) and enter coupon code VEGGIE at checkout to save 50%.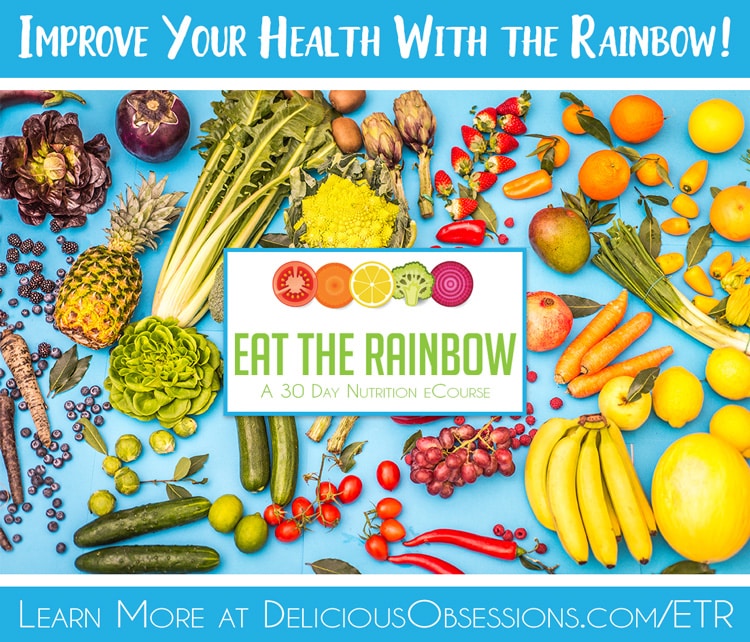 I can't wait to see you in the course and hear how your health improves once you start eating the rainbow! Now, on t

Delicious Obsessions is a participant in the Amazon Services LLC Associates Program, an affiliate advertising program designed to provide a means for us to earn fees by linking to Amazon.com and affiliated sites.Read our full terms and conditions here.