FTC Disclosure: Delicious Obsessions may receive comissions from purchases made through links in this article. Read our full terms and conditions here.

Hello, friends! Jessica here today! Welcome back to another edition of our Junk Food Made Real series! I am having SO MUCH FUN writing this series for you and I hope you are enjoying the great recipes we are sharing. If you have missed past editions of the series, you can always find all of them here.
Today, we are talking about one of the most popular cookies out there — Thin Mints®.
Ahhhh, Thin Mints®…who doesn't love them? I know I do. I have eaten many Thin Mints® in my day, though I can honestly say that I have not had one in over 5 years. When I started cleaning up my diet and paying attention to ingredient labels, I just couldn't bring myself to eat them anymore.
That's why I am SUPER excited about this awesome new recipe that my 20 Dishes co-founder, Orleatha, came up with for us! As soon as I get done writing this blog post, I am making me a batch of these! 🙂
Click here to read the full blog post, ingredient breakdown, and snag a recipe for a delicious HEALTHY homemade version of this popular junk food!
Learn How to Make Perfect Ice Cream (and Other Frozen Treats) at Home
Ice cream is the quintessential dessert (and, ahem, it would probably go pretty darn great with this recipe!). I mean, I can't think of a single person that I've ever met who doesn't like ice cream. While not everyone is as passionate about the cold, creamy, sweet concoction as I am, I am betting that if you're reading this, you probably enjoy a frozen treat of some sort every now and then.
If so, then I have the PERFECT resource for you today.
I am crazy for ice cream, but I find that there are very few commercial ice creams that I can eat. I can't do dairy, so that scratches a good 75% of them off the list. And the non-dairy options either taste funny, have too much sugar, or have weird gums and additives that my poor gut just doesn't tolerate.
So, what's a gal to do?
Master the art of making her own ice cream at home, that's what!
And create I did and The Splendid Scoop and Other Frozen Treats eBook was born! This is one of my best-selling eBooks because I arm you with everything you need to make your own perfect ice cream (or other frozen treats) at home any time you want. 
And I do it all with real food ingredients, no refined sweeteners, not gums, not stabilizers. No junk here.
Oh, and I also have made the recipes allergen-friendly and even adaptable for stricter healing diets (like the AIP).
So, if you are ready to master the art of making your own ice cream at home, this is the perfect book for you. Don't let another special occasion or hot day in the summer pass you by watching everyone else enjoying cold treats while you sit on the sideline due to your dietary restrictions.
No more!
If you are ready to learn more about The Splendid Scoop and Other Frozen Treats and see how you can download your own copy today, click here (or just click on the image below!).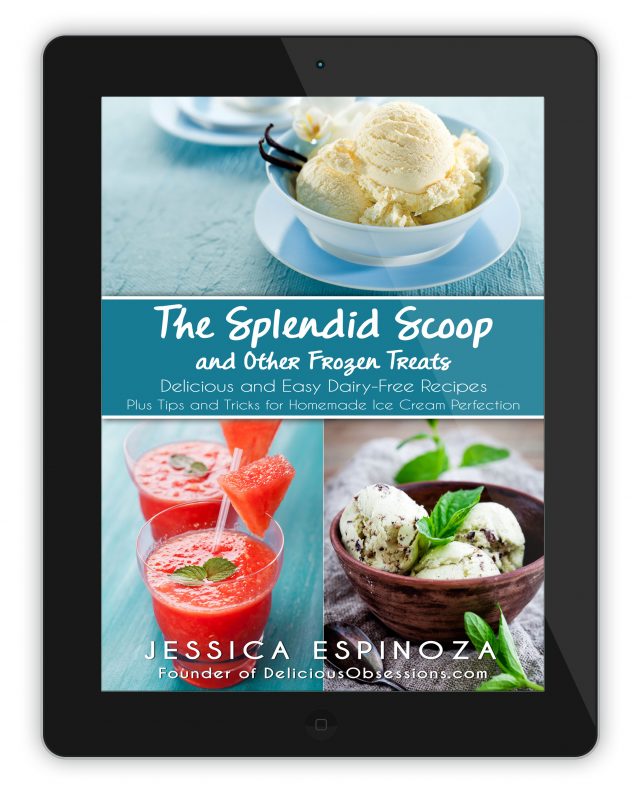 Delicious Obsessions is a participant in the Amazon Services LLC Associates Program, an affiliate advertising program designed to provide a means for us to earn fees by linking to Amazon.com and affiliated sites.Read our full terms and conditions here.