FTC Disclosure: Delicious Obsessions may receive comissions from purchases made through links in this article. As an Amazon Associate I earn from qualifying purchases.Read our full terms and conditions here.

As many of you know, I love soup (any kind of soup) but French onion soup is one of my all-time favorites. It must be the richness of the broth and the chewy cheese. YUM!
Onions are also very good for you. They are full of antioxidants, in addition to having anti-allergy, antihistamine, and antiviral properties.
To obtain the most nutritional value from your onions, you should eat them raw or lightly steamed, but I can't imagine that a big bowl of onion soup doesn't have some of the good stuff left!
French Onion Soup
Onions are also very good for you. They are full of antioxidants, in addition to having anti-allergy, antihistamine, and antiviral properties. This soup is a great way to get in more onions.
Ingredients
1/2 cup unsalted butter
4 large sweet onions, sliced
3 cloves garlic, minced
3 Bay leaves
2 sprigs of fresh lemon thyme (approx. 1 teaspoon)
3 tablespoons gluten-free flour (your choice, it just needs to soak up the butter)
1 cup of red wine
3 quarts of beef broth
1 cup fresh chopped parsley (optional, but I think it enhances the flavor)
Sea salt, to taste
Fresh ground black pepper, to taste
Instructions
In a large soup pot combine the butter and onions.
Turn the heat on medium-low and cover with a lid. You want the onions to start sweating and caramelizing (turning a nice golden brown).
Stir the onions occasionally to keep them from burning. This usually takes about 15-20 minutes.
Once the onions have caramelized, add the garlic, bay leaves, thyme, sprinkle of sea salt, and black pepper.
Stir ingredients together and let it cook for about 5 minutes or so.
Add flour. The flour will absorb the oil and help thicken the soup. Let this mixture cook for about 5 more minutes. This gives the flour some time to cook and lose that "raw" flavor.
Now, add the red wine and stir all together.
Simmer for about 10 minutes to cook the alcohol out. You'll need to stir it during this process to help break up the globs of flour that may form. The flour will disburse as the soup simmers. Now, you can add the broth.
Cover, reduce heat to low, and let the soup simmer for about 45 minutes – make sure to taste for salt and adjust to suit your preference. You'll also want to remove the bay leaves and the thyme springs.
I love to serve this soup in a big bowl with a slice of toasted bread and melted cheese, but it tastes wonderful on its own as well.
Recommended Products
As an Amazon Associate and member of other affiliate programs, I may earn a small commission from qualifying purchases.
P.S. Did you know that soups and stews are an EXCELLENT source of gelatin if you use homemade stock? Sometimes, I even add a tablespoon or so of gelatin into my bowl of soup for added nutrition. If you want to learn more about gelatin and its benefits for our health, I highly recommend this book, The Gelatin Secret: The Surprising Superfood That Transforms Your Health and Beauty, from my affiliate partner, Sylvie McCracken. This book is packed with incredible information on how gelatin helps all aspects of our health and also features delicious recipes!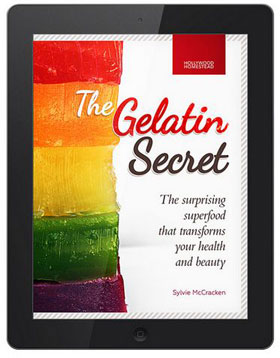 Delicious Obsessions is a participant in the Amazon Services LLC Associates Program, an affiliate advertising program designed to provide a means for us to earn fees by linking to Amazon.com and affiliated sites.Read our full terms and conditions here.