FTC Disclosure: Delicious Obsessions may receive comissions from purchases made through links in this article. As an Amazon Associate I earn from qualifying purchases.Read our full terms and conditions here.

I seriously love soup. I eat it almost year round, even in the summer. I always make soup by the gallon (sometimes 2-3 gallons at a time) and then I carefully portion it up into meal-sized servings and freeze. That way lunches, dinners, and even breakfasts are a no brainer. Yes, you can eat soup for breakfast.
One of the reasons I love soup so much is because they are a fantastic way to eat more vegetables. You can cram a lot of nutrient-dense ingredients into a soup pot, yielding a power-packed meal that is full of healthy veggies, fiber, fat, protein, minerals, and vitamins.
This turkey, vegetable, and rice soup is no different! You can use almost any vegetable in a pot of soup and it is a great lunch or dinner when paired with a grilled cheese sandwich or a piece of crusty bread.
I am always asked about my favorite ingredients and what I use in my own kitchen. I have linked to the products from my affiliate partners that I personally use and recommend. And now, here are the special coupon offers that select affiliate partners are currently offering:
Thrive Market: If you sign up through this link, you will get 15% OFF your first order.
Amazon, of course, has everything you need for this recipe. Their prices are often very good, though I love to shop around and sometimes find that Thrive Market has better deals. If you like saving money, it's good to shop around! 🙂
I get all of my herbs and spices from Mountain Rose Herbs. I have tried so many other brands and have never found the quality, flavor, and aroma to be as good as the herbs I get from Mountain Rose.
Turkey Vegetable Rice Soup
Soup is so versatile, so use your favorite vegetables and try different seasonings and spices. This soup is good any time of year and a great way to get more veggies into your diet.
Ingredients
1 Vidalia onion
1 red bell pepper, chopped into bite-size chunks
1 yellow bell pepper, chopped into bite-size chunks
4 whole carrots, chopped into bite-size chunks
2 stalks of celery, chopped into bite-size chunks
1 pound of turkey (or chicken)
3 quarts low-sodium chicken broth
1 1/2 cups chopped stewed tomatoes
1 cup wild rice or brown/white rice
2 cloves minced garlic
2 bay leaves
1/2 teaspoon lemon thyme
1 teaspoon all-purpose seasoning
1/2 teaspoon sea salt
1/4 cup fresh parsley
3 cups fresh spinach, washed well and roughly chopped
Instructions
Sauté the onion, pepper, celery carrots, and garlic together over medium heat in a large soup pot for about 10 minutes, stirring often.
Add the spices and stir together.
Add the turkey breast, chicken broth, and tomatoes. Bring to a boil and add the rice.
Reduce heat to medium-low and cover.
Cook for 30-45 minutes and check the rice for tenderness. You want the rice to be slightly firm, but not chewy or hard.
Check the broth for salt and add a sprinkle more if needed.
Add the fresh spinach and parsley and stir in. The spinach will cook almost immediately.
Remove from heat and serve.
Notes
This soup freezes very well. It will stay good in the freezer for several months. It also makes a great lunch or quick dinner, so it's great to make a big batch in preparation for a busy week. It's a good way to get more vegetables in your diet without having to always eat a salad.
Recommended Products
As an Amazon Associate and member of other affiliate programs, I may earn a small commission from qualifying purchases.
P.S. Did you know that soups and stews are an EXCELLENT source of gelatin if you use homemade stock? Sometimes, I even add a tablespoon or so of gelatin into my bowl of soup for added nutrition. If you want to learn more about gelatin and its benefits for our health, I highly recommend this book, The Gelatin Secret: The Surprising Superfood That Transforms Your Health and Beauty, from my affiliate partner, Sylvie McCracken. This book is packed with incredible information on how gelatin helps all aspects of our health and also features delicious recipes!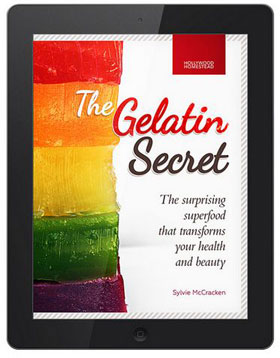 Delicious Obsessions is a participant in the Amazon Services LLC Associates Program, an affiliate advertising program designed to provide a means for us to earn fees by linking to Amazon.com and affiliated sites.Read our full terms and conditions here.