This post may contain affiliate links. It does not cost you anything and helps maintain the free information on this site, as well as answer the questions of "what brand do you use?" Please know I never personally recommend any product or service I wouldn't use on my own family.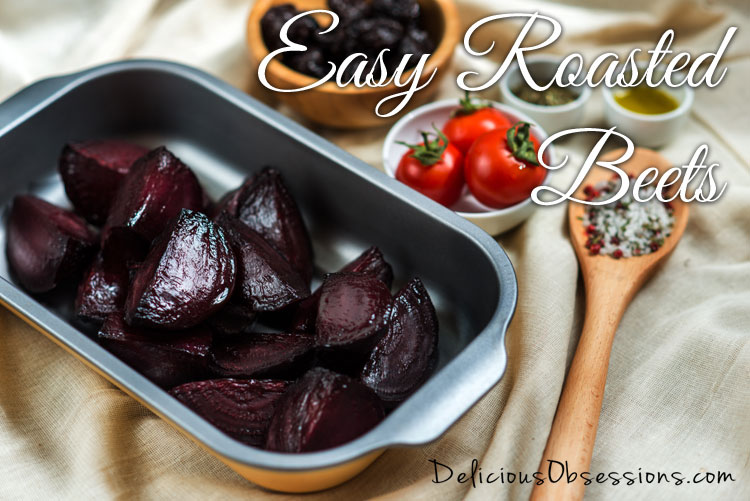 Beets are one of my ALL time favorite veggies. I'm sure my family finds this very amusing that I say this now, because up until about two years ago, I couldn't stand beets. I have no idea what changed, but now I am a huge fan and I eat them every time I can!
One of the things I always say is that we should eat for color. Try to eat a wide range of colors in our fruits and veggies. And, you can't get more vibrant than beets! I will be discussing beets in my July newsletter, which will come out soon.
For now, you can find beets all over the place, from your local farmers market to your grocery store. They are in season right now and you can find both the vibrant red and the golden yellow beets. Both are delicious raw or cooked.
Easy Roasted Beets
This process will work for all beets, not matter the variety. Do keep in mind that if you roast pale colored beets with the dark red beets, the pale beets will absorb some of the red color. If you want to keep the colors pure, then roast them separately.
To roast your beets, simple wash the beets (you can use a soft vegetable brush on the skin if needed) and trim the tops 1-2 inches above the root.
Place in a glass baking dish, sprinkle with coconut oil, and a dash of salt, and roast at 350 for 20-60 minutes.
Once they are roasted, place in cold water to cool slightly and then gently peel the skins off. They should slip off easily.
I love roasted beets with butter and lemon juice. I will often make a big batch and eat them for several days. It's always best to eat in season, so go get some beets and enjoy!
Delicious Beet Recipes
Paid Endorsement Disclosure: Delicious Obsessions is a participant in the Amazon Services LLC Associates Program, an affiliate advertising program designed to provide a means for sites to earn advertising fees by advertising and linking to AMAZON.COM. This post may contain affiliate links and/or ads. We only recommend products or services that we have personally tried and love. When you make a purchase through any of these links, we earn a small commission on each sale, which allows us to cover a portion of the cost of this site. This has no effect on your sale price and is simply a cost of doing business for the company you are purchasing from. All funds received help with the continued maintenance of this website and free content. You can view it like leaving a tip. Thank you! Read our full terms and conditions here.

Jessica is a real food wellness educator and the founder of the Delicious Obsessions website. She has had a life-long passion for food and being in the kitchen is where she is the happiest. She began helping her mother cook and bake around the age of three and she's been in the kitchen ever since, including working in a restaurant in her hometown for almost a decade, where she worked every position before finally becoming the lead chef. Jessica started Delicious Obsessions in 2010 as a way to help share her love for food and cooking. Since then, it has grown into a trusted online resource with a vibrant community of people learning to live healthy, happy lives through real food and natural living.