FTC Disclosure: Delicious Obsessions may receive comissions from purchases made through links in this article. As an Amazon Associate I earn from qualifying purchases.Read our full terms and conditions here.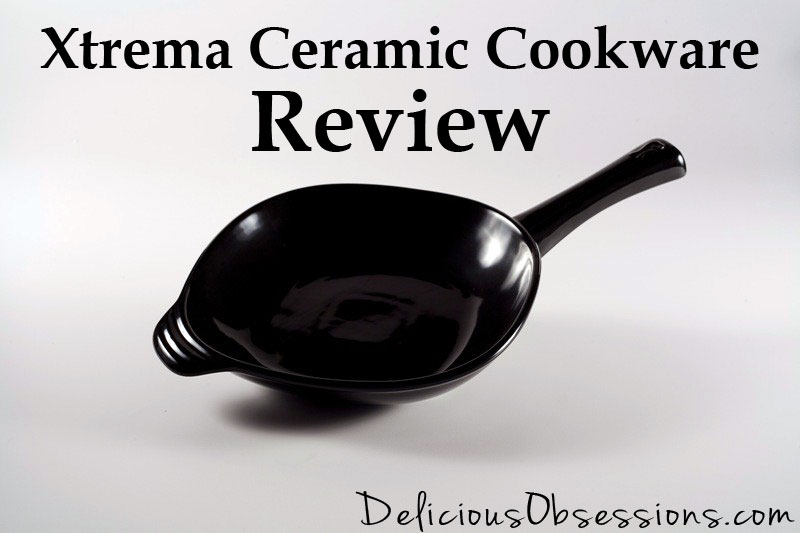 I am super excited to bring you this review today! You may remember late last year when I partnered with a few other bloggers to run a giveaway for a set of the Xtrema Ceramic Cookware? That giveaway was a HUGE hit and I received a lot of emails and comments from readers who were excited to have found this brand.
Typically, I only review and give away items that I have personally tested out, so it was out of the ordinary for me to partner on a giveaway for items that I had not personally tried. But, after researching the company and the products, I knew that it was a perfect fit for my readers AND I planned on trying out the products myself ASAP. I was totally sold on them, even before I tried them.
All of my cookware is hand-me-downs. I only use stainless steel, glass, and cast iron cookware in my kitchen. That said, I know that my stainless steel cookware is not the highest quality and I do worry about other metals leaching out into my food. But, outfitting a kitchen with brand new cookwares is EXPENSIVE, and, despite all my research, I had yet to find a brand that I was 100% sold on. There are some really high-quality stainless steel cookware brands that I researched, but I still had lingering concerns about other other metals used in the pan or they were too cost prohibitive for me to buy right now.
Needless to say, I could not make a decision so I just stuck with what I had.
Enter Xtrema Ceramic Cookware.
I now know what I am going to use to replace my current cookware and it's this brand, hands down.
After the success of the giveaway in December, the nice folks at Xtrema sent me one of their 9.5″ Ceramic Omelet Skillets to test out in my home. While I don't eat eggs (my husband does though), they assured me that this pan was great for just about anything you'd use a skillet for and it has quickly become my favorite frying pan. I use it every single morning to heat up my breakfast. I was under no obligation to post a review or giveaway, nor was I compensated for this review (other than the free skillet). All views are my own.
Make sure you read all the way to the bottom to learn how you can win one of these pans for your own home! 🙂
What Makes Xtrema Different?
There are so many toxins that can be lurking in our cookware, from heavy metals to non-stick coatings and more. If you're trying to heal your body, like I am, it's even more important to pay attention to things like this. My cheap-o cookware is something that is on my mind regularly.
I've used ceramic cookware in the past and honestly, I've never really liked it. So, I was a little skeptical of how much I'd like the new pan when I received it. But, after using this pan over the last few weeks, I am in love. Here are the things that make Xtrema different:
Safe and Non-Toxic: Lead and Cadmium and Heavy Toxic Metal Free:  PFOA & PTFE free with no unsafe non-stick coatings. No trace metals or chemicals leach from the 100% solid lead-free ceramic cooking surface.
Durable and Long-Lasting: The all-natural 100% ceramic cookware has a 50 year warranty against scratching and is a non-toxic solid ceramic cookware both inside and out (no metal used). The ceramic cooking surface can never be scratched, unlike ceramic coated metal cookware which can easily scratch and become damaged, especially when overheated.
Versatile: Oven, stove top, broiler, toaster oven, steamer oven, convection oven, freezer, barbecue grill, microwave oven, and dishwasher safe.
Energy Friendly

: Reduces cooking time and uses less energy, plus foods stay hotter longer.
Now, one thing that I was a little concerned about is that fact that their products are made in China. I typically try to avoid buying anything from China, whether it be food or household products. That said, Xtrema is very open about this and shares their reasoning for manufacturing their products in China on their site:
We are an American company and unfortunately there are presently no ceramic's factories in the United States that are able to make our very unique and versatile extreme high temperature Xtrema ceramic products. For that reason we believe that to provide you with the very best in product quality we decided to make our Xtrema products where the finest ceramics in the world are made: mainland China. Every individual piece of Xtrema cookware is handcrafted and it takes each and every individual piece 22 days to make and complete. It takes artisans years to develop the skill and technique required to make our very high quality Xtrema products.
The benefits that Xtrema notes about using Chinese artisans to produce their products are:
Chinese artisans have been manufacturing ceramics for over 5,000 years.
China is the #1 ceramic manufacturing country in the entire world.
China has an abundance of highly trained and skilled ceramic artisans.
Ceramic companies in China have built new facilities and have installed state of the art machinery together with the latest environmental control equipment.
The raw materials needed to make innovative ceramic products are all readily available in China.
For these reasons, I feel fine with my decision to use and purchase their products.
My Experience with the Xtrema Frying Pan
I love this frying pan. I use it every single day to cook my breakfast and often use it to heat up lunch or dinner. It did take a little getting used to, but now it's my favorite piece of cookware. Here are some notes on my experience:
1. When I first started using it, I had to get used to adjusting the temperature. This frying pan is an excellent heat conductor. It heats up quickly and thoroughly. My breakfast usually consists of some sort of meat and lots of veggies. When cooking breakfast, I keep my burner on the lowest setting and everything cooks great! With my other pans, I have to cook over medium heat.
2. You have to use some oil in the pan, but you need a lot less than you do with other pans. Where I may typically use a tablespoon of coconut oil to cook in another pan, in the Xtrema pan, I only use a teaspoon or less. A little goes a long way.
3. It is a square shape, which means finding a lid is tricky. But, my full size dinner plates work well, so that is what I have been using. Perhaps one day, Xtrema will offer a square lid for this style pan.
4. It is not 100% non-stick. This typically happened when I would heat the pan up too hot and something would burn and stick a little. I found that if I let some warm water sit in the pan for 5-10 minutes before washing, things loosened up just fine and I was able to wipe it right out with a sponge or scrub brush.
5. It seems to behold true to the non-scratch claim. I even tested out using a steel wool pad on it and not a scratch to be seen. That said, I don't do that normally and I also only try to use wooden or silicone cooking utensils.
6. Eggs were a little tricky in this pan to start. The first few times we tried it, the eggs stuck horribly, even with plenty of oil. Turns out that we had the heat on the pan too high. Here's a helpful video from them on how to use the pan. I don't use non-stick sprays, so we just used a little coconut oil to grease the pan.
All in all, I really love this pan, and as soon as the budget allows, I am going to start replacing all of my current cookware with more pieces from Xtrema. They have everything I would need, from skillets to baking dishes to sauce pots. When you compare their prices with the prices of other brands, their stuff is quite reasonable, especially for the quality AND the peace of mind knowing that you're not leeching anything harmful into your food.
Want To Try Xtrema For Yourself?
I hope your interest is piqued! The great folks over at Xtrema are giving away one of the 9.5″ 100% Ceramic Omelet Skillets, just like the one they sent me to review. Click this link, or the image below to visit the giveaway page for full details!

Delicious Obsessions is a participant in the Amazon Services LLC Associates Program, an affiliate advertising program designed to provide a means for us to earn fees by linking to Amazon.com and affiliated sites.Read our full terms and conditions here.