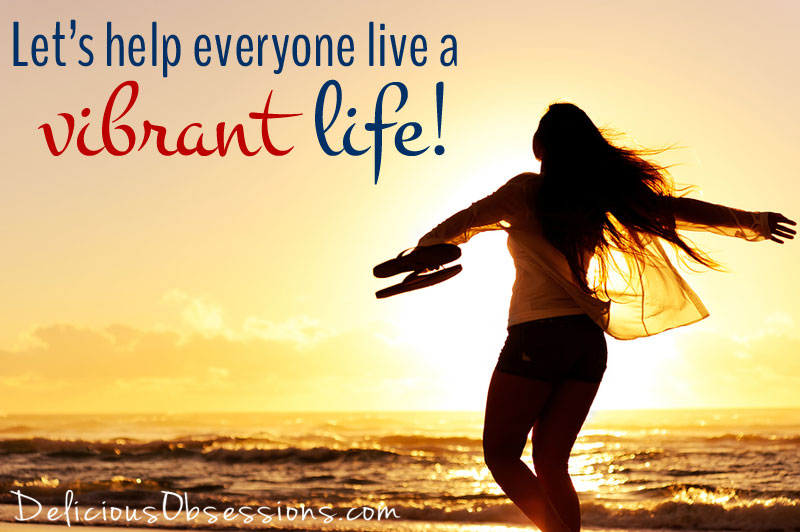 The mission of Delicious Obsessions has always been to spread the word of real food and natural living and help change the face of our world by helping families discover food that helps them thrive. Well, this mission is far too big for just me, which is why I am excited to partner up with real food and health and wellness experts who can share their knowledge with you! Interested in becoming a contributor for Delicious Obsessions? Submit the form here for consideration.
Lori Roop, Clinical Herbalist and Nutritionist
Hi!  I'm Lori and I am really passionate about using herbs and healthy eating to create a strong vital force in each and every one of us. The Chinese call it chi and the Hindus call it prana, but a strong vital force is key to our vitality and our body's superb and innate ability to heal itself.
I attended a 3-year certified clinical herbalist program in Boulder, CO, and after finishing school, I proceeded to see clients for a while.  I eventually transitioned to creating an herbal, all natural body product business called l.c. of acirema.
Everything changed in 2010. While training for a marathon, severe and unexplained fatigue and many other symptoms struck and my health has significantly declined ever since. Just recently, after seeing over 30 practitioners and trying on about every diagnosis from adrenal fatigue, to insulin resistant, to chronic fatigue, I was finally diagnosed with Lyme, and apparently chronic versus acute. It's a nasty, debilitating disease, with mine being predominantly Neuroborreliosis.  I'm using herbs, GAPS-ish diet, frequency healing, and a few other alternative methods, and I have to say that I am more excited than ever to share how powerful herbs and real food can be.
You can find me on my website, Facebook, and Pinterest.

Marjorie Saveski, Author of This is So Good
Marjorie is a blogger and a home cook with a passion for real food, health, and fitness. She is a graduate of Wayne State University and works as an Orthopedic Physical Therapist.
Marjorie currently resides in Southeast Michigan with her husband, Alex. Her hobbies include skiing, crafting, and playing around in the kitchen and she hopes to share what she has learned through her real life experience and research with her readers.
You can find Marjorie sharing delicious recipes and health information on her site, This is So Good, or connect with her on Facebook and Pinterest.
Emily Sunwell-Vidaurri, Author of Recipes to Nourish
Emily Sunwell-Vidaurri is a water kefir and chocolate loving, holistic-minded wife and homebirth mom of two little loves. She's the founder and voice behind 
Recipes to Nourish, a gluten free blog focusing on Real Food and Holistic Health. She's a real foodie, passionate about nourishing home cooking, lover of seasonal food, advocate of "green" living and daydreams about being a homesteader by the sea. Her passion and mission is to make healthy and natural living as uncomplicated and enjoyable as possible. Find Emily's latest recipes and natural living tips at 
Recipes to Nourish. Connect with her on 
Facebook,
Instagram,
Pinterest,
Twitter, plus grab her free eBook, 
Holistic Tips to Keep Your Family Healthy.
Aimée Suen, Author of Small Eats
Aimée Suen is a healthy food blogger at small eats. After gaining weight in college, Aimée started cooking, eating more fruits and vegetables, exercising and learning more about food. She discovered that healthy eating doesn't need to be bland, boring, or restrictive and she started blogging to share that. Aimee is passionate about sharing recipes, nutrition, and knowledge that can inspire and empower people to live happy, healthy lives. When she's not in the kitchen, she's studying to become a Nutritional Therapist Practitioner, practicing yoga, or reading. You can find Aimée on Instagram, Twitter, and Pinterest.
Kelsey Rae Steffen, Author of Full of Days
Kelsey Steffen – I am a wife, a mother and forever a learner. My husband and I desire to live a life "Full of Days." This means finding "fullness" in the everyday grind, which encompasses every area of life: parenting, home-schooling, health and wellness, time management, cooking, and cleaning. I spend my days homeschooling our three older kiddos (and wrangling our rowdy two-year-old), preparing food the traditional way, unabashedly doting over my handsome hubby, and refining it all while sharing with you. Get to know us "behind the scenes" as we share our attempts at living a life Full of Days on Instagram, and come join the discussion on Facebook, Pinterest and Twitter. You can also find tons of educational and fun content on our blog.
Carol Green, NTP, Author of Taste of Healing
Hailing from South Africa, Carol Green is a Nutritional Therapy Practitioner and well-travelled professional chef, having spent many years on board luxury yachts catering to an elite, high-end clientele. Visiting exotic locales she was exposed to many global cuisines and experienced firsthand popular diet trends as demanded by the clientele, all of which fueled her interest in nutrition.
During this time, Carol began experiencing challenges with her own health and began the journey of researching food as medicine. She furthered her studies and became a certified Nutritional Therapy Practitioner, and specializes in healing foods.
Carol believes that most health problems can be avoided, diminished, or eliminated through a nutrient-rich program. She has seen vast improvements in her own health and that of her clients, assisting and empowering individuals to achieve optimal wellness through addressing the key 'pillars' of nourishment, movement, motivation rejuvenation. Her passion is in empowering others to embrace creating healing foods as an important part of a holistic lifestyle.
She resides in Fort Mill, SC, and is a single Mom to a bright second grader. Understanding the demands on moms to put healthy food on the table and persuade the kids to eat it, she is passionate about bringing the message of health and healing to readers in relate-able form, with informative articles and enticing recipes.
You can connect with Carol on her website, Facebook, Twitter, Pinterest and YouTube.
Carol Little, R.H., Author of Studio Botanica
Carol is a traditional western herbalist and certified Bach Flower counselor. She is passionate about herbs, herbal medicine, and herb-infused living. She writes 'easy to digest' posts, weekly, on her blog, Studio Botanica. Quick takeaway ideas to help you on the path to feeling your best.
Carol lives in Toronto, Canada, where she has a private practice working primarily with busy women ~ stay-at-home moms, entrepreneurs, and executives. She is devoted to her clients who are both local and 'far afield' via Skype. Carol believes that we can enhance our health with small choices made daily and loves to inspire herbalicious living and self-reliance. The green world is full of helpful options and is always best when combined with real food, emotional healing and an active holistic lifestyle.
She is a past board member and current professional member of the Ontario Herbalists Association and an active member of the International Herb Association, where she writes a regional report for the quarterly newsletter as well as a chapter each year in the "Herb of the Year" publication. She is a contributing author for the very informative online "Natural Herbal Living Magazine." Carol has written herbal articles and a restaurant review column for many years for Vitality Magazine.
You can connect with Carol and her online community on her website, Studio Botanica as well as Facebook, Pinterest, Twitter and Instagram.