FTC Disclosure: Delicious Obsessions may receive comissions from purchases made through links in this article. As an Amazon Associate I earn from qualifying purchases.Read our full terms and conditions here.

Hello Sugar-Free Chocolate Covered Salted Caramels! Creamy, buttery caramel enrobed in smooth dark chocolate. A delicate sprinkle of sea salt flakes on top round out this delicious bite. It's the perfect blend of sweet and salty, creamy and chocolatey. If you're in the mood for a sweet treat, these Sugar-Free Chocolate Covered Salted Caramels are sure to please!
OK. You guys. I am super proud of this recipe.
Like super duper proud.
I am not really a candy maker. I personally haven't made many candy recipes for this site. Some of my super talented contributors have (list of those amazing recipes below!), but not me.
Anywho, you may remember a little while back when I shared my Sugar-Free Vanilla Bean Salted Caramel recipe. While I was developing that recipe, I got the urge to also incorporate this delicious salted caramel into candy form.
And what better way to do that than to enrobe it in dark chocolate??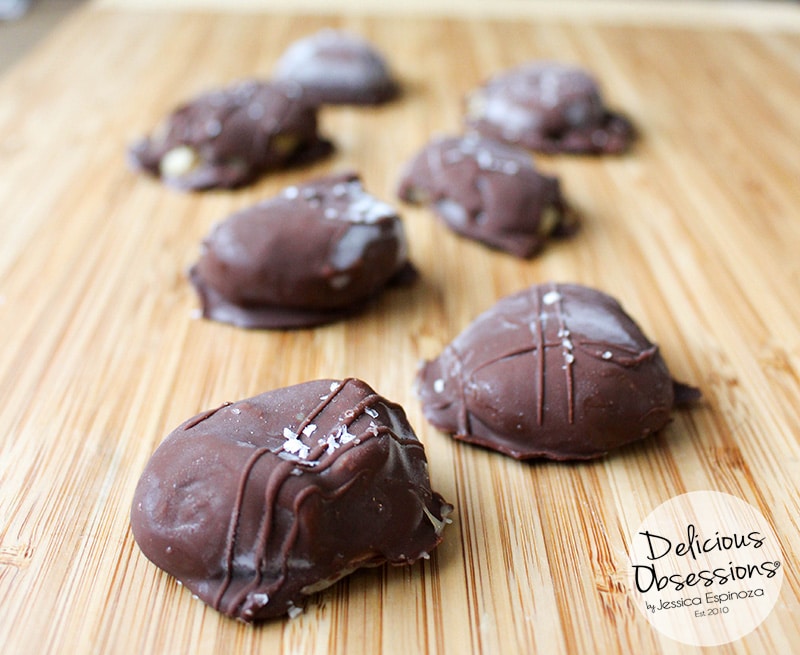 The Birth of Sugar-Free Chocolate Covered Salted Caramels
So, I set out to do just that. I knew I would need to make some tweaks to my original salted caramel recipe in order to get these to work properly. Primarily, it was going to have to simmer a lot longer so that it would get super thick and scoopable rather than smooth and pourable.
Let's just say that this recipe was a little tricky to get perfected. Caramel is a finicky thing. It has to be just right in order to hold up to scooping it and dipping it in the melted chocolate.
But the end result?
UHHHHHHHH-mazing!
I definitely had my fill of these delectable treats while working on this recipe. I think I am all set in the chocolate caramel department for a while. LOL!
These are definitely a once in a while treat. They are a bit time-consuming to make and they are super, duper rich. They would make an excellent gift for someone too. A sweet bite of love for a loved one.
And now that I've gotten the caramel part down, my mind is already coming up with new recipe ideas! So stay tuned for even more caramel sweetness coming your way!
Before we get into the actual recipe though, I want to share some notes.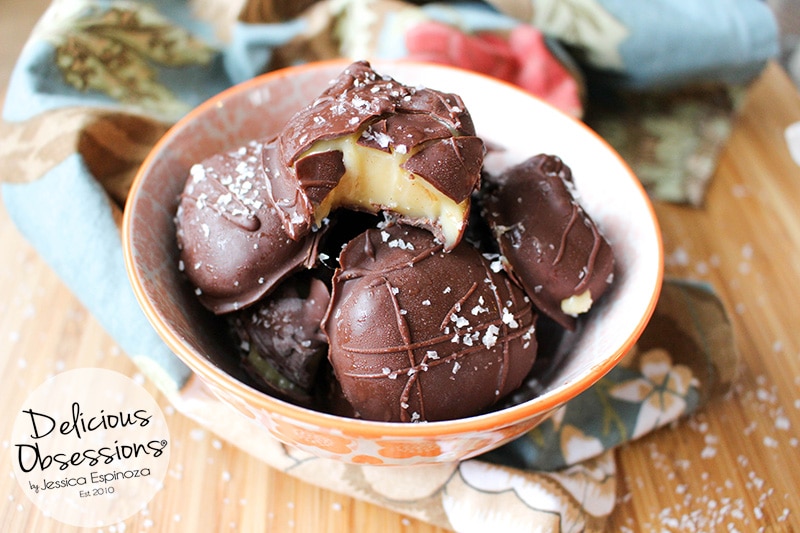 Notes About Sugar-Free Chocolate Covered Salted Caramels
This recipe is not difficult to make by any means. It's just a little time-consuming because there's a lot of simmer and chill time involved.
When it comes to the caramel, please make sure you use the allulose for the best results. Erythritol won't work, as I discussed in my original Sugar-Free Vanilla Bean Salted Caramel recipe here. Allulose gives you the same taste and end result as real sugar would.
Because I wanted this caramel to be thicker and richer, I opted to use coconut cream instead of coconut milk. This did cut down on some of the water content and allowed for a slightly shorter cook time. If coconut milk is all you have, that's fine, it will work. Just make sure it's full fat and you will need to increase the cooking time. Probably an extra 20-30 minutes.
For the chocolate, I used Lily's Dark Chocolate Baking Chips. You could use any chocolate you want, sugar-free or not. The darker the better in my opinion, but if you're a fan of milk chocolate, go for it.
Speaking of sugar-free, if you're not avoiding sugar, you could use organic cane sugar in place of the allulose. It will work, as those are interchangeable in a 1:1 ratio.
When you're ready to make your caramel balls, globs, chunks, whatever you want to call them (😂), you have to work fast! This caramel doesn't get as firm as you would expect, so you'll need to scoop fast and keep them COLD as you work. I also highly recommend keeping your spoon or ice cream scoop (which is what I used) greased with some coconut oil or pan spray to help with sticking.
Lastly, place your caramel balls on a wax paper or silicone mat that has been greased well with coconut oil or spray. Trust me. If you don't do this, they will stick and be almost impossible to get up and keep their shape. I learned that the hard way…
All in all, this recipe isn't hard, it just takes some time and attention to detail.
Ready for Even More Candy Deliciousness
If you're in a candy-making mood and want more recipes, check these out! Yum!
Ready to get started in today's sugar-free chocolate covered caramels? Let's go!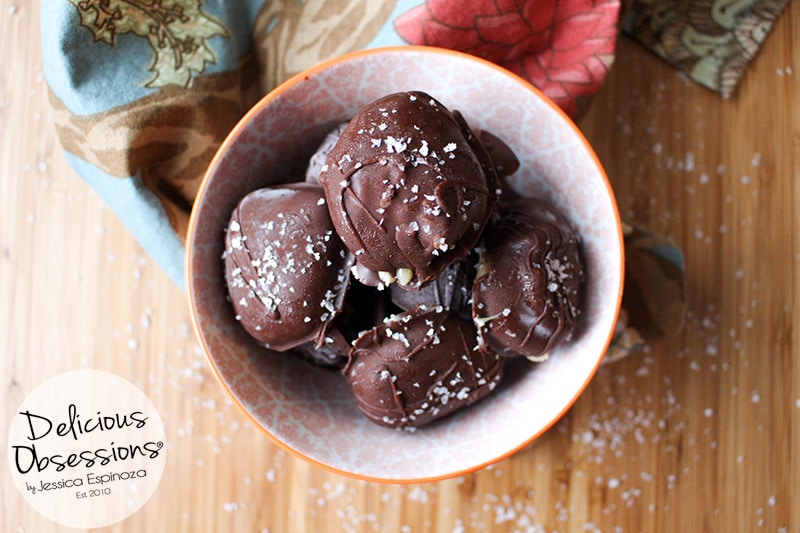 Sugar-Free Chocolate Covered Salted Caramels
Yield:
12-15 large caramels
Cook Time:
1 hour
15 minutes
Total Time:
3 hours
30 minutes
Hello Sugar-Free Chocolate Covered Salted Caramels! Creamy, buttery caramel enrobed in smooth dark chocolate. A delicate sprinkle of sea salt flakes on top round out this delicious bite. It's the perfect blend of sweet and salty, creamy and chocolatey. If you're in the mood for a sweet treat, these Sugar-Free Chocolate Covered Salted Caramels are sure to please!
Ingredients
For the Caramel
1 cup allulose
5 tbsp butter (can also use vegan butter here -- you need the butter flavor to make the caramel taste right)
1 1/2 cup coconut cream (not coconut milk)
1 tsp vanilla paste or powdered vanilla beans
1/4 tsp sea salt
For the Chocolate Coating
Instructions
Add all the caramel ingredients except the vanilla to a medium saucepan. Melt together over low heat and then increase heat to medium. Bring to a simmer and let simmer for 60-75 minutes, whisking occasionally, until reduced by at least half (maybe a tad more for a thicker caramel). It will be nicely browned. Depending on how hot your stove runs, you may need to lower the heat some. You really want it to have a really good simmer, but not so much that it risks boiling over.
Let cool and then pour into a shallow glass dish. Let cool overnight in the fridge.
When you're ready to make your caramel balls, you need to make sure everything is set up first so you can work quickly.
Line a sheet pan with wax paper or a silicone mat. Spray well with pan spray or grease with coconut oil (MCT oil works best so it doesn't set up super hard in the freezer). Also, make sure you grease or spray your spoon or scoop well and plan on re-greasing a few times during the process. I use my 1" ice cream scoop.
Scoop the cold caramel into balls and place in the prepared sheet pan. Work fast! As soon as you're done, place the pan in the freezer. Let the balls chill for a few hours before dipping in chocolate.
Prepare your chocolate mixture (chocolate chips and coconut oil) and let it cool to room temp. You want the chocolate to be thick but still runny and dippable.
Using a greased fork, carefully dip the caramel ball in the chocolate and place it back on the sheet pan. Repeat until all of the balls are covered. Using the remaining chocolate drizzle it over the caramels and sprinkle with flaked sea salt.
Return the caramels to the freezer until ready to serve. You can also keep them in the fridge, but I actually preferred the texture in the freezer better. Keep them chilled though because at room temp they will melt into a glob.
Enjoy!!
Recommended Products
As an Amazon Associate and member of other affiliate programs, I may earn a small commission from qualifying purchases.
Nutrition Information:
Yield:

12
Serving Size:

1
Amount Per Serving:
Calories:

109
Total Fat:

8g
Saturated Fat:

5g
Trans Fat:

0g
Unsaturated Fat:

2g
Cholesterol:

15mg
Sodium:

100mg
Carbohydrates:

7g
Fiber:

1g
Sugar:

6g
Protein:

1g
IMPORTANT! PLEASE READ!!! This website provides approximate nutrition information for convenience and as a courtesy only. Nutrition data is gathered from Nutritionix and we often find their calculations to be slightly inaccurate based on the whole food ingredients we use on this site. Nutrition information can vary for a recipe based on many factors. We strive to keep the information as accurate as possible, but make no warranties regarding its accuracy. We encourage readers to make their own calculations based on the actual ingredients used in your recipe, using your preferred nutrition calculator.
Have food sensitivities or allergies? Missing out on delicious treats?
Well, now you don't have to any longer!
Hi! My name is Jessica and I have a major sweet tooth! I also have multiple food sensitivities that include gluten and dairy and my body doesn't do well with any form of refined sugar.
What's a girl to do?
Well, I could go to my local Natural Grocers and find a lot of healthier treat options, but even then, many of them tote a hefty price tag or still include ingredients that don't work so well for my body. So, I decided to head into my kitchen and start creating my own delicious treats at home. That way I can control the ingredients and customize everything to my own individual needs.
And today, I am excited to share my newest eBook, Deliciously Decadent Desserts, with you! This eBook is available exclusively to my newsletter subscribers and features never-bef0re-published recipes. This book includes some of my all-time favorite recipes and you can download your copy below for FREE!
Recipes include my beloved Homemade Thin Mints AND my Thin Mint Sandwiches Cookies (among others!). If you love Girl Scout cookies, but the ingredients don't love you, have no fear! These two recipes alone will knock your socks off!
Regardless of whether you are gluten, grain, dairy, or refined sugar free (or a combo of all), now you can have your treats and eat them too! I can guarantee the whole family will swoon for the recipes in this new eBook.
Download your copy today using the form below! If you have any questions, don't hesitate to reach out and ask!

Delicious Obsessions is a participant in the Amazon Services LLC Associates Program, an affiliate advertising program designed to provide a means for us to earn fees by linking to Amazon.com and affiliated sites.Read our full terms and conditions here.