FTC Disclosure: Delicious Obsessions may receive comissions from purchases made through links in this article. As an Amazon Associate I earn from qualifying purchases.Read our full terms and conditions here.

If you're a fan of spicy mayo, look no further than my Easy Sriracha Mayo recipe! This flavorful mayo takes the boring to extraordinary while being super easy to make. You can use it any way you would traditional mayo but you get an extra kick of flavor!
I love sriracha Mayo. I have used it for years on all the things. My favorite way to use it is on tacos.
Yes, tacos.
I know it sounds weird but many, many years ago someone on Instagram told me to try it on tacos and I've never made a taco without it since. Since I can't do dairy, I feel like it takes the place of the sour cream. And, this may sound strange, but it reminds me of the tacos from Taco Bell. I am not ashamed to admit that I used to like the tacos from there. 😆
Anywho. I always used to buy my sriracha mayo (the Sir Kensington's brand is my fave) but then I started making my own at home. I found I actually prefer to make it myself because I can tweak the ingredients just the way I want.
How to Use Your Easy Sriracha Mayo
The fun thing about this easy sriracha mayo is that you can use it in a million different ways. I've used it on eggs, sandwiches, burritos, salads, and more. I've also used it as a dip for veggies, chicken nuggets, or even chips.
If you are looking for some ways to use your easy sriracha mayo, here are a few of my favorite suggestions: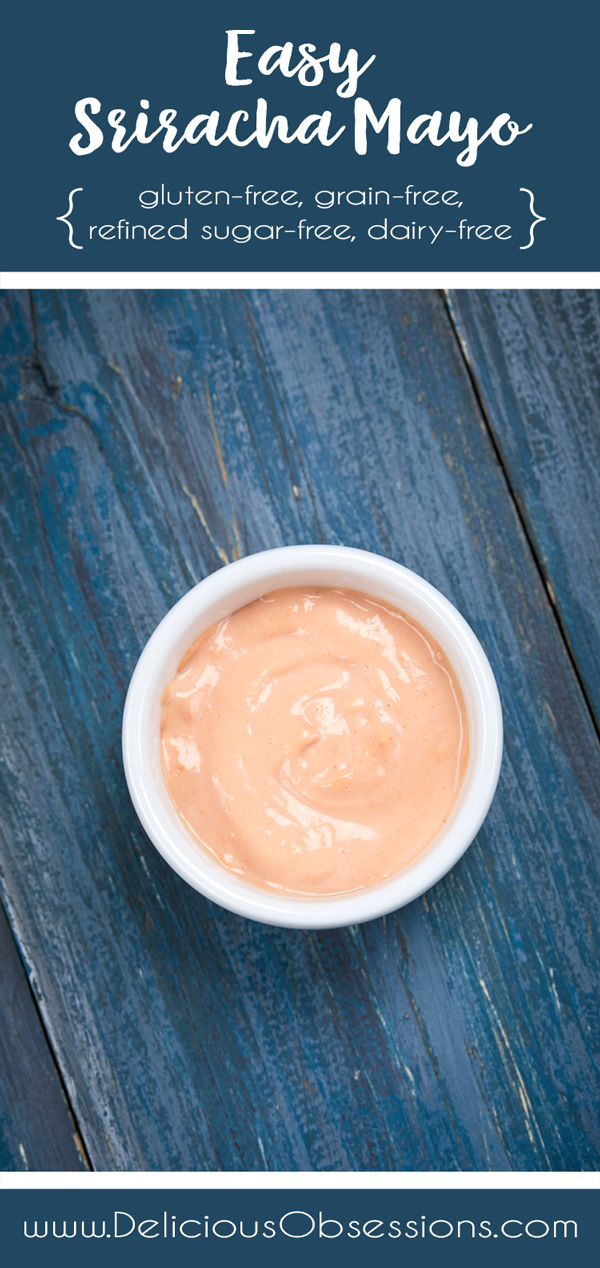 Choosing a Quality Mayo
When it comes to mayo, quality matters. Most cheap, conventional mayo is made with poor quality oils that are high in inflammatory compounds (like Omega 6s). For the most part, I try to steer clear of conventional seed and vegetable oils. If you're not familiar with this topic and want to learn more, I highly recommend reading my article on The Best Oils for Cooking and Baking.
Unless you make your own mayo at home, it's going to be hard to avoid all seed and vegetable oils in a commercial brand, even the organic, high-quality ones. I personally don't mind consuming some of these oils if they are high-quality, organic versions since my overall intake of high Omega-6 foods is very low.
So, for this recipe, I recommend using a good quality mayonnaise or making your own. Homemade mayo is so easy to whip up and frankly, it tastes amazing. I have two easy mayo recipes for you:
If you don't want to make your own then I have a few brands that I do like. Most health food stores are going to carry these brands or you can easily find them online.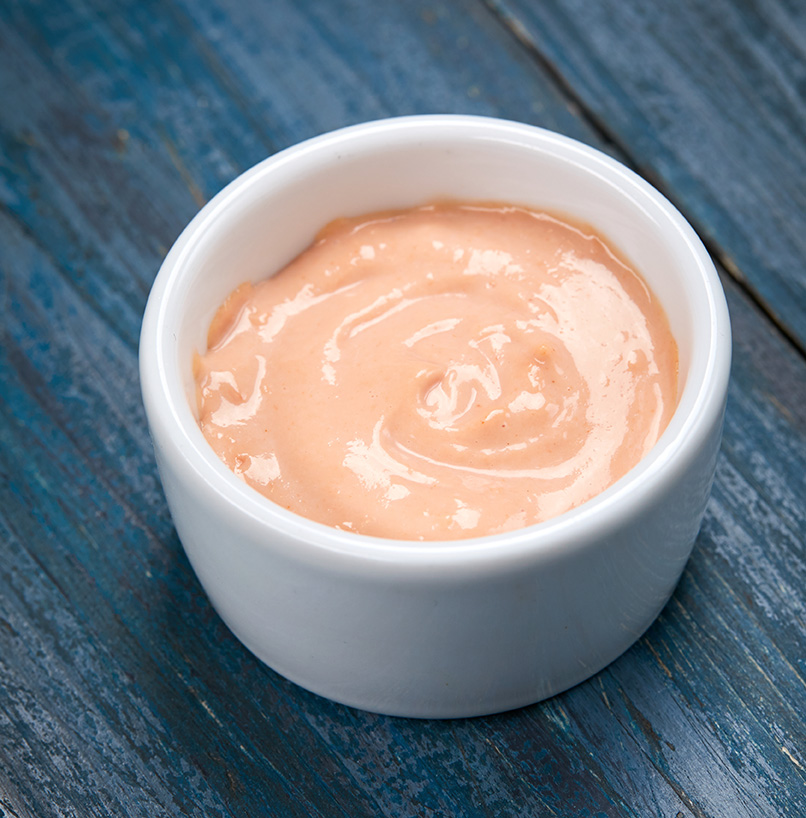 Easy Sriracha Mayo Notes
Now that we've discussed choosing a mayo (who knew that could take up a whole section all on its own?!), let's talk about a few other things.
When it comes to sriracha, use whatever brand you like. There are a few sriracha brands on the market that I like:
I am a big fan of tweaking my recipes depending on what I am making. So I encourage you to have fun and play around! Here are some things that I often tweak when making this at home.
Add extra lime juice and a touch of white wine vinegar for an easy creamy salad dressing.
Add chopped cilantro and parsley and drizzle over stir-fry or nachos.
Add a little of my Cajun seasoning for some smoky flavor and then use it as a dip for pretty much anything.
Alrighty, friends! Enough talking! Let's get cooking so we can eat!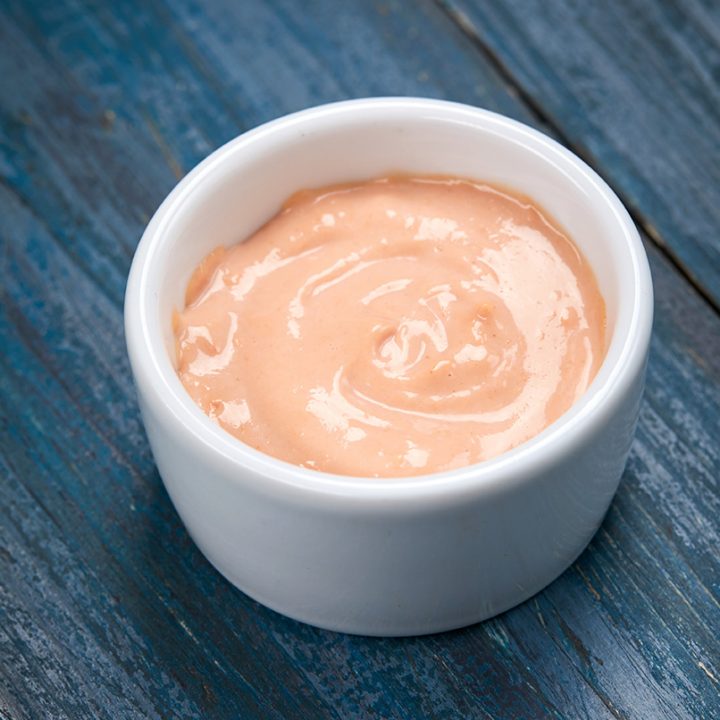 Sriracha Mayo
If you're a fan of spicy mayo, look no further than my Easy Sriracha Mayo recipe! This flavorful mayo takes the boring to extraordinary while being super easy to make. You can use it any way you would traditional mayo but you get an extra kick of flavor!
Ingredients
1 cup high-quality mayonnaise (I'm linking to my favorite - please see notes in the post above or below about brands or how to make your own)
1tsp to 1 tbsp of sriracha sauce (this really depends on how hot you like it - again see notes below or in post above for brand recommendations)
1/2 fresh lime, juiced
1/2 tsp garlic powder
1/2 tsp onion powder
Instructions
Place all ingredients in a small bowl or jar and stir or whisk until everything is well combined.
Store in the fridge for up to two weeks (but I'm guessing it won't last that long!).
Recommended Products
As an Amazon Associate and member of other affiliate programs, I may earn a small commission from qualifying purchases.
Nutrition Information:
Yield:

16
Serving Size:

1
Amount Per Serving:
Calories:

0
Total Fat:

0g
Saturated Fat:

0g
Trans Fat:

0g
Unsaturated Fat:

0g
Cholesterol:

0mg
Sodium:

0mg
Carbohydrates:

0g
Fiber:

0g
Sugar:

0g
Protein:

0g
IMPORTANT! PLEASE READ!!! This website provides approximate nutrition information for convenience and as a courtesy only. Nutrition data is gathered from Nutritionix and we often find their calculations to be slightly inaccurate based on the whole food ingredients we use on this site. Nutrition information can vary for a recipe based on many factors. We strive to keep the information as accurate as possible, but make no warranties regarding its accuracy. We encourage readers to make their own calculations based on the actual ingredients used in your recipe, using your preferred nutrition calculator.
Make Real Food Easy and Affordable! Introducing My Real Food 101 Series + Special Coupon!
Real food doesn't have to be complicated, overwhelming, or expensive. We're all busy, we're all on budgets, but we all deserve to eat nutritious food that satisfies our hunger and fuels our bodies.
That's why I created the Real Food 101 series and why I am sharing them (and a special coupon code with you today!). If you're new to real food, or just want a refresher, this series is PERFECT for you!
Countless hours of research, organization, recipe development, and design went into creating the perfect guide to all things real food. I created these books to help people eat better and live better through real food and natural living, which is the core mission of this site.

I'll be your personal guide, taking your hand and helping through every step of your whole health journey as you discover:
Why Your Health And Real Food Are Interconnected
What "Real Food" Actually Is
Making Real Food Affordable
Go-To Real Food Brands
Dozens Of Real Food Resources
Delicious, Kitchen-Tested Real Food Recipes the Whole Family Will Love
How to Stock Your Kitchen and Pantry
How to Prepare Real Food Meals at Home Without Breaking the Bank
How to Create Delicious Beverages and Smoothies.
How Making Your Own Condiments, Dressings, and Sauces is Easier Than You Think (and saves your Health and Your Budget!).
Ways to Eat More Vegetables (Even if There are Picky Eaters Involved).
How To Prepare Delicious Entrees That Will Have You Thinking You're Eating in a 5 Star Restaurant
Access To Curated Recipe Archives, Suggestions, And Pantry-Stocking Ideas
And Much, Much More!
In celebration of today's recipe, I am offering YOU a special coupon code where you can get my entire Real Food 101 Series for 50% OFF! Yes, you read that right! All you have to do is use coupon code REALFOOD50 at checkout to save.
For under $17 you will have a full resource library full of helpful information, tips, tricks, and delicious kitchen-tested recipes that will keep you and your family eating and feeling good year-round.
Learn more about the Real Food 101 Series Bundle via this link, or click on the button below. Don't forget to use coupon code REALFOOD50 to save 50% on the full bundle! Here's to YOUR health and wellness!


Delicious Obsessions is a participant in the Amazon Services LLC Associates Program, an affiliate advertising program designed to provide a means for us to earn fees by linking to Amazon.com and affiliated sites.Read our full terms and conditions here.