FTC Disclosure: Delicious Obsessions may receive comissions from purchases made through links in this article. As an Amazon Associate I earn from qualifying purchases.Read our full terms and conditions here.

This Creamy "Ambrosia Waldorf" salad is a delicious spin on two classic recipes. Created during a postpartum craving, it's the best of both worlds. I'm sure your entire family will agree that this Creamy "Ambrosia Waldorf" Salad is a delicious addition to any meal!
Ambrosia salad.
Boy, did I LOVE this salad growing up. And who am I kidding? I still loved it as an adult. Lol!
And using the term "salad" is kind of ridiculous. It's technically a dessert and there's pretty much nothing healthy about the classic ambrosia salad. But it sure does taste good!
Ambrosia Salad + Childhood Memories
Ambrosia salad is one of those treats that often makes its debut at family gatherings and church potlucks. Occasionally I see it in the deli section of the grocery store. It's definitely not a salad that I grew up eating at home. My mom was cooking healthy and buying organic long before it was a "thing". If I wanted junk food, I had to take a trip to my brother's house or a friend's house.
As a kid, I remember having ambrosia salad at church potlucks. Occasionally my mom would let me get a little container of it from the grocery store as a treat. She also occasionally let me pick something delicious off of the day-old bakery rack too… Boy, those were fun times!
As an adult, ambrosia salad would show up at Thanksgiving dinner on occasion but I actually don't remember the last time I ate any. Once I had to go dairy and refined sugar-free, my days of ambrosia salad were pretty much over and I never really thought about it again.
Until I was 2 months postpartum…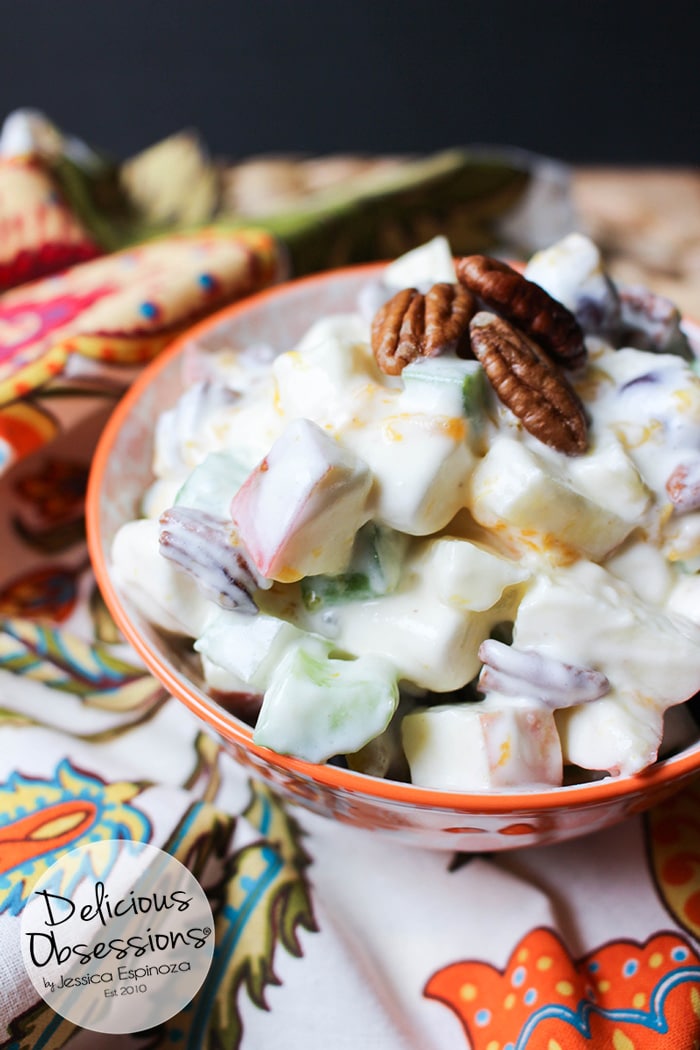 Postpartum Cravings
One day, when I was 2 months postpartum, I got a crazy hankering for ambrosia salad. Isn't it crazy how cravings can come out of nowhere? For me, my postpartum period stirred up all sorts of crazy cravings (as you've probably noticed by some of my recent recipes). Also, around the same time, I was craving my mom's Waldorf salad.
See. Cravings. Weird cravings.
During this time I was also craving:
chocolate croissants
Jimmy John's sandwiches
Chinese food
and LOTS of burgers
I guess since my food aversions during pregnancy were so strong that I didn't crave much, my body was making up for lost time? Read my First Trimester Recap post, Second Trimester Recap post, and Third Trimester post if you want to catch up on all of that.
Whenever a craving hits, I usually sit with it for a couple of days and see if it goes away on its own. If it doesn't, I figure out a way to soothe it, whether that is eating the exact thing I'm craving, or coming up with a hybrid version that suits my dietary needs. Seeing that I have a history of an eating disorder and body image issues, I understand how ignoring a craving can often lead to unhealthy thoughts and actions around food. What works better for me is to indulge the craving, enjoy it, and move on…that's the key to true intuitive eating.
Getting back to today's recipe, I decided to create a combination of the two salads I was craving and this recipe was born. It's dairy and refined sugar-free (depending on the marshmallows you use). And it's so good.
Like incredibly good.
And it's easy to whip up and travels great so you can bring some to your next potluck and family gathering and see how people like it.
Ingredient for Creamy "Ambrosia Waldorf" Salad
Classic ambrosia salad typically consists of:
Cool Whip
marshmallows
sour cream
mandarin oranges
pineapple
pecans
coconut
maraschino cherries
Classic Waldorf salad typically consists of:
apple
celery
mayo
yogurt
grapes
walnuts
sometimes lettuce and raisins, depending on who's making it.
My Creamy "Ambrosia Waldorf" Salad consists of:
Apple
celery
grapes
mandarin oranges
pecans
marshmallows
yogurt
whipped coconut cream
Notes About Creamy "Ambrosia Waldorf" Salad
Truly this salad would taste good with any variety of fruit in it so you could use whatever you prefer. That's the beautiful thing about salads is how customizable they are.
For this recipe, I used coconut milk yogurt and coconut milk whipped cream. I also tried it with all coconut milk whipped cream and it was equally as delicious. You could easily substitute these two ingredients for the dairy versions if you tolerate dairy.
When it comes to marshmallows, there really aren't a ton of options in the "health food" world. Because let's face it, marshmallows aren't exactly a healthy food. There are a few options for you.
You can make your own using my Homemade Marshmallow recipe. They don't hold up as long as commercial marshmallows so if you use these, add them in right before serving.
You can use the Dandies brand marshmallows, which seem to be pretty widely available at local health food stores or on Amazon. These are vegan but they do have regular sugar and carrageenan in them. I used this brand in the mini size for some of the testings on this recipe and they held up really well in the salad
You can try this sugar-free, keto version from Max Mallow. I have not tried these in this recipe because I didn't discover them until the other day, long after I'd already developed this recipe, and I haven't been in the mood to make this salad recently.
Use whatever marshmallow you want. Or leave them out. The salad tastes great without them too!
Alrighty! On to the recipe! I hope you enjoy it!!!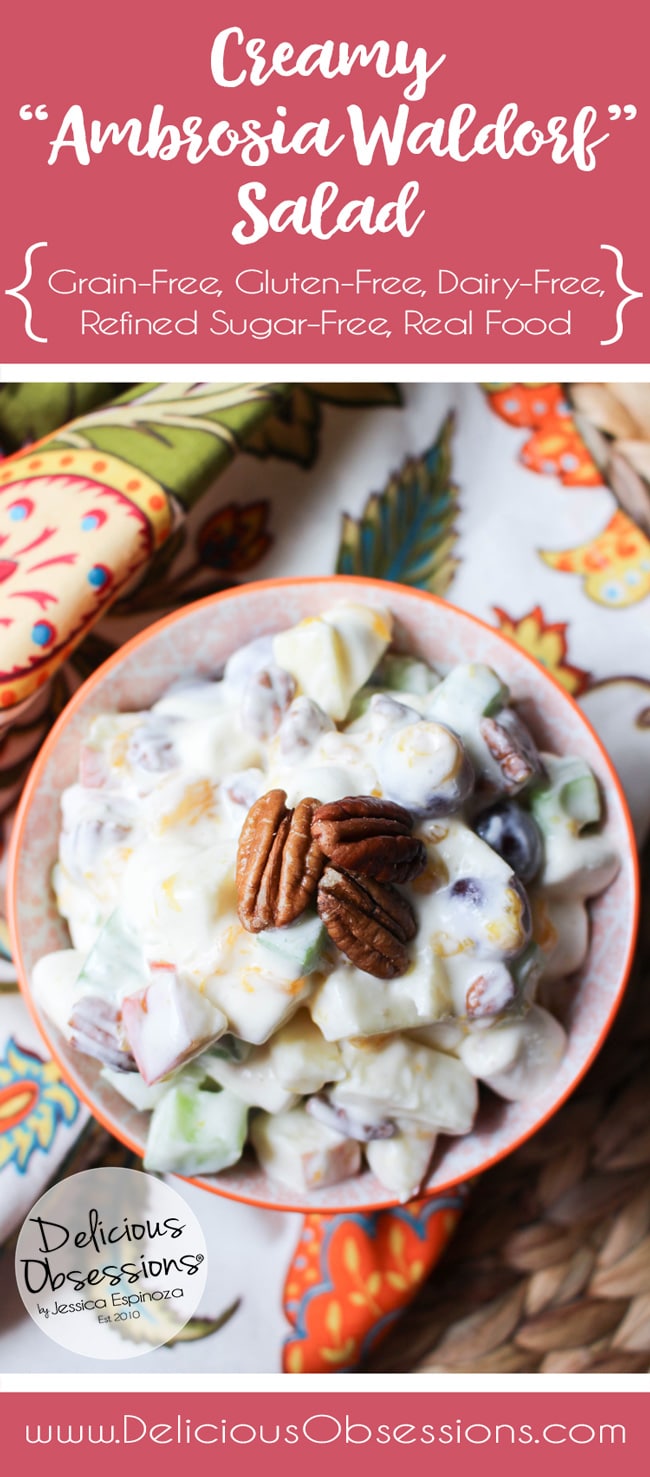 Creamy "Ambrosia Waldorf" Salad :: Gluten-Free, Grain-Free, Dairy-Free, Refined Sugar-Free
Total Time:
1 hour
15 minutes
This Creamy "Ambrosia Waldorf" salad is a delicious spin on two classic recipes. Created during a postpartum craving, it's the best of both worlds. I'm sure your entire family will agree that this Creamy "Ambrosia Waldorf" Salad is a delicious addition to any meal!
Ingredients
1 large apple, chopped into small cubes
4 ribs celery, chopped into small pieces
1 1/2 cups grapes sliced in half
1/2-3/4 cup pecans, toasted and rough chopped
1 can (10oz) mandarin oranges, drained
1/2-3/4 cup marshmallows (this is the brand I used or see notes section in the blog post above for other options)
1 tbsp lemon juice
1 lemon, zested
1 pinch of salt
a drizzle of honey or a few drops of stevia, optional
3/4 cup plain or vanilla yogurt of your choice
1/2 cup whipped cream (optional, you can use all yogurt if you prefer)
Instructions
Chop your apple and celery into small chunks and halve your grapes. Add to a large bowl.
Toast your pecans in the oven or skillet until just starting to become fragrant. Rough chop when they have cooled some.
Add the pecans, oranges, marshmallows, lemon juice, lemon zest, and a pinch of salt and mix gently to combine. If you're using honey or stevia go ahead and add that now.
Add the yogurt and whipped cream (if using) and gently fold all of the ingredients together.
Let the salad sit in the fridge for 1 hour before serving.
Recommended Products
As an Amazon Associate and member of other affiliate programs, I may earn a small commission from qualifying purchases.
Nutrition Information:
Yield:

6
Serving Size:

1
Amount Per Serving:
Calories:

281
Total Fat:

17g
Saturated Fat:

2g
Trans Fat:

0g
Unsaturated Fat:

14g
Cholesterol:

5mg
Sodium:

74mg
Carbohydrates:

33g
Fiber:

4g
Sugar:

24g
Protein:

4g
IMPORTANT! PLEASE READ!!! This website provides approximate nutrition information for convenience and as a courtesy only. Nutrition data is gathered from Nutritionix and we often find their calculations to be slightly inaccurate based on the whole food ingredients we use on this site. Nutrition information can vary for a recipe based on many factors. We strive to keep the information as accurate as possible, but make no warranties regarding its accuracy. We encourage readers to make their own calculations based on the actual ingredients used in your recipe, using your preferred nutrition calculator.

Delicious Obsessions is a participant in the Amazon Services LLC Associates Program, an affiliate advertising program designed to provide a means for us to earn fees by linking to Amazon.com and affiliated sites.Read our full terms and conditions here.