FTC Disclosure: Delicious Obsessions may receive comissions from purchases made through links in this article. As an Amazon Associate I earn from qualifying purchases.Read our full terms and conditions here.

If you've been missing caramel sauce because of all the added sugar, then look no further than this Sugar-Free Salted Vanilla Bean Caramel! It has all the delicious flavor of its sugary counterpart but won't leave your blood sugar on a roller coaster. Enjoy this Sugar-Free Salted Vanilla Bean Caramel in your coffee, on ice cream, or just off the spoon!
I don't know about you, but I am a sucker for caramel. Caramel anything and everything. But because I really limit the amount of sugar I eat (since sugar makes me feel oh-so-icky), caramel is not something that I really eat much of. But oh how I miss it sometimes.
Enter Allulose – A New Sugar Substitute!
Recently I was introduced to a keto sweetener called allulose. I have been using erythritol and stevia for years because those two seem to work well for me and don't cause all sorts of digestive issues like xylitol and other low/no carb sweeteners.
At first, I wasn't sure if allulose was going to work well for me because I thought it was messing my stomach up. But then I later discover it was one of my supplements that I was taking that was causing all of my belly troubles. Once I eliminated that, I tried the allulose again and it worked fine. No belly troubles at all.
Diving into Allulose Caramel
I had read in multiple places that allulose works almost the exact same way as regular white sugar does in recipes. So, the first thing I wanted to try to make was caramel sauce. You can use erythritol to make caramel, but the texture is terrible. Plus the sugar alcohols have that strange cooling sensation on the tongue so they just don't work well for some recipes, especially not for caramel (in my opinion at least).
But, I had heard such good things about allulose working better than erythritol in certain recipes so I decided to give it a try. And I was thrilled with the results. This is like real deal caramel. It tastes so amazing and is perfect to drizzle over ice cream, coffee, apples, and whatever else your heart desires.
My next project will be to make caramel candies so stay tuned. I used to LOVE those Brach's chewy caramel candies when I was little. It will be a little stroll down memory lane if I can recreate something like that!
Before we dive into the recipe, let me tell you a little about allulose.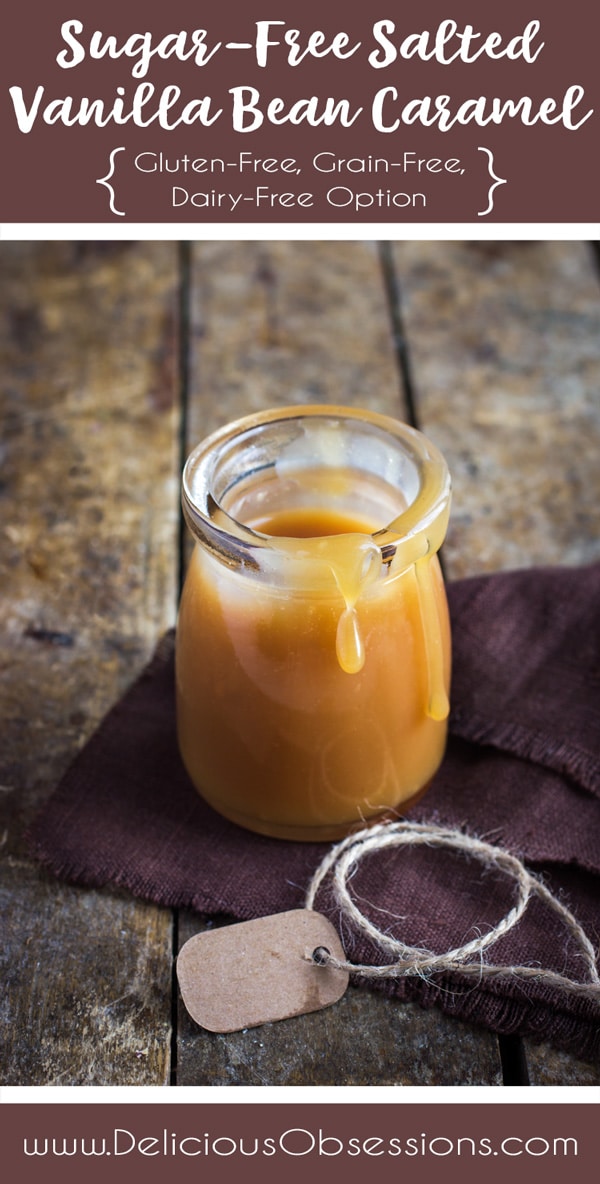 What is Allulose?
Allulose is a rather new sugar substitute to the market. It has the taste and texture of regular sugar but doesn't impact blood sugar and insulin levels like table sugar does. Similar to erythritol, it is about 70% as sweet as table sugar.
Allulose is considered a "rare" sugar in that it is only naturally present in a few foods. Wheat, figs, and raisins are three foods that contain allulose naturally. It has the same chemical formula as fructose, but because it is arranged differently, the body does not process it the way it does fructose.
70–84% of the allulose you consume is absorbed into your blood from your digestive tract, it is eliminated in the urine without being used as fuel. It's [also] been shown to resist fermentation by your gut bacteria, minimizing the likelihood of bloating, gas or other digestive problems (Source).
Additionally, early research suggests that allulose may have some anti-inflammatory benefit and could possibly help prevent obesity and reduce the risk of chronic disease. But much more study is needed in that regard.
As mentioned above, since allulose is only found in a small number of foods, manufacturers have figured out a way to use different enzymes to convert fructose from corn and other plants into allulose.
As with all alternative sweeteners, you need to do your own due diligence and decide what works for your body. At the time of writing this post, I have not decided if allulose is something that I will use in my regular rotation of low-carb ingredients, but I do know that if I use it for nothing else, I will always keep some on hand for this caramel sauce.
The Differences Between Erythritol and Allulose Caramel
So, as I mentioned above, you can use erythritol to make the caramel, but it does not turn out as well. Here are the things I have noticed when it comes to using erythritol for sugar-free caramel:
The erythritol doesn't caramelize like the allulose does so you get a very pale-colored caramel.
Because it doesn't caramelize, you also lose out on some of the flavors, but it still tastes good.
The erythritol caramel crystalizes as soon as it starts to cool. So you get a grainy texture.
It sets up very firm in the fridge due to the crystalization. It doesn't stay runny, so it ends up being more like a grainy caramel spread.
You do get a touch of the cooling effect on your tongue that all sugar alcohols give.
All in all, the erythritol caramel tastes good but isn't ideal for your traditional caramel applications.
On the flip side, this is what I have noticed with allulose caramel:
The allulose browns nicely so you end up with good flavor and color. The browning process does take longer than traditional table sugar though.
It does not crystalize and stays smooth, even in the refrigerator.
There is no cooling flavor with this since it's not sugar alcohol.
How to Use Your Delicious Sugar-Free Salted Vanilla Bean Caramel
You guys are going to love this recipe so much that it may become a staple addition to your fridge. Here are some fun and delicious ways to use it:
Now, who's ready to make some yummy Salted Vanilla Bean Caramel? Let's dive in!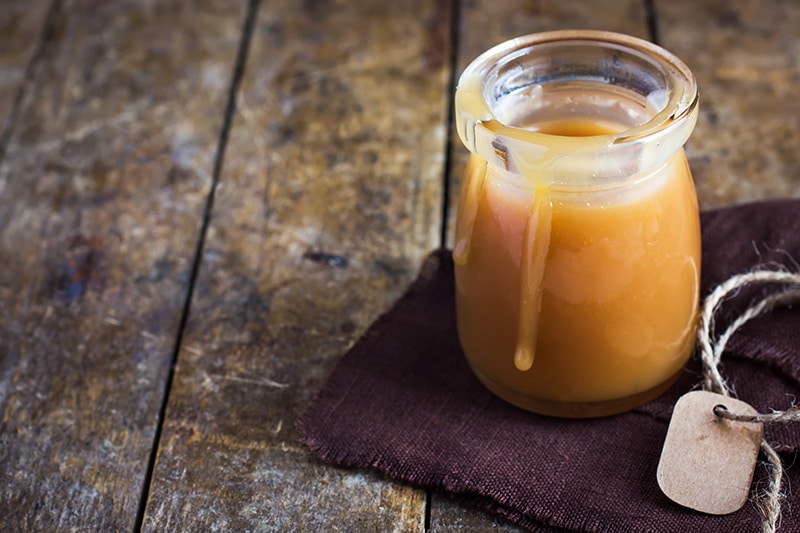 Sugar-Free Salted Vanilla Bean Caramel :: Gluten-Free, Dairy-Free Option
Total Time:
1 hour
2 minutes
If you've been missing caramel sauce because of all the added sugar, then look no further than this Sugar-Free Salted Vanilla Bean Caramel! It has all the delicious flavor of its sugary counterpart but won't leave your blood sugar on a roller coaster. Enjoy this Sugar-Free Salted Vanilla Bean Caramel in your coffee, on ice cream, or just off the spoon!
Instructions
Since this recipe requires the caramel to simmer for a while, I like to start it when I know I'll be in and around the kitchen for a little while, like right before I start fixing breakfast. That way I can keep an eye on it, but don't have to sit there and babysit it like a hawk.
Place all of the ingredients in a medium saucepan, except for the vanilla, and heat over medium-high heat until simmering, whisking while it's heating.
Once the mixture is simmering, lower the heat to medium or medium-low, depending on your stove. You want to keep a gentle simmer, but not so strong that it would boil over if left unattended.
Let the mixture simmer uncovered for 30-60 minutes, stirring occasionally. 30 minutes will yield a delicious flavor, but the color will be light. 60 minutes will be even more delicious and the color will be much darker.
Remove from heat and stir in your vanilla bean paste.
Let cool in the pan for 30ish minutes and then pour into a heat-safe jar and let cool completely before moving to cold storage.
Notes
To make the caramel dairy-free, I'd recommend using a vegan butter substitute. You really need the butter flavor in order to make the caramel taste right. You could try using coconut oil or ghee, but the flavor would be off and I don't know how well it would turn out as I've never attempted it.
Recommended Products
As an Amazon Associate and member of other affiliate programs, I may earn a small commission from qualifying purchases.
Nutrition Information:
Yield:

20
Serving Size:

1
Amount Per Serving:
Calories:

0
Total Fat:

0g
Saturated Fat:

0g
Trans Fat:

0g
Unsaturated Fat:

0g
Cholesterol:

0mg
Sodium:

0mg
Carbohydrates:

0g
Fiber:

0g
Sugar:

0g
Protein:

0g
IMPORTANT! PLEASE READ!!! This website provides approximate nutrition information for convenience and as a courtesy only. Nutrition data is gathered from Nutritionix and we often find their calculations to be slightly inaccurate based on the whole food ingredients we use on this site. Nutrition information can vary for a recipe based on many factors. We strive to keep the information as accurate as possible, but make no warranties regarding its accuracy. We encourage readers to make their own calculations based on the actual ingredients used in your recipe, using your preferred nutrition calculator.

Delicious Obsessions is a participant in the Amazon Services LLC Associates Program, an affiliate advertising program designed to provide a means for us to earn fees by linking to Amazon.com and affiliated sites.Read our full terms and conditions here.