FTC Disclosure: Delicious Obsessions may receive comissions from purchases made through links in this article. As an Amazon Associate I earn from qualifying purchases.Read our full terms and conditions here.

Mamas and caretakers, this post is for you! If you or someone you love is expecting a baby soon, stocking your freezer with easy, healthy meals is going to be a lifesaver for the new parents as they adjust to a brand new life. Here are 40 freezer meal ideas, plus helpful tips for postpartum moms!
As I write this post, I am 36 weeks pregnant and anxiously awaiting baby boy (although I realize now that by the time this actually gets published, baby boy will already be here!). 🙂
One thing that I am making sure I do as part of my "nesting" is building up my stash of easy freezer meals. I don't want to have to think about food during the first 6-8 weeks after birth and one of my favorite ways to make sure I'm eating nourishing food, but not having to slave away in the kitchen, is batch cooking and freezing.
I have written about both meal planning and batch cooking on this site a number of times. If you're new to these topics, I'd suggest the following blog posts since I won't be getting into the specifics of these strategies here:
If you are interested in meal planning but don't know where to start, I recommend checking out Real Plans. They offer custom meal planning for all diets, schedules, and tastes.
Preparing for the Fourth Trimester
When it comes to the fourth trimester (the 3 months after labor and delivery), mamas need all the help they can get. As a first-time mom myself, I am heeding the advice of so many of my friends and colleagues — ASK FOR HELP!!! As a "do it all myself" type of personality, it could get really easy for me to think I can handle it all on my own. But I've been told by a million and one people that this is not the case. Nor, should I even attempt to. I should be spending those first 6-8 weeks soaking up all of the newborn baby love.
Which I fully intend to do.
Thankfully my mom is going to stay with us for a while right after our baby boy is born. My hubby is taking at least 2 weeks off of work, possibly even 4 weeks. And then when he goes back to work, my sister might come to stay with me for a while. And then there's hubby's side of the family too, most of whom are all local and I know will be willing to help if needed.
I feel very fortunate that I will have lots of support. I just need to speak up and ask for help!! Not easy for me to do, but I'll do it!
Since I am putting together my own batch cooking plan for my postpartum, I thought it might be helpful to share that with you too. So, if you are expecting, or know anyone who is, I hope this helps stock your freezer with lots of delicious foods so you don't have to think about cooking while you're experiencing new baby bliss. 🙂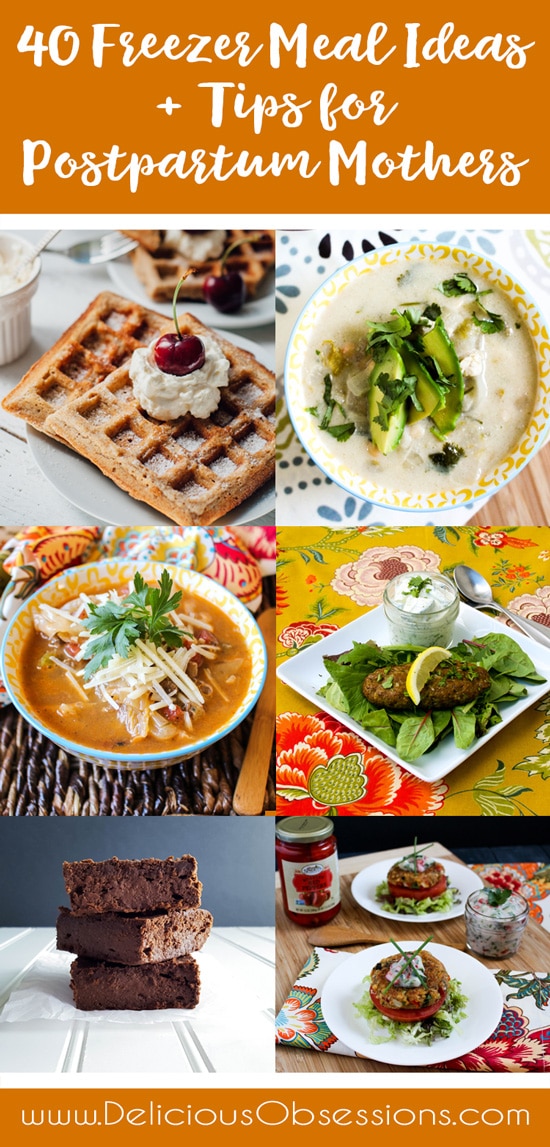 40 Freezer Meal Ideas for Postpartum Mothers
I'm going to break these into sections of breakfast, lunch/dinner, and snacks. But quite honestly, from what I've been told (especially if you are breastfeeding), you will just need to eat what you can, when you can. Formal meal times will become a thing of the past for a while. All of the recipes I've selected for this project freeze and reheat very well. I'm also including tips specific to each recipe below in case there's something extra I want you to know.
Bonus Tip: Consider asking family and/or friends to help you. You can pay for the groceries and provide the recipes, but perhaps they would be willing to donate their time to cook/bake a few different recipes for you to help alleviate some of the load off your shoulders. It never hurts to ask and more times than not, the answer will be yes. 🙂
9 Breakfast Freezer Meal Ideas
18 Lunch/Dinner Freezer Meal Ideas
14 Snack Freezer Meal Ideas
A lot of these snack ideas do not necessarily have to be stored in the freezer. Everything here can easily be doubled or tripled and it all stores great in an airtight container in your fridge, freezer, or another cool place in your house. I chose things that will give you lots of nutrition and sustained energy in small portions. Because mama, you're going to need it!
Pre-Made Freezer Meal Ideas for Postpartum Mamas
If you're out of time or just don't have the energy to do a lot of batch cooking, then there are a few great options for you that offer healthy, pre-made meals. All of these companies are paleo/real food based and offer a lot of options for different food sensitivities and dietary requirements.
I've heard from countless mamas who have said that what they appreciated more than gifts for baby postpartum period was the gift of food. Whether that was homemade food that friends and family brought over, gift certificates to places like Chipotle or other healthier fast-casual places, or gift certificates/deliveries from companies like I'm mentioning below. Sure, things for baby are nice, but when feeding yourself becomes a challenge because you are so busy adjusting to life with a new baby, having easy, healthy meals on hand is going to go to the top of the list. Or maybe the second item right below sleep. 🙂
Paleo On The Go
I was first introduced to this company when my Dad died in 2019. One of my friends organized a food delivery for me, my mom, and sister so that we had easy things to eat while going through that initial mourning period. I can't tell you how much we appreciated it.
Paleo on the Go offers a great selection of meals that are suitable for the autoimmune protocol (or anyone who is avoiding the top allergens for health reasons), as well as Whole30 and low carb options. You can order individual meals, meal bundles, or do a subscribe and save membership. Check them out here. SAVINGS ALERT: You can use coupon code DELICIOUS15 to save $15 on your first order!
Balanced Bites Meal Delivery
Most of you guys have probably heard of Diane Sanfillipo. She's a very well-known author and real food advocate. She created her own line of healthy, gourmet meals that fit a wide range of dietary styles. She focuses on high-quality, whole-food ingredients so you can rest assured that you'll recognize every ingredient on the label.
All of Diane's meals are cooked fresh on Sundays and then shipped out right after. You can choose from one of their curated boxes, or build your own to suit your tastes. Most of the portions are pretty huge so you may be able to get two servings from each meal. Check them out here. SAVINGS ALERT: If you decide to order from them, you can use coupon code JESSICA to save $15 off your first order!
Pete's Paleo
Pete's Paleo also offers a great range of allergen-friendly meals and they really focus on the seasons. So their menu is always rotating, depending on what is in season and available. This is a great way to add a lot of variety and nutrition without having to do all the work of shopping and cooking. They really pride themselves on offering sustainable dishes that support their local farmers.
You can choose from a subscription service or a one time "as you need them" purchase. As long as your order goes in by Monday, you'll have your meals by Friday. Check them out here.

Delicious Obsessions is a participant in the Amazon Services LLC Associates Program, an affiliate advertising program designed to provide a means for us to earn fees by linking to Amazon.com and affiliated sites.Read our full terms and conditions here.