FTC Disclosure: Delicious Obsessions may receive comissions from purchases made through links in this article. As an Amazon Associate I earn from qualifying purchases.Read our full terms and conditions here.

If you love Thin Mints®, you are going to SWOON over these Thin Mint® Sandwich Cookies. This recipe came about on a cold, snowy winter day a couple of years ago and it is the perfect comfort food or gift for loved ones. All of the flavor of the traditional cookie, but with the addition of a rich, creamy filling. Yum!
This recipe came about one cold, snowy winter day a couple of years ago. I actually remember the day specifically. Denver was in a blizzard, the light in my kitchen was perfect for photos, I wanted to bake (because snowy days make me want to bake), and hubby was on his way home early from work because they shut the office down.
I had already made a batch of my Copycat Thin Mint® Cookies to photograph for my newest eBook, Deliciously Decadent Desserts, and as I was shooting my photos, I suddenly got a hankering for an Oreo sandwich cookie.
That's weird, I thought.
But hey, a craving was calling and I was in the mood to indulge. So I decided to whip up a batch of fast and easy frosting to use as a filling for my extra Thin Mints.
Boy, oh, boy.
Best. Decision. EVERRRRRRRRRRRRRRR.
Seriously. These cookies are so amazing. They are rich, decadent, full of chocolaty mint flavor. Perfect alongside a glass of milk or a cup of coffee. Or as a gift for someone. I'm pretty sure if you made these and gifted a box to a loved one, their love would grow for you by a thousandfold. 🙂
Getting the "Thin Mint"® Sandwich Cookie Recipe Just Right
If you saw my Copycat Thin Mint® Cookies post, then you know that I had made batch after batch after batch of those cookies in order to get them just right. I was determined to recreate my favorite childhood treat (Girl Scout Thin Mints®) into something that I could actually eat now.
Since my body does not tolerate gluten, dairy, and refined sugar very well anymore, that often means that I have to take to the kitchen to recreate my favorite foods. As much as I'd love to indulge in the real thing, the stomach aches, headache, and neck ache (one of my diary exposure symptoms) are just not worth it.
I knew I had already knocked it out of the park with my Copycat Thin Mints® (yes, I'm bragging. #sorrynotsorry). 🙂 But I did want to play around with the frosting a little bit. I made up a couple different batches to see what worked best and finally settled on my favorite.
The Thin Mint® Sandwich Cookie was born.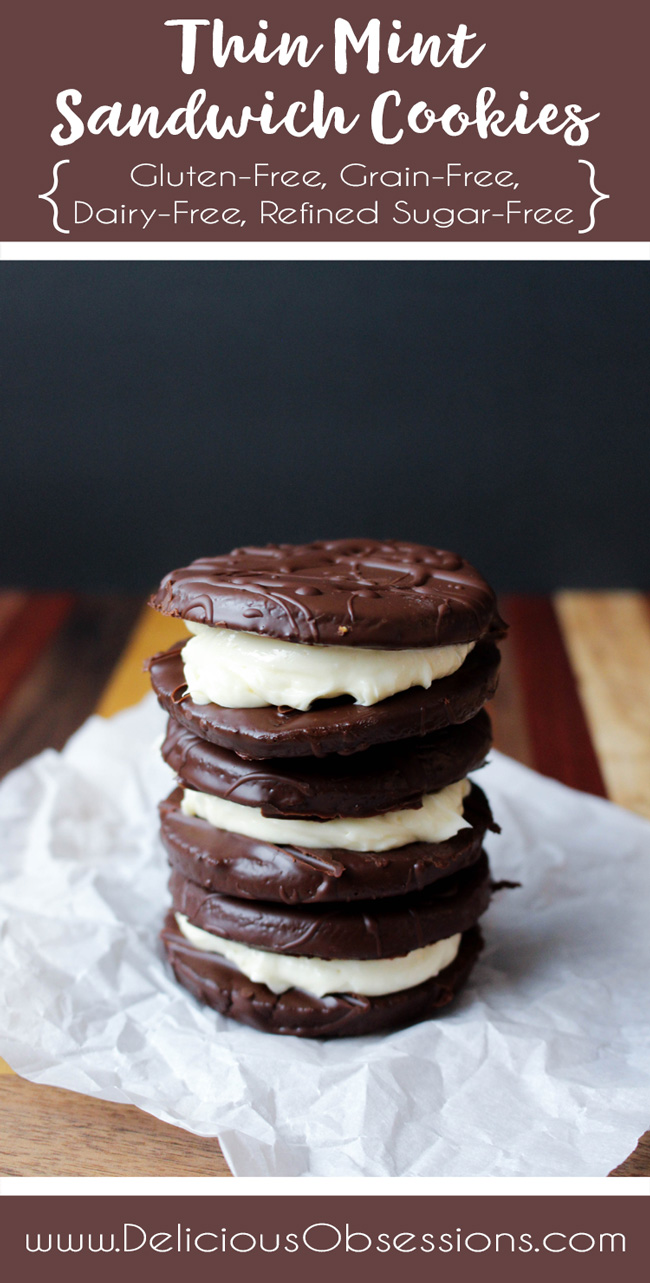 Who Wants the "Thin Mint"® Sandwich Cookie Recipe?
Have I got your mouth watering yet? Are you ready for creamy, chocolately, minty goodness?
Well, today I am sharing this "Thin Mint"® Sandwich Cookie recipe with you, but I'm doing it a little differently. In order to snag this recipe (along with a handful of other never-before-published dessert recipes), you will need to download a copy of my newest eBook: Deliciously Decadent Desserts below.
I know, I know. I'm being mean. It's not fair that I get you all excited for this new recipe, only to not share it here in my blog post.
But you guys, the recipe is THAT. GOOD.
So I had to do it a little differently this time. Trust me, it's worth it.
Listen, I'm not going to lie. I got some flack for doing it this way when I shared about the Copycat Thin Mints®. Some people sent me really nasty messages about it. It's funny how the Internet makes some people lose all sense of respect and common courtesy. I would hope that they would never talk to me face-to-face the way they talk to me via email…
If you don't agree with something I do, that's OK! Thankfully there are about a billion other real food bloggers out there to choose from. And, let's not forget that I have over 700 (yes, you read that right — seven hundred!) recipes that I have published in full on this website FOR FREE, no download required.
I work hard on these recipes and my cookbooks. I spend countless hours in the kitchen and countless dollars on ingredients… So doing something a little different from time to time is A-OK in my mind.
Download Your Copy of Deliciously Decadent Desserts!
If you are ready to get baking, then all you need to do is subscribe to my newsletter via the form below and you'll get instant access to this amazing new eBook (yes, I am tooting my own horn), which has both of my Thin Mint recipes, plus:
Lemon Blueberry Mug Cake
Fast and Easy Matcha "Nice Cream"
Cold Mixed Berry Fruit Soup
Chocolate Chunk Cookies
Easy Apple Crumble

Delicious Obsessions is a participant in the Amazon Services LLC Associates Program, an affiliate advertising program designed to provide a means for us to earn fees by linking to Amazon.com and affiliated sites.Read our full terms and conditions here.