FTC Disclosure: Delicious Obsessions may receive comissions from purchases made through links in this article. As an Amazon Associate I earn from qualifying purchases.Read our full terms and conditions here.

Rich, creamy, dreamy dairy-free evaporated milk. Not only is it super easy to make, it tastes amazing. If you've been missing classic evaporated milk in your dairy-free life, then this is a recipe you must try. Use it in all of your favorite recipes!
I have a confession. I used to loooooove evaporated milk. Sometimes I would just drink it straight. I don't know what it was about the taste, but it really delighted my tastebuds. It's an oddly strange flavor unlike anything else.
Sadly, dairy and I are no longer friends. Not to mention that there are typically a bunch of other unsavory ingredients in most canned evaporated milk that just don't sit well with me (like preservatives and thickeners/texture additives). I can occasionally get away with eating a small amount of cheese every once in a while, but things like yogurt, sour cream, milk, kefir, etc. are a no-go these days.
My Life-Long Dairy Sensitivity
I have suspected issues with dairy for a large chunk of my life. My classic symptoms were congestion, but they were rather mild up until my early 30s so I really didn't pay much attention to it. I loved dairy so much (especially cheeeeeeeeeeeeeeeeeeeeese!!!!!!!) that I could not fathom giving it up.
Unfortunately, as I got into my 30s and started learning more about food sensitivities, I knew I had to cut out the dairy. The congestion started getting worse and worse every time I'd eat dairy. And then I started developing new reactions like neckaches and pretty bad headaches any time I'd indulge in dairy products.
So, dairy had to go bye-bye.
It was a really, really, REALLY sad day when that happened. 🙁 🙁 🙁
I was strictly dairy-free for many years. Then I discovered that I could occasionally have some cheese without any reaction. So that was nice, but I have to be really careful not to overdo it. Cheese is a rare, decadent treat for me. Not something I can enjoy regularly. And I doubt I will ever be able to enjoy dairy the way I used to…
Oh well. It's been so many years now (8+ at the time of writing this) that I don't think about it a whole lot. Occasionally I really miss things like sour cream on my potato or tacos.
Dairy-Free Evaporated Milk Exists!!
This Fall, I got a serious craving for evaporated milk. A food that I had not thought of in, um, I don't know, 10 years? Isn't that weird? How you can completely forget about a food for the longest time and then all of a sudden it randomly pops into your mind?
Yeah.
So, I knew that sucking down a can of evaporated dairy milk was not going to end well for me so I had to find a substitute. One day when I was at the grocery store, I found an organic evaporated coconut milk.
Wait, what?!
This actually exists? I immediately brought it home and tried it.
It was good. Not the same as my beloved evaporated milk, but a suitable substitute for sure. The flavor is not the same as evaporated dairy milk, but I think it would be impossible to replicate that flavor exactly considering the proteins are completely different.
BUT, this will definitely suffice. Woot!
The only problem is that a single can is $4.00+ depending on where you buy it. Kind of pricey, especially if you're making something that calls for more than one can. Oh, and it does have a small amount of cane sugar in it. It's not a ton, but it's enough for something who tends to be sensitive to sugar.
So, I decided to do something totally weird and try making my own.
Necessity is always the mother of invention.
You know what? It worked! As I said above, the flavor is not the same as dairy milk, but it is definitely a suitable replacement and can be used just like you would regular evaporated milk in all of your favorite recipes.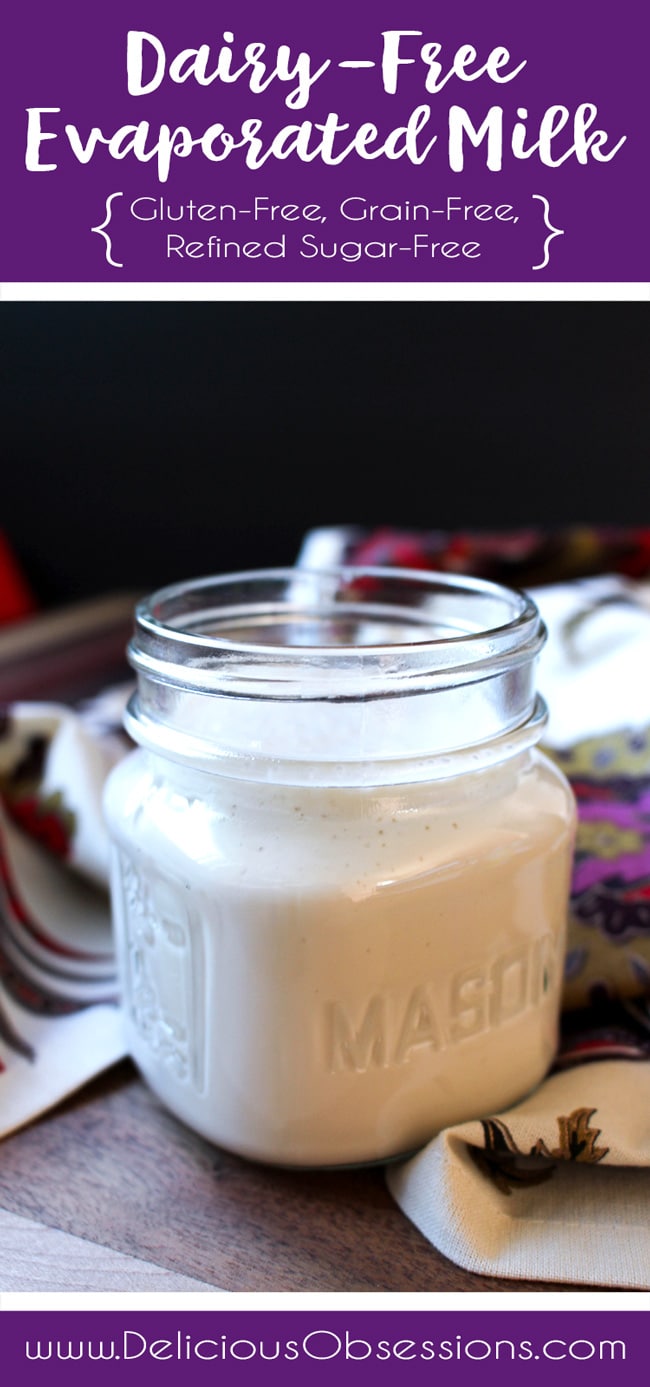 Dairy-Free Evaporated Milk Notes
Full disclosure: I have not used any other milk than coconut milk for this recipe, so I can't tell you how almond, cashew, etc. milks are going to work. But, if you want to try it, I'd love to know how it goes!
The sea salt is optional, but I do find it adds a little something to the end product so I really wouldn't skip it.
Also, if anyone knows how to replicate more of the dairy-milk flavor, let me know. The closest I could get was to gently scald the coconut milk. But, I found that a little tricky if I got distracted because I'd end up burning it. I really wish I knew how to get more of the traditional flavor into this.
Anywho, if you've been missing evaporated milk, give this recipe a go. I'd love to hear how you like it. And, I'd love to hear how you plan on using it. I'm thinking pumpkin pie would be a good place to start. And then maybe some ice cream… Yeah.
Oh, speaking of ice cream, make sure you check out the section below the recipe. There's a little something special down there for you. 🙂
Delicious Obsessions Trusted Product Recommendations for Dairy-Free Evaporated Milk
I am always asked about my favorite ingredients and what I use in my own kitchen. I have linked to the products from my affiliate partners that I personally use and recommend. And now, here are the special coupon offers that select affiliate partners are currently offering:
Thrive Market: If you sign up through this link, you will get 15% OFF your first order.
Amazon, of course, has everything you need for this recipe. Their prices are often very good, though I love to shop around and sometimes find that Thrive Market has better deals. If you like saving money, it's good to shop around! 🙂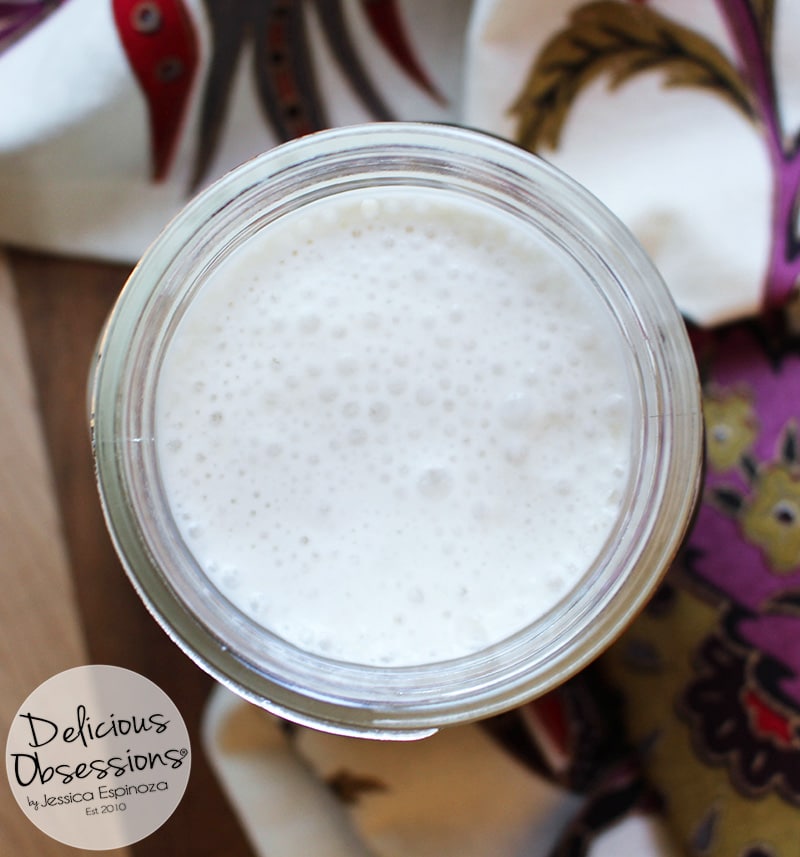 Dairy-Free Evaporated Milk :: Gluten-Free, Grain-Free, Refined Sugar-Free
Rich, creamy, dreamy dairy-free evaporated milk. Not only is it super easy to make, it tastes amazing. If you've been missing classic evaporated milk in your dairy-free life, then this is a recipe you must try. Use it in all of your favorite recipes!
Instructions
IMPORTANT NOTE #1! You know your stove best. Some people's burner temperatures run hot, some run cooler, so adjust as you see fit.
IMPORTANT NOTE #2! Keep in mind that as milk heats up, it tends to expand and want to boil over rapidly so this is why you want to stir, stir, STIR and always use a big pot.
Pour the milk into a LARGE heavy-bottomed saucepan (size is important here, especially if you are going to scald it slightly in step 2).
While stirring continuously, heat the milk over medium heat (or medium-high heat if you want a slightly scalded taste), until it comes to a simmer.
NOTE: Keep in mind that as the milk heats up, it tends to expand and want to boil over so this is why you want to stir, stir, STIR and always use a big pot.
If you're scalding it, continue stirring and let it cook for 2-3 minutes at the high heat. DO NOT WALK AWAY from this or else you'll end up with an overflowing burnt mess.
Once the milk is scalded, or if you're skipping that step, reduce the heat to low/medium-low and continue simmering (leave the pan uncovered), stirring occasionally, until the milk is reduced by about half. This should take about 30-40 minutes.
Remove from the heat and let cool.
Pour into a glass jar and refrigerate. Use within 5 days. It can also be frozen.
Notes
I prefer the taste of Aroy-D coconut mik that comes in the 8.5oz tetra pak packages. To me, it has the cleanest taste. But use whatever coconut milk you prefer.
Recommended Products
As an Amazon Associate and member of other affiliate programs, I may earn a small commission from qualifying purchases.
Nutrition Information:
Yield:

4
Serving Size:

1
Amount Per Serving:
Calories:

129
Total Fat:

12g
Saturated Fat:

8g
Trans Fat:

0g
Unsaturated Fat:

4g
Cholesterol:

0mg
Sodium:

44mg
Carbohydrates:

4g
Fiber:

0g
Sugar:

0g
Protein:

5g
This website provides approximate nutrition information for convenience and as a courtesy only. Nutrition data is gathered from Nutritionix and we often find their calculations to be slightly inaccurate based on the whole food ingredients we use on this site. Nutrition information can vary for a recipe based on many factors. We strive to keep the information as accurate as possible, but make no warranties regarding its accuracy. We encourage readers to make their own calculations based on the actual ingredients used in your recipe, using your preferred nutrition calculator.
You Know What You Could Use This Dairy-Free Evaporated Milk For? Ice Cream!
If you want to know how to make your own decadent ice cream at home, I've got you covered in my best-selling eBook, The Splendid Scoop and Other Frozen Treats: Delicious and Easy Dairy-Free Recipes, Plus Tips and Tricks for Homemade Ice Cream Perfection!
When the weather gets warm, nothing is more delicious than a bowl of cold ice cream or a delicious frozen treat. But, when you're on a restricted diet, finding treats that are suitable for your needs can be tricky. Plus, what happens when you want to make ice cream, but don't own an ice cream maker? Can you still make tasty treats without all the special equipment?
Yes! You can!
That is why I created The Splendid Scoop and Other Frozen Treats eBook! I, myself, am on a restricted diet for health reasons and when the weather starts warming up over 65 F, I start to get cranky. I am definitely a cool weather gal and one way to keep me sane and satisfied during the height of summer is knowing that I can make something delicious, at home, using healthy ingredients that fit my lifestyle.
All of the recipes in this book are dairy-, grain-, and gluten-free and easily be modified for the autoimmune protocol as well, making them extra special for those on super restricted diets.
In The Splendid Scoop and Other Frozen Treats eBook, You Will Learn:
Why making your own ice cream and frozen treats at home is better than buying them at the store (even the organic ones!).
Tips and tricks for homemade ice cream success.
How to make ice cream without an ice cream maker (it's easier than you think!).
Delicious dairy-free recipes the whole family will love (recipes are also gluten and free and can easily be adapted for the autoimmune protocol as well).
Extensive resource suggestions for real food, wellness, and beyond.
Don't let another summer or special occasion pass you by. No longer will you have to watch your friends and family indulge on their favorite frozen treats while you sit on the sidelines due to your dietary restrictions.
Now you can enjoy creamy, delicious, and allergen-friendly frozen treats once again with The Splendid Scoop.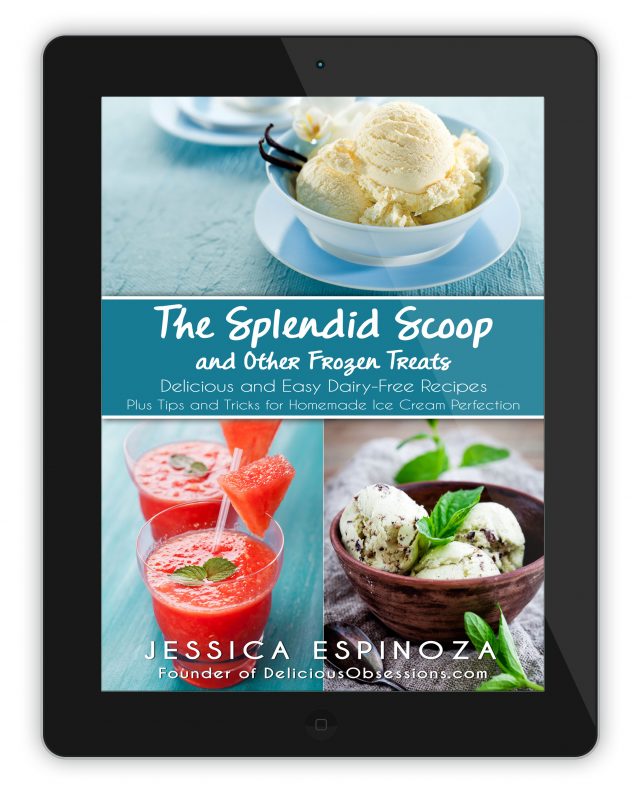 Delicious Obsessions is a participant in the Amazon Services LLC Associates Program, an affiliate advertising program designed to provide a means for us to earn fees by linking to Amazon.com and affiliated sites.Read our full terms and conditions here.