FTC Disclosure: Delicious Obsessions may receive comissions from purchases made through links in this article. As an Amazon Associate I earn from qualifying purchases.Read our full terms and conditions here.

When you need a fast and easy side, this creamy cilantro lime slaw is the perfect dish. It's easy to make and full of delicious flavor. Pair this creamy cilantro lime slaw with your favorite main dish, whether it be pan-seared fish or hamburgers. Did I mention this tastes amazing on fish tacos?
Who's ready for an amazingly delicious creamy cilantro lime slaw recipe?! I know I am! 🙂
You guys, I ADORE cabbage. I feel like I eat more cabbage than any other veggie. I love how versatile it is and quite frankly it's at the top of my favorite veggies list. If you're a cabbage lover like me, then you much check out this post with 100+ cabbage recipes!
Coleslaw – The Perfect Side Dish for Almost Everything
Coleslaw is one iconic side dish. There are a million ways to prepare it and some form of a cabbage slaw makes its place onto dinner tables from a wide variety of cultures. Even regions where cabbage is not found have some version of a "slaw". West Africa prepares on with shredded cassava root and North Africa prepares one with cauliflower. (source)
Variations on this popular cabbage side dish can be found in Germany, Italy, Poland, Russia, Ukraine, Sweden, the United Kingdom, and of course, here in the U.S. And let's not forget that cabbage makes a regular appearance in Asian cultures too. (source)
To say cabbage is versatile is an understatement if you ask me.
Vinegar-Based or Mayo-Based?
Whether you choose to make your coleslaw with a vinegar base or a mayonnaise base, both are equally delicious. The versatility of cabbage lends itself to a wide range of flavor combinations, from savory to a little bit sweet. Many times fruits like apples, pears, raisins, and cranberries make an appearance in these cabbage side dishes adding a little hint of sweet against savory flavors.
I am a big fan of both vinegar-based slaws and mayo-based slaws. It all depends on what I'm making alongside the slaw. I love vinegar based slaws (like this spicy garlic cabbage slaw) when I am pairing it with heavier foods like fried fish or red meat. If you're a fan of fish and chips, a vinegar based slaw is the perfect side to help cut through the richness and fat of the meal.
I like the creamy, mayo-based slaws with lighter meats like grilled fish or chicken. This creamy cilantro lime slaw is my all time favorite with fish tacos. It is the perfect addition to grilled or pan-seared white fish, rolled up in a super tasty flour tortilla (or if you're gluten-free like me, try these almond flour tortillas from Siete Foods).
Creamy Cilantro Lime Slaw Notes
I have very few notes about this creamy cilantro lime slaw because frankly, it's a cinch to make!
My first tip is to shred your cabbage super thin. You can use a food processor or a very sharp knife to get thin strands. I love thinly sliced cabbage for all slaws and this creamy cilantro lime slaw is no exception.
A lot of creamy slaw dressings use sour cream in addition to the mayo for a richer, creamier dressing. I used to love the addition of sour cream to my slaw dressing but since I can no longer tolerate dairy, I am using coconut milk yogurt in this recipe. I highly recommend the CoYo brand if you can find it. It so rich and creamy with a texture exactly like sour cream. It also doesn't have a super strong coconut flavor which is nice for savory dishes like this.
And that's it! Let's dive into today's creamy cilantro lime slaw recipe!
Creamy Cilantro Lime Slaw :: Gluten-Free, Grain-Free, Dairy-Free
When you need a fast and easy side, this creamy cilantro lime slaw is the perfect dish. It's easy to make and full of delicious flavor. Pair this creamy cilantro lime slaw with your favorite main dish, whether it be pan-seared fish or hamburgers. Did I mention this tastes amazing on fish tacos?
Ingredients
2 tbsp good quality mayonnaise of your choice
2 tbsp coconut milk yogurt (you can also use sour cream if you can tolerate dairy)
1/2 lime, juiced
1 tbsp organic white wine vinegar
1/4 tsp garlic powder
1/4 tsp onion powder
1/4 tsp sea salt
fresh ground black pepper (a couple grinds, more or less to taste)
1/2 head red cabbage, shredded (about 4 cups)
1/2 bunch green onions, ends trimmed and then finely chopped (about 4 green onions)
2 tbsp fresh cilantro, chopped (I leave the stems on for more flavor, but feel free to only use the leaves if you like)
Instructions
Prepare your dressing in a large bowl (with a lid makes it easier) by combining your mayonnaise, coconut milk yogurt or sour cream, lime juice, white wine vinegar, garlic powder, onion powder, salt, and pepper.
Stir well to combine and then set aside.
Shred your red cabbage and place in the bowl with the dressing.
Chop your green onions and cilantro and add to the cabbage.
Place the lid on the bowl and shake until the cabbage is coated with the dressing and everything is combined.
Alternatively, you can use a set of tongs or even your hands to toss everything together until combined.
Serve with your favorite main dish and enjoy!
Recommended Products
As an Amazon Associate and member of other affiliate programs, I may earn a small commission from qualifying purchases.
Nutrition Information:
Yield:

4
Serving Size:

1
Amount Per Serving:
Calories:

40
Total Fat:

0g
Saturated Fat:

0g
Trans Fat:

0g
Unsaturated Fat:

0g
Cholesterol:

1mg
Sodium:

179mg
Carbohydrates:

9g
Fiber:

3g
Sugar:

3g
Protein:

2g
This website provides approximate nutrition information for convenience and as a courtesy only. Nutrition data is gathered from Nutritionix. Nutrition information can vary for a recipe based on many factors. We strive to keep the information as accurate as possible, but make no warranties regarding its accuracy. We encourage readers to make their own calculations based on the actual ingredients used in your recipe, using your preferred nutrition calculator.
This Creamy Cilantro Lime Slaw Helps You Eat the Rainbow! (+ Special Coupon Code)
As you guys know, I am a huge fan of all things veggies. If there was just one single thing that I could tell people to do to improve their health, it would be to eat more vegetables. An increased intake of veggies helps boost your nutrition and your health in ways that you simply cannot achieve elsewhere. Science continues to explore and show how the antioxidants and phytonutrients in fruits and veggies can "talk" directly to our genes and help alter genetic expression. It's truly fascinating and I want to help you improve your health and your life with Nature's miracle "drug."
That's why I love sharing recipes like this (and all the other veggie recipes on this site) and also why I created my popular Eat the Rainbow eCourse. Most people know that vegetables are heath-packed powerhouses, but they simply do not feel they have the knowledge, time, or the ability to add more to their diet. I want to help change that and make eating vegetables easier and a heck of a lot more fun!
In the Eat the Rainbow eCourse, I show you how to do exactly that (and a ton more). This 30-day eCourse arms you with the skills and creativity you need to make vegetables a centerpiece in your diet — all in bite-sized nuggets that won't overwhelm or frustrate you. In order to really get the full spectrum of phytonutrients and antioxidants that vegetables provide, you need to eat a wide variety of types and colors (i.e. the rainbow), but so many people find themselves eating the same four or five veggies over and over and over again.
For a limited time, I am running a special on my Eat the Rainbow eCourse where you can enroll for 50% off. That means you can get a full 30 days of content + a bonus cookbook for only $10. This is a steal for one of the most important investments you can make for your health (eating more veggies).
Enroll in the Eat the Rainbow eCourse here (or click the image below) and enter coupon code VEGGIE at checkout to save 50%.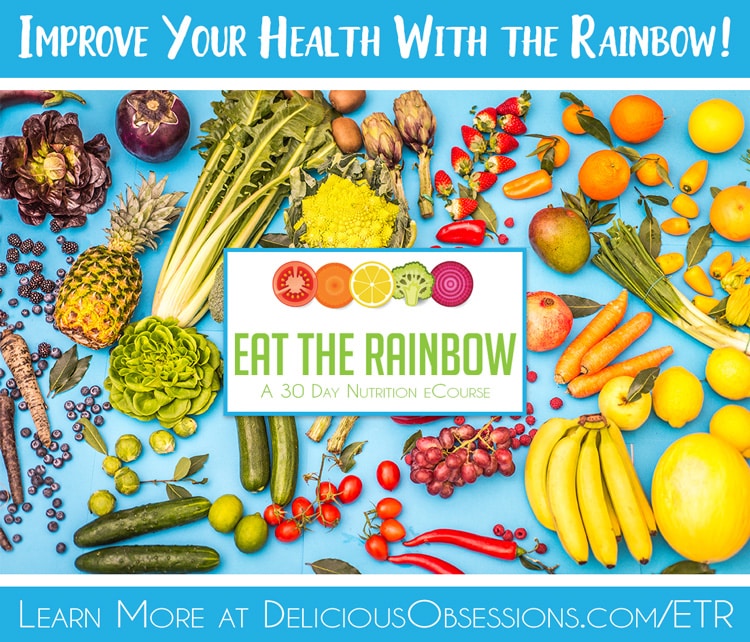 I can't wait to see you in the course and hear how your health improves once you start eating the rainbow!

Delicious Obsessions is a participant in the Amazon Services LLC Associates Program, an affiliate advertising program designed to provide a means for us to earn fees by linking to Amazon.com and affiliated sites.Read our full terms and conditions here.