FTC Disclosure: Delicious Obsessions may receive comissions from purchases made through links in this article. As an Amazon Associate I earn from qualifying purchases.Read our full terms and conditions here.

This easy vanilla sponge cake recipe is perfect for any occasion. It's delicious all by itself, but when paired with toppings like fresh fruit and whipped cream, it is the perfect way to end any meal. The versatility of this easy vanilla sponge cake will make it a go-to recipe in your real food kitchen.
Sponge cake. What an iconic cake, am I right? I'll never forget making sponge cake when I was a child. I think it was one of the first recipes that I learned to make. I can still remember the dense spongy cake, sometimes topped with fruit or chocolate. Yum.
This vanilla sponge cake recipe is so easy to make and I just know it will become a staple recipe in your rotation. You can do so much with it, which is exactly the type of recipe that I love! 🙂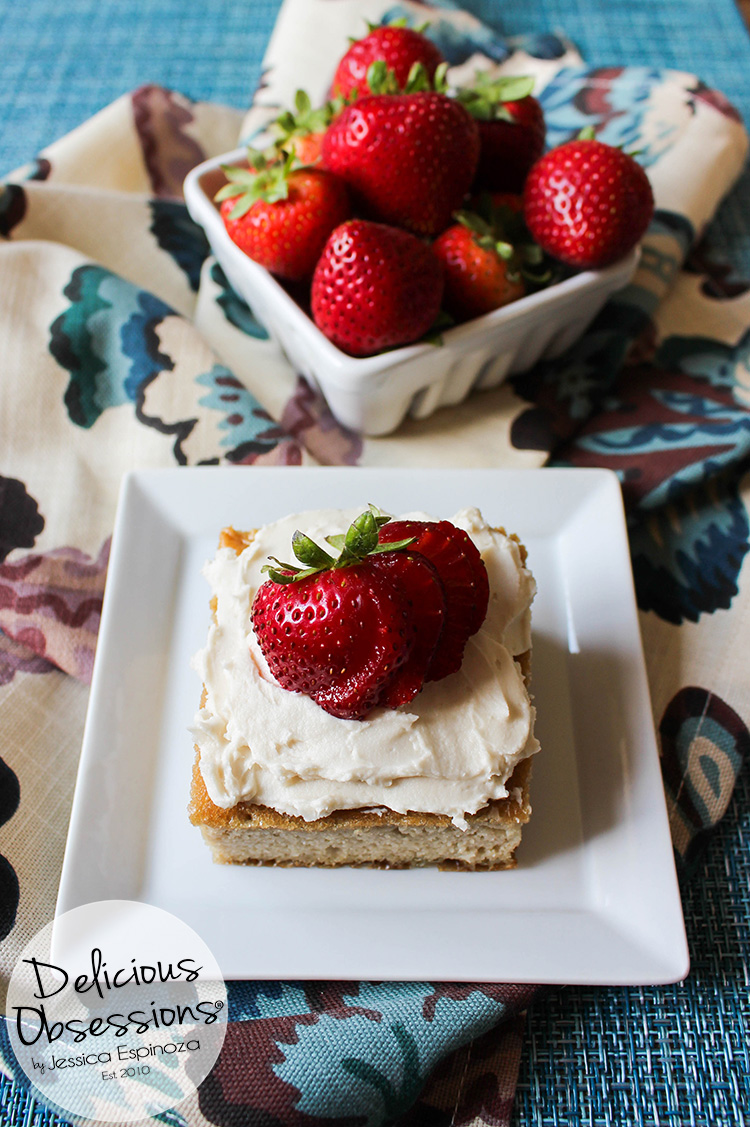 Sponge Cake Memories — My Early Years in the Kitchen
My mom had these old church cookbooks with family recipes in them and I would sit and read through them for hours sometimes. I loved reading cookbooks. I would be fascinated with the pairing of different ingredients and what ratios worked for certain things.
I was also obsessed with figuring out how to make certain recipes, even when I didn't have all of the ingredients. Where I grew up was a good 35+ minutes away from any grocery store. We usually went to town 1 time per week to get groceries and we made do with what we had until the next shopping trip.
But sometimes I would find a recipe that I just HAD to make that day, but we wouldn't have the right ingredients. I would read through the recipe and study it, thinking of alternatives for those ingredients. Then I will go to the pantry and study the pantry to see what I could possibly use to substitute for the ingredients that I didn't currently have.
I think this is really what spawned my creativity in the kitchen. I learned to make adjustments to recipes to use things that I had on hand. Sometimes the results were not all that great, but other times they were a slam dunk.
I still do this to this day. Sometimes I'll come across a recipe that I just have to try, but I may not have all of the ingredients. And even though I now live smack dab in the middle of the city, I don't often want to go traipsing out to the grocery store to get whatever it is that I'm missing.
It's funny how I haven't thought about those old sponge cakes that I used to make growing up until I was writing this recipe for you guys. As I looked back on that time cooking and baking in my mom's kitchen, I'm transported to a time that was truly joyful. And I look back on that little girl fondly and have to smile because she had no idea how much food would play a role in her life.
Easy Vanilla Sponge Cake Notes
This vanilla sponge cake is perfectly spongy and flavorful. Even though the texture is denser than traditional cakes, it still feels light. The warm vanilla flavor pairs well with almost any topping, so feel free to use this as a base for your own creations.
I personally love this vanilla sponge cake paired with fresh berries and whipped cream. If you're dairy-free, you must try this amazing coconut whipped cream on any of your desserts. It is SO good. You could also serve this sponge cake with frosting, ganache, ice cream, nuts, seeds, caramel, or any combination of those.
For this vanilla sponge cake recipe, make sure you use finely ground almond flour, NOT almond meal. The almond meal is too dense and heavy and won't yield a lighter sponge cake. Almond flour is going to be all white because it's made from blanched, skinless almonds. Almond meal has the skins ground up in it so it will have a brown hue and the texture is much coarser.
As far as sweeteners go, you can also use any granulated sweetener of your choice if you don't like erythritol. I have not made this vanilla sponge cake recipe with a liquid sweetener, although I think you could. You'd need to cut back the coconut milk just a tad.
Lastly, this vanilla sponge cake recipe works best if all of your ingredients are at room temperature, especially the eggs. It should only take 30-60 minutes for eggs to come to room temp. If you're in a hurry, you can place the eggs in a bowl of warm water for 5-10 minutes and you're ready to go.
Who's ready to get baking? Let's check out today's vanilla sponge cake recipe!
Easy Vanilla Sponge Cake :: Gluten-Free, Grain-Free, Dairy-Free, Refined Sugar-Free
This easy vanilla sponge cake recipe is perfect for any occasion. It's delicious all by itself, but when paired with toppings like fresh fruit and whipped cream, it is the perfect way to end any meal. The versatility of this easy vanilla sponge cake will make it a go-to recipe in your real food kitchen.
Instructions
Preheat your oven to 350 degrees Feirenheight.
Grease or spray an 8"x8" baking dish and set aside.
In a large bowl, combine the eggs, oil, milk, sweetener, vanilla, sea salt, and stevia. Mix until smooth and creamy.
In a separate bowl, combine the almond flour, coconut flour, and baking soda. Stir to combine.
With the mixer running, add the flour mixture to the wet ingredients and mix until smooth.
The batter will be thin, but this is OK!
Pour the batter into your greased baking dish and place in oven.
Bake for 35-40 minutes, or until the center is set and just slightly springy.
Remove from oven and let cool completely before serving.
Frost with your favorite frosting (I love the Simple Mills frostings because they have so few ingredients), top with ice cream, fruit, or any other topping of your choosing.
This cake makes a great base for a birthday cake, strawberry shortcake, and more!
Recommended Products
As an Amazon Associate and member of other affiliate programs, I may earn a small commission from qualifying purchases.
Nutrition Information:
Yield:

9
Serving Size:

1
Amount Per Serving:
Calories:

200
Total Fat:

15g
Saturated Fat:

2g
Trans Fat:

0g
Unsaturated Fat:

12g
Cholesterol:

84mg
Sodium:

277mg
Carbohydrates:

10g
Fiber:

3g
Sugar:

4g
Protein:

8g
This website provides approximate nutrition information for convenience and as a courtesy only. Nutrition data is gathered from Nutritionix. Nutrition information can vary for a recipe based on many factors. We strive to keep the information as accurate as possible, but make no warranties regarding its accuracy. We encourage readers to make their own calculations based on the actual ingredients used in your recipe, using your preferred nutrition calculator.
You Know What Goes Good with Vanilla Sponge Cake? Ice Cream!
If you want to know how to make your own decadent ice cream at home, I've got you covered in my best-selling eBook, The Splendid Scoop and Other Frozen Treats: Delicious and Easy Dairy-Free Recipes, Plus Tips and Tricks for Homemade Ice Cream Perfection!
When the weather gets warm, nothing is more delicious than a bowl of cold ice cream or a delicious frozen treat. But, when you're on a restricted diet, finding treats that are suitable for your needs can be tricky. Plus, what happens when you want to make ice cream, but don't own an ice cream maker? Can you still make tasty treats without all the special equipment?
Yes! You can!
That is why I created The Splendid Scoop and Other Frozen Treats eBook! I, myself, am on a restricted diet for health reasons and when the weather starts warming up over 65 F, I start to get cranky. I am definitely a cool weather gal and one way to keep me sane and satisfied during the height of summer is knowing that I can make something delicious, at home, using healthy ingredients that fit my lifestyle.
All of the recipes in this book are dairy-, grain-, and gluten-free and easily be modified for the autoimmune protocol as well, making them extra special for those on super restricted diets.
In The Splendid Scoop and Other Frozen Treats eBook, You Will Learn:
Why making your own ice cream and frozen treats at home is better than buying them at the store (even the organic ones!).
Tips and tricks for homemade ice cream success.
How to make ice cream without an ice cream maker (it's easier than you think!).
Delicious dairy-free recipes the whole family will love (recipes are also gluten and free and can easily be adapted for the autoimmune protocol as well).
Extensive resource suggestions for real food, wellness, and beyond.
Don't let another summer or special occasion pass you by. No longer will you have to watch your friends and family indulge on their favorite frozen treats while you sit on the sidelines due to your dietary restrictions.
Now you can enjoy creamy, delicious, and allergen-friendly frozen treats once again with The Splendid Scoop.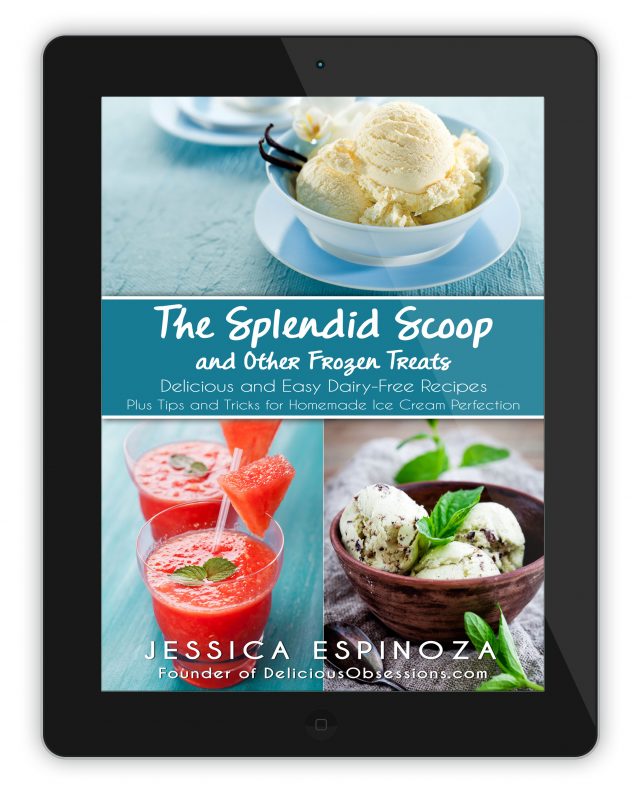 Delicious Obsessions is a participant in the Amazon Services LLC Associates Program, an affiliate advertising program designed to provide a means for us to earn fees by linking to Amazon.com and affiliated sites.Read our full terms and conditions here.