FTC Disclosure: Delicious Obsessions may receive comissions from purchases made through links in this article. Read our full terms and conditions here.

Wing lovers will swoon for these amazing Korean chicken wings! Korean spices make these chicken wings different from other spicy chicken wings. You could possibly substitute the gochugaru and gochujang with other peppery sauces but then you will miss out on its unique taste. It's worth seeking these ingredients out to get the full flavor explosion at mealtime. 
Y'all ready for a new Korean recipe? A while back on my Instagram Stories, I talked about how I had never cooked a Korean dish (except for kimchi, which I shared here) in my life. And now I will soon have THREE Korean recipes on the site (Paleo Bulgogi, aka BBQ Beef is coming SOON!).
Who's expanding their culinary chops?
This girl, that's who. 🙂
Anywho, today's recipe comes from another amazing new cookbook and I couldn't be more excited to share it with you. Dr. Karen Lee is a colleague of mine and she recently published a cookbook called Paleo Cooking with Your Air Fryer. Who knew you could do so many different things with your air fryer?
My Air Fryer Experience
Remember a few years back when Instant Pots hit the scene? Remember how everyone went all crazy for those (and still do)? Well, the air fryer is like that and now there's a paleo cookbook to help you put that fryer of yours to good use. 🙂
I didn't use my first air fryer until the middle of 2018. I had seen them but honestly, I didn't need yet another kitchen gadget to take up space. So I ignored the fad and went on cooking in my oven.
When my hubby and I were looking for a new home last Spring, he stayed with his mom in the city due to his work schedule, while I stayed up in the mountains with my parents. While he was living with his mom, he was introduced to her air fryer and immediately fell in love. He told me repeatedly that the first thing we needed to get when we moved into our new home was an air fryer.
I was like, "eh, it's not that cool."
Well, once I tried it, I was hooked. It heats things up SO much faster than my oven or even a toaster oven. As a matter of fact, I needed a new toaster oven when we moved into our new home and I decided to forgo purchasing one because the air fryer made up for it.
Plus we have a teeny tiny kitchen and counter space is not readily available. #firstworldproblems, I know.
To tell you the truth, I haven't really missed my toaster oven. And this is coming from someone who used to use her toaster oven almost daily. That's why I was super excited to receive my review copy of Paleo Cooking with Your Air Fryer and when I saw the wings, I just knew I had to try them!
What's Inside Paleo Cooking with Your Air Fryer?
In this cookbook, you'll find 75 delicious fried food recipes that can all be made without using a pot full of oil, gluten, or grains. If you want an easy peasy way to cook appetizers, entrees, desserts, and snacks, try using the air fryer to make quick and easy meals! Some of the quick and easy recipes in the Paleo Cooking With Your Air Fryer cookbook are:
Huevos Rancheros
Healthy Chicken Fried Steak
Sour Cream and Onion Kale Chips
Savory Sweet Potato Stacks
Vegetable Tempura
Healthy Korean Chicken Wings (recipe for this below!!)
Not Your Gramma's Chicken
Beef Negimaki
Brussels Sprouts
Fish Tostadas
Onion Rings
Savory Sweet Potatoes
Fancy Pants French Fries
Coconut Maple Macaroons
You can find Paleo Cooking with Your Air Fryer on Amazon here.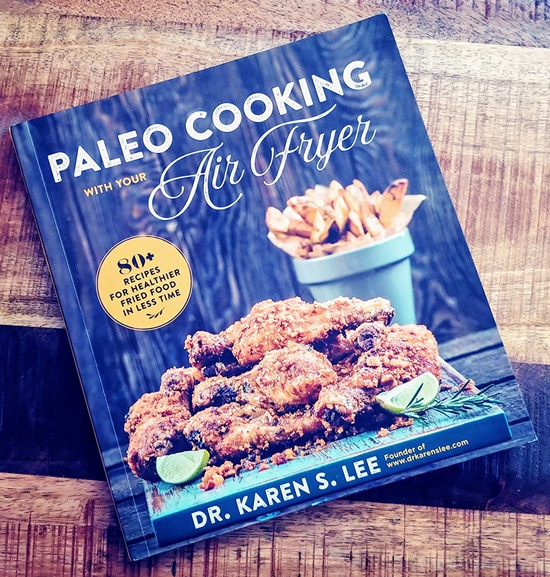 About Healthy Korean Chicken Wings
I am a chicken wing lover. There aren't many places I can get wings with my dietary restrictions, but whenever I find a gluten-free place, I have to eat there. I also have experimented with making my own wings at home, which is a lot easier than I ever thought it was.
While I am a wing purist, meaning I like traditional wing sauce and usually don't get all fancy with my wing flavors, I have to say I found the flavor profile of these Korean wings enticing. So that's why I chose to share the recipe with you today.
Korean spices make these chicken wings different from other spicy chicken wings. You could possibly substitute the gochugaru and gochujang with other peppery sauces but then you will miss out on its unique taste. Your local Asian markets will carry both gochugaru and gochujang.
Note about gochugaru and gochujang. You can make your own gochujang at home using gochugaru. But if you want to buy pre-made, you can check Amazon or other local stores. But please make sure you read the ingredients, as most are made with things like corn syrup and wheat. Another paleo blogger recommended this Wholly brand and it is quite honestly the cleanest version of pre-made gochujang I have found. If you can tolerate rice and soybeans, this one might be a good option for you.
Whatever you decide to do, you will be glad you took the extra effort to make these finger-licking-good wings with original Korean spices. Sit with a pitcher of your favorite drink and be ready to be awakened by bursts of hot, sexy flavors!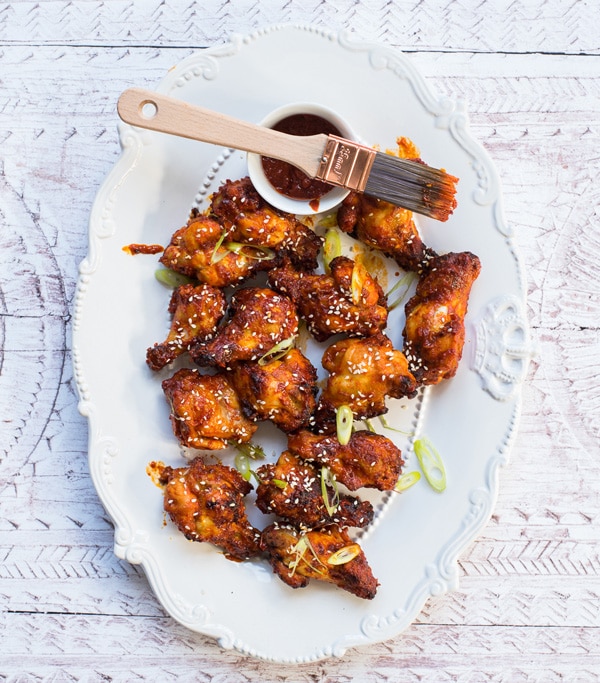 Note on Air Fryers
Despite our teeny, tiny kitchen, we have actually ended up with two air fryers in our house. My husband is not on a restricted diet, so he still eats gluten. In order to keep my cross contamination exposure down as much as possible, we have ended up with "his and hers" air fryers. His is free to be contaminated with gluten and grains, while mine stays pristine and clean.
These are the only two air fryers we have owned, but we love both of them. They have worked great for us and are still going strong after a lot of use. My husband uses his almost daily so it gets a lot of wear and tear. Here are links to the two we have:
Keep an eye out for sales both on Amazon and local stores. Sometimes you can get a really stellar deal on these air fryers!

Healthy Korean Chicken Wings from Paleo Cooking with Your Air Fryer :: Gluten-Free, Grain-Free, Dairy-Free
Author:
Jessica Espinoza @ Delicious Obsessions
Ingredients
16 chicken wings
1 tsp chopped garlic
1 tsp grated fresh ginger
1 tbsp (15 g) gochujang (Korean red pepper paste -- this Wholly Gochujang is the cleanest brand I could find on Amazon as recommended by a fellow paleo blogger)
Korean Chicken Wings Sauce
½ tsp sea salt
2 tsp (9 g) gochugaru (Korean red pepper flakes -- this is the kind I have been using)
1 tbsp (11 g) cayenne pepper
2 tsp (9 g) grated fresh ginger
2 cloves garlic, minced
¼ cup (61 g) gochujang (Korean red pepper paste -- this Wholly Gochujang is the cleanest brand I could find on Amazon as recommended by a fellow paleo blogger)
2 tbsp (30 ml) water
1 tsp sesame oil (I like Spectrum Organic brand or Napa Valley Naturals brand)
½ tsp toasted sesame seeds
1 tsp apple cider vinegar (I like Braggs Organic brand or Viva Naturals Organic brand)
1 tbsp (15 ml) raw honey
½ tsp toasted sesame seeds, for garnish
1 tbsp (3 g) diagonally sliced scallions, for garnish
Instructions
Separate the drummettes from the wingettes and discard the tips.
Combine the chicken parts with the garlic, ginger and gochujang, and marinate overnight. Make the Korean chicken wings sauce by combining all the ingredients in an airtight container, then refrigerate.
Preheat the air fryer to 360°F (180°C).
Take the wings out of the refrigerator and blot the liquid from the wings with a paper towel. When the air fryer reaches the desired temperature, put the wings in the basket and set the timer for
minutes. Shake the basket at the halfway point and turn over any wings that are not browning.
Meanwhile, transfer the marinade to a medium saucepan and simmer on low heat. Reserve 2 tablespoons (30 ml) of the marinade to serve on the side.
When the timer goes off and the wings are brown, transfer all the wings to the pan and coat the wings with the sauce. Return the wings to the air fryer, set the timer for 3 minutes and cook until the timer goes off.
Transfer the chicken wings to a plate, sprinkle with sesame seeds and scallions before serving with the sauce on the side.

Delicious Obsessions is a participant in the Amazon Services LLC Associates Program, an affiliate advertising program designed to provide a means for us to earn fees by linking to Amazon.com and affiliated sites.Read our full terms and conditions here.