FTC Disclosure: Delicious Obsessions may receive comissions from purchases made through links in this article. As an Amazon Associate I earn from qualifying purchases.Read our full terms and conditions here.

This hearty beef and cabbage soup is rich in flavor and very filling. It makes a meal all on its own or can be paired with a side salad or crusty bread and butter. Cabbage is such an inexpensive vegetable that this is also a great budget-friendly meal any time of year.
Soup! I love soup.
I eat soup year round, even in the hot summer months. Some people think I'm crazy, but to me, soup is a perfect food. You can get all of your macro and micronutrients from whatever proteins and plants you put in there. Soup can be the quintessential well-rounded meal.
Eating More Veggies is My Goal
One of my goals on my own healing journey has always been to incorporate more vegetables into my diet. I have consistently struggled with getting enough veggies in every day (hence the reason I created my Eat the Rainbow eCourse). My goal has always been to get 6-9 cups of veggies in per day (mostly cooked or lightly steamed to help with digestion).
That is A LOT of veggies, but can I tell you something? When I meet those goals, I feel amazing. I have more energy, more clarity, and better sleep than I do when the plant foods are lacking. Most of the time I get around 6-7 cups if I stay strict with 2ish cups with each meal. My plate typically has 1/4-1/3 protein and the rest in veggies (and the more variety the better).
I am a firm believer that we were designed to eat animal protein, so my plate almost always has some sort of meat on it. I do sometimes do a meatless meal (my fave is my Roasted Red Pepper and Artichoke Lentil Burgers with Cucumber Herb Raita), although my body just functions better if I'm getting a little animal protein at each meal.
We All Need a Good Soup Recipe
All that said, I think we all could be eating less meat and more plant foods. That's why soups are so great! You can pack a whole lot of stuff into one pot, making each serving veggie-filled and delicious.
Today's hearty beef and cabbage soup recipe has turned into a comfort food of sorts for me. There's something about the way the tomatoes and cabbage meld together with the herbs and spices. I've been eating a lot of it this winter and it feels so nourishing to my body and soul.
Mmm, so good.
If you're a soup lover like me, I've got a lot of other soup options on the site, included:
And that's not even all of them! Check out my full Soups & Stews recipe library to see all of the recipes.
Hearty Beef and Cabbage Soup Notes
I initially created this hearty beef and cabbage soup recipe using ground beef because that is what I almost always have in the freezer. Once a year, I do a big grass-fed beef order and stock my freezer for the next year. Since ground beef is the most affordable, that's what I end up with the most of.
If you're not a fan of beef, or can't find a good quality grass-fed beef in your area (check the Eat Wild website to locate sustainable ranchers in your area), this soup also tastes amazing with ground turkey or ground chicken. I love mixing up the proteins in my soup so that I'm not eating too much of any one type too often. Feel free to play around with whatever protein you would like in this hearty beef and cabbage soup.
If you can't find Napa cabbage, feel free to use all regular green cabbage. It's going to seem like A LOT of cabbage, but trust me, after it all cooks down you'll be surprised how much it shrinks.
When I make any kind of soup, I make big batches because I always want enough to portion up and freeze for future meals. As with most soups and stews, this hearty beef and cabbage soup tastes even better after it has been frozen and thawed. Maybe that's another reason I'm such a fan of soups and stews — the flavors just get better with age. Like a fine wine. LOL. 🙂
If this recipe is too big for your needs, you can easily cut it in half. Or, if you have a crazy big soup pot and are feeding a crowd, you can double it. When I make this, I eat it as-is and it's plenty for my meals. But you can always pair this hearty beef and cabbage soup with a side salad or some crusty bread and butter. Try topping it with a sprinkle of parmesan cheese for an extra delicious bowl of goodness.
OK, time to get our soup on! 🙂
Hearty Beef and Cabbage Soup :: Gluten-Free, Grain-Free, Dairy-Free
Total Time:
1 hour
20 minutes
This hearty beef and cabbage soup is rich in flavor and very filling. It makes a meal all on its own or can be paired with a side salad or crusty bread and butter. Cabbage is such an inexpensive vegetable that this is also a great budget-friendly meal any time of year. 
Ingredients
2 large sweet onions, diced
2 tbsp coconut oil
1 bunch celery (about 1 pound), diced
2 pounds green cabbage, shredded or rough chopped
2 pounds napa cabbage, rough chopped
12 cloves garlic, minced (yes, this is a lot of garlic, but trust me, it's delicious!)
1 pound ground beef
2 tsp sea salt
2 tbsp all-purpose seasoning
1/2 tsp ground black pepper
2 1/2 tbsp Cajun/blackening seasoning (try my homemade Cajun/blackening seasoning recipe!)
1 tsp smoked paprika
5 bay leaves
1 1/2 tsp dried thyme
3 cans/jars (14.5 ounces each) diced tomatoes (I love the different flavored ones, like adobo, garlic, etc. if you can find them)
3 quarts beef broth
Instructions
Dice your sweet onions and place in a large soup pot with 2 tbsp coconut oil. Turn Stir to combine and begin cooking over medium heat. Remember to stir the onions occasionally.
While the onions are softening, wash and dice your celery and set aside.
Then, wash and chop/shred your green cabbage and napa cabbage. Set aside.
Mince your garlic and add to the pot with the onions. Stir to combine. Your onions should be pretty translucent by now.
Add your ground beef to the onion and garlic mixture and break the meat up so it cooks evenly.
Let the ground beef cook, stirring occasionally, until it just starts to brown.
Add your celery, green cabbage, and napa cabbage to the pot.
On top of that, sprinkle your salt, all-purpose seasoning, ground black pepper, Cajun seasoning, smoked paprika, bay leaves, and thyme.
Add your diced tomatoes and the beef broth and stir to well to combine.
Reduce heat to medium-low and cook for 45-60 minutes until the cabbage and celery are tender.
Remove from heat and serve. You can serve as-is, or top with parmesan cheese, sour cream, or any other topping that tickles your fancy.
This soup freezes incredibly well, so I always portion up individual servings for lunches and dinners and store in my second freezer.
Nutrition Information:
Yield:

8
Serving Size:

1
Amount Per Serving:
Calories:

266
Total Fat:

11g
Saturated Fat:

4g
Trans Fat:

0g
Unsaturated Fat:

5g
Cholesterol:

50mg
Sodium:

3433mg
Carbohydrates:

20g
Fiber:

4g
Sugar:

9g
Protein:

24g
This website provides approximate nutrition information for convenience and as a courtesy only. Nutrition data is gathered from Nutritionix. Nutrition information can vary for a recipe based on many factors. We strive to keep the information as accurate as possible, but make no warranties regarding its accuracy. We encourage readers to make their own calculations based on the actual ingredients used in your recipe, using your preferred nutrition calculator.
Get More Veggies by Eating the Rainbow + Special Coupon Code
As you guys know, I am a huge fan of all things veggies. If there was just one single thing that I could tell people to do to improve their health, it would be to eat more vegetables. An increased intake of veggies helps boost your nutrition and your health in ways that you simply cannot achieve elsewhere. Science continues to explore and show how the antioxidants and phytonutrients in fruits and veggies can "talk" directly to our genes and help alter genetic expression. It's truly fascinating and I want to help you improve your health and your life with Nature's miracle "drug."
That's why I love sharing recipes like this (and all the other veggie recipes on this site) and also why I created my popular Eat the Rainbow eCourse. Most people know that vegetables are heath-packed powerhouses, but they simply do not feel they have the knowledge, time, or the ability to add more to their diet. I want to help change that and make eating vegetables easier and a heck of a lot more fun!
In the Eat the Rainbow eCourse, I show you how to do exactly that (and a ton more). This 30-day eCourse arms you with the skills and creativity you need to make vegetables a centerpiece in your diet — all in bite-sized nuggets that won't overwhelm or frustrate you. In order to really get the full spectrum of phytonutrients and antioxidants that vegetables provide, you need to eat a wide variety of types and colors (i.e. the rainbow), but so many people find themselves eating the same four or five veggies over and over and over again.
For a limited time, I am running a special on my Eat the Rainbow eCourse where you can enroll for 50% off. That means you can get a full 30 days of content + a bonus cookbook for only $10. This is a steal for one of the most important investments you can make for your health (eating more veggies).
Enroll in the Eat the Rainbow eCourse here (or click the image below) and enter coupon code VEGGIE at checkout to save 50%.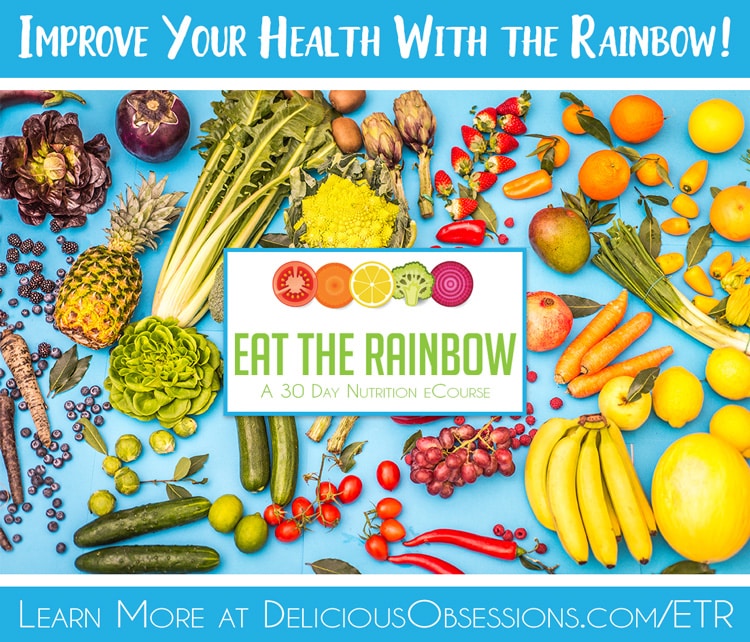 I can't wait to see you in the course and hear how your health improves once you start eating the rainbow!

Delicious Obsessions is a participant in the Amazon Services LLC Associates Program, an affiliate advertising program designed to provide a means for us to earn fees by linking to Amazon.com and affiliated sites.Read our full terms and conditions here.