FTC Disclosure: Delicious Obsessions may receive comissions from purchases made through links in this article. As an Amazon Associate I earn from qualifying purchases.Read our full terms and conditions here.

These chewy gluten-free chocolate chip cookies will remind you of the classic childhood treat without grains or gluten. Now you can have your cookies and eat them too, regardless of whether you need to avoid gluten, grains, dairy, or refined sugar!
Y'all, I seriously cannot believe that I have not shared my chewy gluten-free chocolate chip cookies recipe with you guys before. Recently, I was doing a big recipe inventory for the website to see what new recipes I should publish over the next year (lots of yummy stuff coming up!) and I discovered that I didn't have a single chocolate chip cookie recipe on this website!
How on earth could this have happened? Almost 10 years into blogging and sharing 100s of kitchen-tested real food recipes and not one single chocolate chip cookie?
Whaaaaaaaaaaaaaat?
Yeah, well, we are going to remedy that today!
Chewy Gluten-Free Chocolate Chip Cookies + A Little Cookie History
I'm so glad I did that recent inventory because I would have never realized that this recipe was missing. Today I'm going to remedy that mistake and share my classic chewy gluten-free chocolate chip cookies recipe with you. This is a favorite cookie recipe in my house and one that I have been making for many years.
These chewy gluten-free chocolate chip cookies get gobbled up in no time every time I whip up a batch. And I'm pretty sure the same thing will happen in your house too. These cookies are perfect for those who have to avoid gluten and grains and are missing their favorite recipe of old.
A Little Cookie History
Speaking of old, did you know that the first chocolate chip cookie ever made was in 1938? Well, that's what Wikipedia tells us at least. Apparently, a lady by the name of Ruth Graves Wakefield was making cookies one day and decided to add chopped up bits of a Nestlé semi-sweet chocolate bar.
Voilà! The iconic classic cookie was born.
Ruth Graves Wakefield and fellow chef, Sue Brides, brought the chocolate chip cookie to the masses while they both worked (Ruth as the owner) of the Toll House Inn in Whitman, Massachusetts. Historians speculated that the invention was accidental, but Ruth corrected them and said it was 100% on purpose. She said:
"We had been serving a thin butterscotch nut cookie with ice cream. Everybody seemed to love it, but I was trying to give them something different. So I came up with Toll House cookie."
Wakefield had published a cookbook in 1936 called Toll House Tried and True Recipes. In the 1938 edition, she added her Toll House Cookie recipe and it quickly became a class in American homes.
During World War II, soldiers who were from Massachusetts and stationed overseas would receive care packages from back home that included this new cookie. They would share those cookies with soldiers from other parts of the U.S. and before long soldiers were writing to their loved ones asking for them to send more chocolate chip cookies!
Wakefield soon began being inundated with letters from people from all over the world requesting her recipe. And this is what began the nationwide craze for this iconic cookie. Who knew?! I know every time I eat a chocolate chip cookie now, I will remember this story.
Ingredient Notes For Chewy Gluten-Free Chocolate Chip Cookies
Sweeteners
Today's amazing chewy gluten-free chocolate chip cookies evolved out of my pre-gluten-free diet chocolate chip cookie recipe so I had to make a few adjustments to that age-old gluten-containing recipe. But let me tell you, you're not going to miss the gluten in this recipe at all.
As are all of my recipes, this recipe is refined sugar-free. You could use any type of granulated sugar of your choice. As of late, I have been using Anthony's brand erythritol or Lakanto brand monk fruit because that is what is best suited for my dietary needs right now. But you can easily substitute coconut sugar, maple sugar, rapadura, or any other granulated sugar of your choice.
I have not used liquid sweeteners (like maple syrup or honey) in this recipe, so I can't tell you how well it would work. If you give it a try, let me know how it turns out!
Butter or Coconut Oil
Butter is one of the things that makes these chewy gluten-free chocolate chip cookies so delicious, but for those of my readers who can't tolerate dairy, there is a dairy-free option. I am also dairy-free, but I do find that I tolerate butter with no problem. If butter is a no-go for you, you could try using ghee (some people with dairy sensitivities finds that they can tolerate ghee, which has the casein and lactose removed).
That said, if you can't tolerate any form of dairy at all, you could easily substitute coconut oil (solid, not melted) in place of the butter in this chewy gluten-free chocolate chip cookies recipe. There are also some dairy free butter substitutes out there that are relatively clean, like this Miyako's brand, that might work really well in this recipe.
Please note that I've never tried anything other than butter and coconut oil for this recipe so I can't confirm how well other substitutes would work.
Chocolate Chips or Chunks
When it comes to chocolate chips, feel free to use any chocolate chip brand of your choice. I personally love Lily's Brand chocolate chips because they're sweetened with stevia and erythritol and that works best for me right now. But you can use whatever brand you like and/or have on hand. You could also use your favorite chocolate bar chopped up into small chunks and you would have chocolate chunk cookies.
Additionally, you can add in nuts, seeds, shredded coconut, etc. I've got a couple of other cookie recipes in the work that will feature some different add-ins. Those recipes will take your cookie game whole new level!
A Secret Ingredient!
Lastly, I'm letting you guys in on a little secret that I have been using for many years when it comes to gluten and grain-free baking. And that is adding gelatin into the dough or the batter.
Shh, don't tell anyone.
Gelatin works as an awesome binder and gives baked goods, like these chewy gluten-free chocolate chip cookies, the texture that gluten-containing flours do. It's not going to be identical, of course, but it is really close for certain recipes (like these cookies). I really loved my original gluten-free chocolate chip cookie recipe, but the addition of gelatin really took it up a notch and gave it that chewiness that you are seeking in a delicious chocolate chip cookie.
I like the grass-fed gelatin from Perfect Supplements and if you ever want to shop with them, you can save 10% on all of your orders when you use coupon code DELICIOUS10. You can check out their site here.
Alrighty! Who's been missing chewy chocolate chip cookies? Are you ready for a new gluten and grain-free version?
Then let's go ahead and dive into this amazing new (well new to you guys) chewy gluten-free chocolate chip cookies recipe. One bite into these chewy gluten-free chocolate chip cookies and you'll see why this is a favorite in our house for so many years.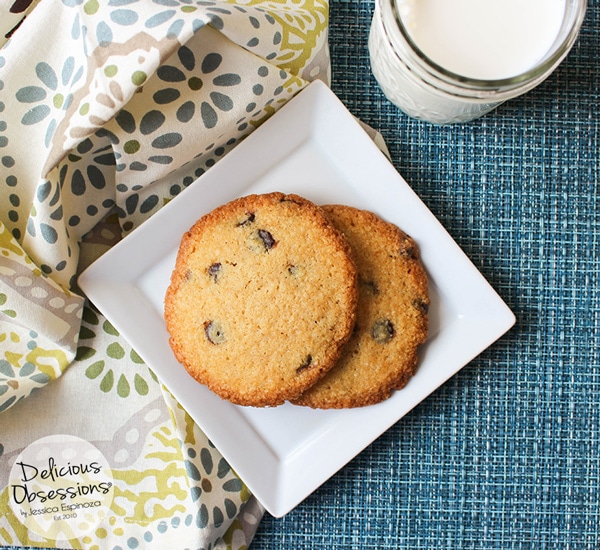 Chewy Gluten-Free Chocolate Chip Cookies :: Grain-Free, Refined Sugar Free, Dairy-Free Option
These chewy gluten-free chocolate chip cookies will remind you of the classic childhood treat without grains or gluten. Now you can have your cookies and eat them too, regardless of whether you need to avoid gluten, grains, dairy, or refined sugar!
Instructions
Preheat the oven to 335 F.
Line two cookie sheets with parchment paper or a silicone mat like this one and set aside.
In a small mixing bowl, combine the butter, granulated sweetener, egg, stevia, and vanilla until smooth and creamy.
In a separate bowl, combine your salt, baking soda, almond flour, arrowroot powder, and gelatin and stir until combined.
With the mixer running on low, slowly add in the dry ingredients to your butter mixture and blend until incorporated.
Fold in your chocolate chips by hand (so the beaters don't mush the chips up).
Using a spoon or a small ice cream scoop (I use my 1" ice cream scoop like this one for perfectly even cookies), scoop out the dough and place on cookie sheets.
Bake for 12-15 minutes at 335 F checking halfway through. You want the edges to be golden brown, but not burnt.
Remove from heat and let cool. The cookies will seem soft when they come out of the oven, but they will set up as they cool. Careful not to overcook these, or you will end up with a less than satisfying texture.
Store in an airtight container at room temp for up to 3 days or in the fridge for 7-10.
Nutrition Information:
Yield:

24
Serving Size:

1
Amount Per Serving:
Calories:

82
Total Fat:

7g
Saturated Fat:

3g
Trans Fat:

0g
Unsaturated Fat:

4g
Cholesterol:

19mg
Sodium:

82mg
Carbohydrates:

3g
Fiber:

1g
Sugar:

2g
Protein:

1g
This website provides approximate nutrition information for convenience and as a courtesy only. Nutrition data is gathered from Nutritionix. Nutrition information can vary for a recipe based on many factors. We strive to keep the information as accurate as possible, but make no warranties regarding its accuracy. We encourage readers to make their own calculations based on the actual ingredients used in your recipe, using your preferred nutrition calculator.
You Know What Goes Good with Cookies? Ice Cream!
If you want to know how to make your own decadent ice cream at home, I've got you covered in my best-selling eBook, The Splendid Scoop and Other Frozen Treats: Delicious and Easy Dairy-Free Recipes, Plus Tips and Tricks for Homemade Ice Cream Perfection!
When the weather gets warm, nothing is more delicious than a bowl of cold ice cream or a delicious frozen treat. But, when you're on a restricted diet, finding treats that are suitable for your needs can be tricky. Plus, what happens when you want to make ice cream, but don't own an ice cream maker? Can you still make tasty treats without all the special equipment?
Yes! You can!
That is why I created The Splendid Scoop and Other Frozen Treats eBook! I, myself, am on a restricted diet for health reasons and when the weather starts warming up over 65 F, I start to get cranky. I am definitely a cool weather gal and one way to keep me sane and satisfied during the height of summer is knowing that I can make something delicious, at home, using healthy ingredients that fit my lifestyle.
All of the recipes in this book are dairy-, grain-, and gluten-free and easily be modified for the autoimmune protocol as well, making them extra special for those on super restricted diets.
In The Splendid Scoop and Other Frozen Treats eBook, You Will Learn:
Why making your own ice cream and frozen treats at home is better than buying them at the store (even the organic ones!).
Tips and tricks for homemade ice cream success.
How to make ice cream without an ice cream maker (it's easier than you think!).
Delicious dairy-free recipes the whole family will love (recipes are also gluten and free and can easily be adapted for the autoimmune protocol as well).
Extensive resource suggestions for real food, wellness, and beyond.
Don't let another summer or special occasion pass you by. No longer will you have to watch your friends and family indulge on their favorite frozen treats while you sit on the sidelines due to your dietary restrictions.
Now you can enjoy creamy, delicious, and allergen-friendly frozen treats once again with The Splendid Scoop.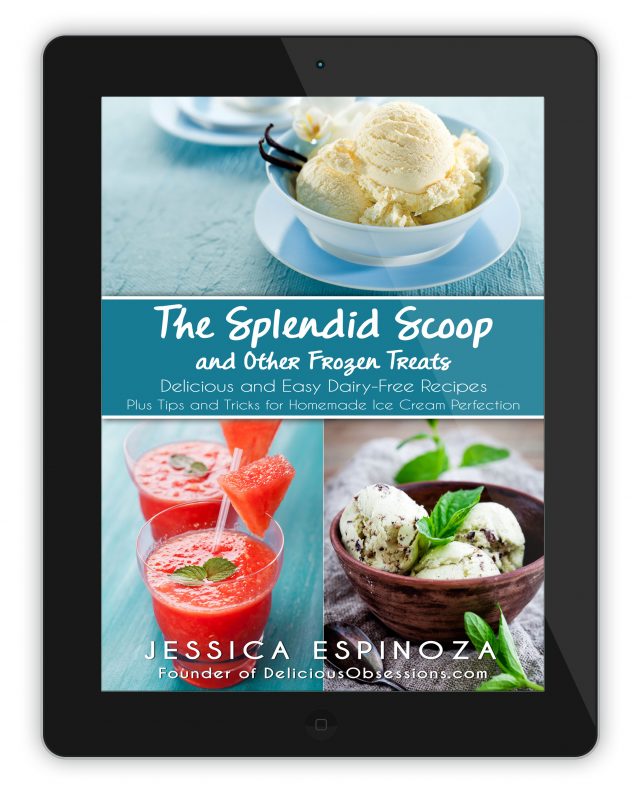 Delicious Obsessions is a participant in the Amazon Services LLC Associates Program, an affiliate advertising program designed to provide a means for us to earn fees by linking to Amazon.com and affiliated sites.Read our full terms and conditions here.