FTC Disclosure: This post contains affiliate links which means if you make a purchase through one of these links, I may earn a small commission on your sale which allows me to cover a portion of the cost of running the Delicious Obsessions site and free content we provide every week. This has no effect on your price and is simply a cost of doing business from the company you purchase from. I only recommend products or services that I have personally tried and love. You can view it like leaving a tip. Thank you for your support!
Yay for veggies! What better veggie to celebrate the summer harvest than zucchini? This super simple salad is a snap to make and the perfect cool side dish on a hot day. Thin zucchini ribbons complemented by a zesty dressing that the whole family will love. This easy salad pairs with just about anything and I am confident that you'll love it as much as I do!
Zucchini/Summer Squash Health Benefits
Zucchini is one of those vegetables that is SUPER easy to grow and will yield big returns, even in a small space. It's a great vegetable to add to your summer garden and can be used in a variety of ways both cooked and raw. I have some more recipe ideas for you below.
I have fond memories of my previous job where one of my co-workers would always bring me zucchini from his garden. These zucchinis were HUGE! They can grow into a monstrous veggie if you let them. One plant is often all you need to get your summer fill.
Zucchini (and other summer squash) are a great source of minerals:
Copper
Manganese
Magnesium
Phosphorus
Potassium
In addition, they are a great source of vital antioxidants, like vitamin C, which helps with inflammation and cellular function. Summer squash also contains high levels of lutein and zeaxanthin, both of which help with eye health.
Today's salad recipe comes from my Eat the Rainbow cookbook (more on that below) and will make your taste buds dance! If you want even more summer squash recipes, check these out:
Eating the Rainbow + Special Coupon Code
As you guys know, I am a huge fan of all things veggies. If there was just one single thing that I could tell people to do to improve their health, it would be to eat more vegetables. An increased intake of veggies helps boost your nutrition and your health in ways that you simply cannot achieve elsewhere. Science continues to explore and show how the antioxidants and phytonutrients in fruits and veggies can "talk" directly to our genes and help alter genetic expression. It's truly fascinating and I want to help you improve your health and your life with Nature's miracle "drug."
That's why I love sharing recipes like this (and all the other veggie recipes on this site) and also why I created my popular Eat the Rainbow eCourse. Most people know that vegetables are heath-packed powerhouses, but they simply do not feel they have the knowledge, time, or the ability to add more to their diet. I want to help change that and make eating vegetables easier and a heck of a lot more fun!
In the Eat the Rainbow eCourse, I show you how to do exactly that (and a ton more). This 30-day eCourse arms you with the skills and creativity you need to make vegetables a centerpiece in your diet — all in bite-sized nuggets that won't overwhelm or frustrate you. In order to really get the full spectrum of phytonutrients and antioxidants that vegetables provide, you need to eat a wide variety of types and colors (i.e. the rainbow), but so many people find themselves eating the same four or five veggies over and over and over again.
For a limited time, I am running a special on my Eat the Rainbow eCourse where you can enroll for 50% off. That means you can get a full 30 days of content + a bonus cookbook for only $10. This is a steal for one of the most important investments you can make for your health (eating more veggies).
Enroll in the Eat the Rainbow eCourse here (or click the image below) and enter coupon code VEGGIE at checkout to save 50%.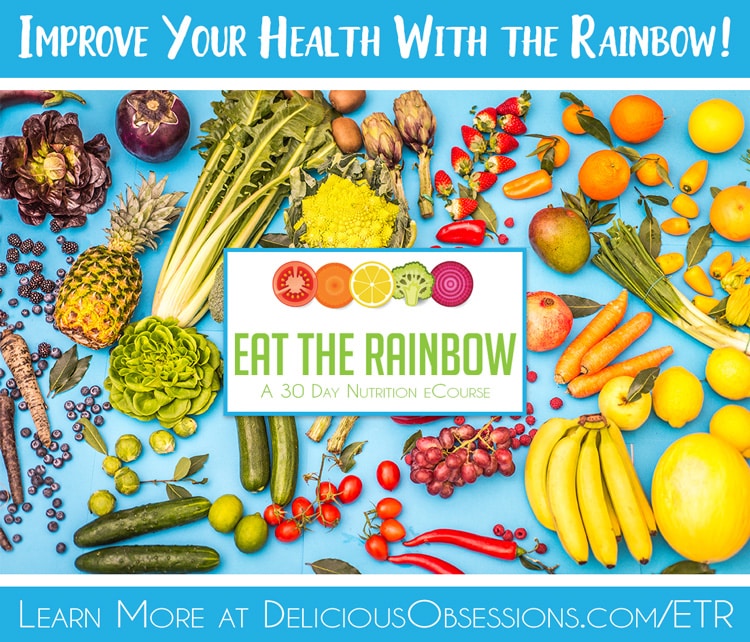 I can't wait to see you in the course and hear how your health improves once you start eating the rainbow! Now, on to today's recipe!
Coupons and Freebies for Herbed Zucchini Ribbon Ingredients
I am always asked about my favorite ingredients and what I use in my own kitchen. I have linked to the products from my affiliate partners that I personally use and recommend. All funds earned go to help support the maintenance of this site and free content. You can view it like leaving a tip. Thank you! 🙂 And now, here are the special coupon offers that select affiliate partners are currently offering:
Thrive Market: If you sign up through this link, you will get 15% OFF your first order.
Amazon, of course, has everything you need for this recipe. Their prices are often very good, though I love to shop around and sometimes find that Thrive Market has better deals. If you like saving money, it's good to shop around! 🙂
I get all of my herbs and spices from Mountain Rose Herbs. I have tried so many other brands and have never found the quality, flavor, and aroma to be as good as the herbs I get from Mountain Rose.
Herbed Zucchini Ribbons :: Gluten-Free, Grain-Free, Dairy-Free Option
Ingredients
Instructions
To make zucchini ribbons, cut tip and stem ends from zucchini. Using a vegetable peeler, begin at the stem end and make continuous ribbons down the length of each zucchini.
Place a steamer basket in a large saucepan. Add 1 inch of water (water should not touch the bottom of basket).
Place zucchini ribbons in a steamer basket. Cover and bring to a boil over high heat.
When pan begins to steam, check zucchini for doneness. It should be tender-crisp. You don't want to overcook these or they get super mushy.
Remove from heat and transfer zucchini to a serving dish.
Whisk oil, vinegar, basil, pepper flakes, coriander, salt, and pepper in a small bowl until well blended.
Pour dressing over zucchini and toss gently to coat.
Serve immediately or refrigerate up to 2 days.
Paid Endorsement Disclosure: Delicious Obsessions is a participant in the Amazon Services LLC Associates Program, an affiliate advertising program designed to provide a means for sites to earn advertising fees by advertising and linking to AMAZON.COM. This post may contain affiliate links and/or ads. We only recommend products or services that we have personally tried and love. When you make a purchase through any of these links, we earn a small commission on each sale, which allows us to cover a portion of the cost of this site. This has no effect on your sale price and is simply a cost of doing business for the company you are purchasing from. All funds received help with the continued maintenance of this website and free content. You can view it like leaving a tip. Thank you! Read our full terms and conditions here.