FTC Disclosure: Delicious Obsessions may receive comissions from purchases made through links in this article. As an Amazon Associate I earn from qualifying purchases.Read our full terms and conditions here.

I am looking forward to sharing the recipe for these easiest (and most delicious ) Chocolate Chip Walnut Blondies with you today. They are a cinch to make, incredibly tasty, and gluten-free, grain-free, dairy-free, and refined sugar-free. Did I mention they are delicious? I know you guys are going to love them.
This recipe also has a heartfelt story behind its creation. One that I have not spoken about very much publicly this year, but today, as I was writing out the recipe, it felt OK to open up about it.
They say necessity is the mother of invention. Well, one day this last winter, I NEEDED to make something extra delicious and comforting. Yes, I was eating my feelings and I was fully aware that I was doing so (despite what you may have been told, emotional eating is not always a bad thing — awareness is key).
You see, my family had just experienced the very sudden and unexpected passing of my brother. This was a devastating loss to my family. My brother was fit and healthy, and we would have never imagined him passing so soon. It came as such a shock to the family, one that hit right as the new year (2017) began.
A Tribute to My Bro…
My brother William was a kind person, incredibly honest, and one of the hardest workers I've ever known. He was a patient teacher with a wonderful sense of humor. He was a craftsman with an intent eye for detail. Any client he worked for will tell you that he strove for perfection in the completed project. He was always willing to help out any time it was needed. He was loved and respected by not just his family, but his friends and colleagues as well.
William was the best big brother anyone could ask for. He took me camping, hiking, to the movies, the shooting range, ice skating, and so much more. He tried to get me interested in sports, but sadly, that didn't stick…sorry, brother. <3
When I was a kid, I would often spend the night at his house where we would make all sorts of junk food and watch TV. Since I lived in a home without TV and junk food, these times were always special and memorable for me. But not just because of the food and TV, but because William was fun to be around and always made the evenings entertaining. And, it was nice to have a big brother who wanted to spend time with his little sister.
There are a few junk foods that will always hold a special place in my heart (even though I no longer eat them). Kraft Mac & Cheese, Totino's Pizza, and homemade Rice Crispy Treats were our favorites and what we'd typically have. Though sometimes he'd cook up some ground meat and we would make baked burritos in the oven. We'd have soda or juice to wash it all down (and Kool-Aid on occasion). The Cosby Show and Cheers were our go-to TV shows. I'm not sure when I will ever be able to hear the Cheers theme song again without bursting into tears….
William was fiercely independent, loved dogs, all things outdoors, and the majestic Rocky Mountains. He also enjoyed reading historical books, watching movies, football, basketball, building houses, and so much more.
William was a part of my everyday life for 35 years. It's hard to imagine the next 35 without him. Words can't even describe the pain my family has felt from his death. Time heals all wounds, but that doesn't mean we forget. We simply find a way to carry on, even when a part of our heart has been taken away.
Focusing on all the positive memories is what gets me through each day. I have so many with him that I will treasure until my time on Earth is up. I can still hear his voice in my head and smell his clothes when I close my eyes (a combination of laundry detergent and wood smoke from the wood stove that heated his home). I will forever remember the last time we spoke (Dec. 31st, 2016) and the exact words he said to me before we hung up:
William: "You going to go out partying tonight?"
(laughter…)
Me: "Nah, dinner, some TV, and then bed by 9 most likely."
(more laughter)
William: "We're a couple of party animals. I'm going to watch some basketball and then go to bed too."
(even more laughter)
Me: "OK, well, enjoy the basketball. I'll talk to you soon."
I almost said I love you before I hung up the phone, but I didn't. And now I wish I had, but that's OK, because I know he knew it. Always, always, ALWAYS say "I love you" before you hang up the phone.
Loss, Grief, and Reflection
I've experienced the loss of loved ones before, but it has been nothing compared to the loss of a sibling. The grief process has been a rollercoaster, full of ups and downs, twists and turns. Each day is a bit different than before. Some days have felt almost normal and other days have felt like it just happened.
To be honest, there have been times where the loss has thrown me for a complete loop and I've felt completely out of control. There were times where I was downright angry, other times when I was so sad that I felt like I would never smile again, and then other times where I felt physical pain from the experience. That whole broken heart thing is real. I am a firm believer.
There has never been a time in my life that has required me to dig deep and soul search like this. It has required me to be really kind to my mind, body, and soul. It has required me to let go of my "must get everything done on my to-do list today" mentality and just let myself lie on the couch all day and watch Netflix if that is what I needed to do.
And yes, that also included allowing myself to eat my feelings if that is what would make me feel better in the moment.
I am still in the middle of the grief process, though I can say that it is a different type of grief now. I have found that grief comes in stages and each stage looks different than the one before. Each one feels different and acts differently. And this is all going to be different for each person too. Grief is unique to each of us.
This process, albeit the hardest thing I have ever had to deal with, has taught me so much about myself and about others. It's given me a new perspective on life (like not taking your life and the life of your loved ones for granted). It's taught me the value of being kind and patient with yourself and others. It has taught me that grief is not a one-size-fits-all event…
Most of all, it's taught me that we never know when our time on Earth is up. Each day that we get to wake up and step out of bed is a gift. So let's start taking action on our dreams and not wait until "someday." "Someday" may never come.
Here's to you, sweet brother. This recipe is for you. I so wish I could make you a plate of these blondies. I know you would love them and wash them down with an ice cold glass of milk. I miss you more than words can describe, but you will always be in my heart and will be a driving force in my life. Thank you for being such a great brother for the time that I was lucky enough to have you in my life.
I opened up on my other site more about my grief and the experience of this process. I also shared some resources that were helpful for me. You can read that full blog post here.
Coupons and Freebies for Chocolate Chip Blondie Ingredients
I am always asked about my favorite ingredients and what I use in my own kitchen. I have linked to the products from my affiliate partners that I personally use and recommend. And now, here are the special coupon offers that select affiliate partners are currently offering:
Thrive Market: If you sign up through this link, you will get 15% OFF your first order.
Amazon, of course, has everything you need for this recipe. Their prices are often very good, though I love to shop around and sometimes find that Thrive Market has better deals. If you like saving money, it's good to shop around! 🙂
I get all of my herbs and spices from Mountain Rose Herbs. I have tried so many other brands and have never found the quality, flavor, and aroma to be as good as the herbs I get from Mountain Rose.
PLEASE READ!!!! Quick note about "coconut cream concentrate" and "coconut butter," since I get asked this all the time.
Whenever I refer to those two terms in my recipes, it means the product that is super finely ground coconut meat, which has a consistency similar to a nut butter. It's not referring to coconut milk or coconut cream (the liquid beverage-type products), and it's not referring to those vegan "butters" that often use coconut oil in them.
You cannot substitute dairy butter for coconut butter, nor can you substitute coconut oil for coconut butter.
Please read this post where I talk about coconut products in detail and clear up the common confusion with ingredient names.
Also, the texture of the cookies may vary depending on the brand(s) of coconut products you use. I have found in my years of cooking that there can be a big difference between brands of coconut products and how they work in recipes. For this recipe, I found I got the best results when I used coconut butter from Tropical Traditions and almond flour from my local health food store. If you find that your dough is too dry, just add a tablespoon or two of coconut milk (or milk of your choice) to the mix until you get the right consistency.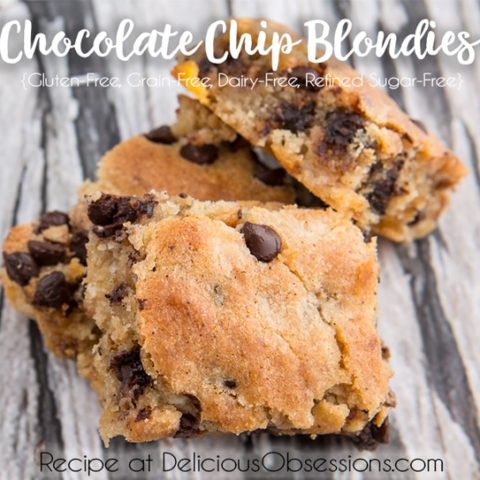 William's Chocolate Chip Blondie Recipe + A Very Personal Tribute :: Gluten-Free, Grain-Free, Dairy-Free, Refined Sugar-Free
A delicious recipe with a heartfelt story behind it. These easy and delicious Chocolate Chip Walnut Blondies were created in memory of my late brother, William. They are a cinch to make, incredibly tasty, and gluten-free, grain-free, dairy-free, and refined sugar-free.
Instructions
Preheat oven to 350 F.
Grease a 9x9 square baking dish (or similar size) with coconut oil, butter, or your favorite fat.
Warm your coconut butter over low heat until it is a thick liquid consistency. You want it thin, but not hot. If you live in a warm climate, you may not need to do this step if your coconut butter is already really soft at room temperature.
Place coconut butter in a mixing bowl and then add the eggs, vanilla, erythritol, stevia, and almond flour. Mix until combined.
With the mixer running, sprinkle the gelatin in until well combined (no need to liquefy it before adding -- dry is fine). The batter will be thick and sticky.
Turn off the mixer and fold in your chocolate chips and chopped walnuts.
Pour into your greased baking dish and spread around until evenly distributed.
Bake at 350 F for 30-40 minutes or until golden brown on top and a toothpick comes out mostly clean.
Remove from heat and let cool completely before cutting. You can eat them warm, but they will be very soft and will fall apart (but they are SO good this way!).
Store in an airtight container in your fridge for up to a week. To extend freshness, wrap each bar individually and freeze for up to 6 months.
Nutrition Information:
Yield:

9
Serving Size:

1
Amount Per Serving:
Calories:

129
Total Fat:

8g
Saturated Fat:

5g
Trans Fat:

0g
Unsaturated Fat:

2g
Cholesterol:

48mg
Sodium:

45mg
Carbohydrates:

8g
Fiber:

0g
Sugar:

7g
Protein:

6g
This website provides approximate nutrition information for convenience and as a courtesy only. Nutrition data is gathered from Nutritionix. Nutrition information can vary for a recipe based on many factors. We strive to keep the information as accurate as possible, but make no warranties regarding its accuracy. We encourage readers to make their own calculations based on the actual ingredients used in your recipe, using your preferred nutrition calculator.
Learn How to Make Perfect Ice Cream (and Other Frozen Treats) at Home
Ice cream is the quintessential dessert (and, ahem, it would probably go pretty darn great with this recipe!). I mean, I can't think of a single person that I've ever met who doesn't like ice cream. While not everyone is as passionate about the cold, creamy, sweet concoction as I am, I am betting that if you're reading this, you probably enjoy a frozen treat of some sort every now and then.
If so, then I have the PERFECT resource for you today.
I am crazy for ice cream, but I find that there are very few commercial ice creams that I can eat. I can't do dairy, so that scratches a good 75% of them off the list. And the non-dairy options either taste funny, have too much sugar, or have weird gums and additives that my poor gut just doesn't tolerate.
So, what's a gal to do?
Master the art of making her own ice cream at home, that's what!
And create I did and The Splendid Scoop and Other Frozen Treats eBook was born! This is one of my best-selling eBooks because I arm you with everything you need to make your own perfect ice cream (or other frozen treats) at home any time you want.
And I do it all with real food ingredients, no refined sweeteners, not gums, not stabilizers. No junk here.
Oh, and I also have made the recipes allergen-friendly and even adaptable for stricter healing diets (like the AIP).
So, if you are ready to master the art of making your own ice cream at home, this is the perfect book for you. Don't let another special occasion or hot day in the summer pass you by watching everyone else enjoying cold treats while you sit on the sideline due to your dietary restrictions.
No more!
If you are ready to learn more about The Splendid Scoop and Other Frozen Treats and see how you can download your own copy today, click here (or just click on the image below!).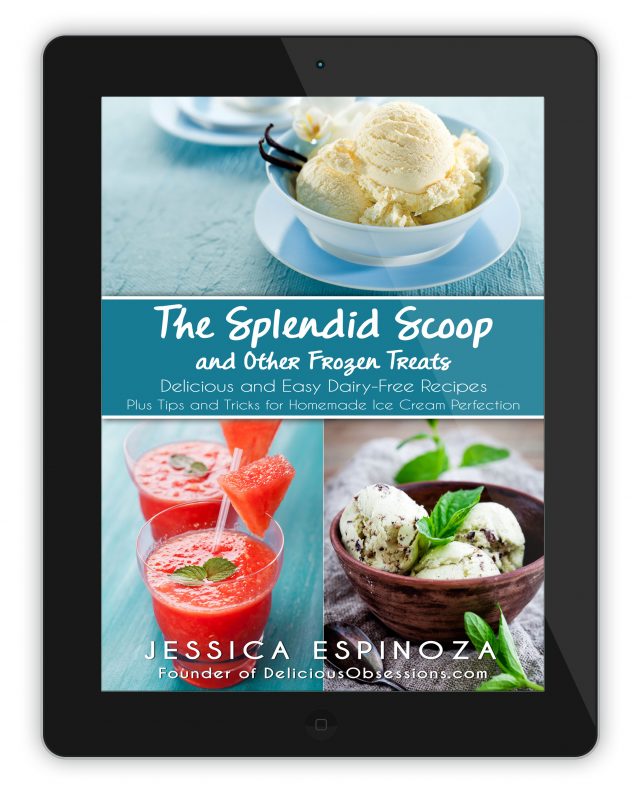 Delicious Obsessions is a participant in the Amazon Services LLC Associates Program, an affiliate advertising program designed to provide a means for us to earn fees by linking to Amazon.com and affiliated sites.Read our full terms and conditions here.