FTC Disclosure: Delicious Obsessions may receive comissions from purchases made through links in this article. As an Amazon Associate I earn from qualifying purchases.Read our full terms and conditions here.

Love mayo, but hate drizzling the oil? Want to make mayo all the time, but just the thought of how much time it takes exhausts you? Well, I have a solution with today's Easiest Minute Mayo. You are going to love this recipe!
Some of y'all know that I am a major homemade mayo fan! Like, I looooooooooooooooove it! A few years ago, I learned all about homemade mayo and came up with a Coconut and Avocado Oil Mayo recipe that was perfect for my tastebuds. But, it still required drizzling in the oil which frankly, I hated. Thankfully my friend Orleatha introduced me to making mayo with an immersion blender.
Mind. Blown.
I have yet to find a commercial brand of mayo that tastes as good as my homemade mayo (and one that has clean ingredients). The only one that comes close is Coconaise (which you can find on Amazon here). Coconaise is really tasty, but it is expensive so it is a once-in-a-rare-while treat for me. But, if you are just not into making your own mayo and want one that is clean, tastes good, and won't go rancid quickly, then Coconaise is a great contender!
Thankfully, I can easily make my own mayo at home anytime I want, and in only a minute or so with this new recipe. Not only is it easy, but it's fully customizable too. The flavor of the plain mayo is outstanding, but you can easily jazz it up with some herbs and spices for something extra special. Here's some ideas:
Add 1/2 teaspoon of my homemade Cajun seasoning blend for a spicy kick.
Add 1/4 teaspoon of garlic and 1/4 teaspoon of onion powder for a flavor power punch.
Fold in oven roasted garlic (finely chopped) for a wonderful garlic aioli (do this after the mayo is made and the garlic is cooled).
Fold in finely chopped herbs (like dill, basil, parsley, cilantro, tarragon, etc.) for a wonderful herb spread (do this after the mayo is made).
Use it as the base to make my ridiculously good Lemon Artichoke Mayo.
I love mayo on pretty much anything. I use it on sandwiches and lettuce wraps. I put it as a base to different salad dressings. I eat it on tacos (try my Easiest Crock Pot Taco Meat recipe) and these Skirt Steak Fajitas (since I can't do sour cream and cheese). I even have been known to put it on eggs along with my favorite hot sauce… that last one may be a little weird sounding, but don't knock it 'till you try it! 😉
Need some new recipe ideas for your delicious homemade mayo? Try these on for size:
Did you know that the concept for mayonnaise was invented in 1756? According to The Nibble's article on the history of mayonnaise:
While stories of the provenance of almost any food will vary, the leading belief is that the concept for the original mayonnaise sauce was brought back to France in 1756 from Mahón, a city on Minorca in the Balearic Islands, off the northeast coast of Spain. What became one of the world's favorite condiments was created for a victory banquet to celebrate the capture of Mahón by forces under Louis-François-Armand de Vignerot du Plessis, duc de Richelieu (1696-1788), a marshal of France and a grandnephew of Cardinal Richelieu.
So mayo's been around a while! Bet they'd love today's immersion blenders. Ready for the recipe? Let's dive in! My friend Orleatha was nice enough to share her recipe on video, but we have the printed version below too. Enjoy!
P.S. I am sure there will be at least one person who will say that this is not dairy-free because it has eggs in it.
Eggs are not dairy
. Never have been, never will be. Dairy refers to products of the mammary glands of mammals such as cows, goats, sheep, and others, and the products derived thereof. Therefore, eggs are not a dairy product, even though they are often found in the dairy section of the grocery store.
Coupons and Freebies for Easiest Minute Mayo Ingredients
I am always asked about my favorite ingredients and what I use in my own kitchen. I have linked to the products from my affiliate partners that I personally use and recommend. And now, here are the special coupon offers that select affiliate partners are currently offering:
Thrive Market: If you sign up through this link, you will get 15% OFF your first order.
Amazon, of course, has everything you need for this recipe. Their prices are often very good, though I love to shop around and sometimes find that Thrive Market has better deals. If you like saving money, it's good to shop around! 🙂
I get all of my herbs and spices from Mountain Rose Herbs. I have tried so many other brands and have never found the quality, flavor, and aroma to be as good as the herbs I get from Mountain Rose.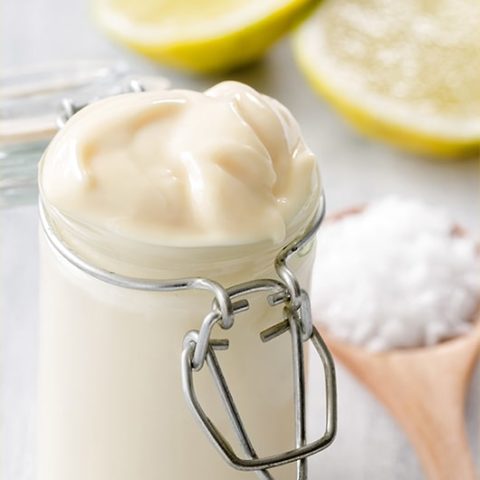 Easiest Minute Mayo :: Gluten-Free, Grain-Free, Dairy-Free
You'll never need to buy mayo again once you try this recipe! The key to proper emulsion is to ensure that all of your ingredients are at room temperature. This step is important and cannot be avoided!
Instructions
Make sure all of your ingredients are at room temperature. If they are not, they will not properly emulsify.
Place all ingredients in a small, wide-mouthed jar.
Place your immersion blender at the bottom of the jar.
Start to blend, leaving your immersion blender at the bottom of the jar.
When the mixture has emulsified about 3/4 of the way up the jar, very slowly pull your immersion blender up towards the top. This will grab the last little bit of oil on the surface.
Seal tightly and store in the fridge for up to a week.

Nutrition Information:
Yield:

12
Serving Size:

1
Amount Per Serving:
Calories:

11
Total Fat:

0g
Saturated Fat:

0g
Trans Fat:

0g
Unsaturated Fat:

0g
Cholesterol:

16mg
Sodium:

103mg
Carbohydrates:

2g
Fiber:

0g
Sugar:

1g
Protein:

1g
This website provides approximate nutrition information for convenience and as a courtesy only. Nutrition data is gathered from Nutritionix and we often find their calculations to be slightly inaccurate based on the whole food ingredients we use on this site. Nutrition information can vary for a recipe based on many factors. We strive to keep the information as accurate as possible, but make no warranties regarding its accuracy. We encourage readers to make their own calculations based on the actual ingredients used in your recipe, using your preferred nutrition calculator.

Delicious Obsessions is a participant in the Amazon Services LLC Associates Program, an affiliate advertising program designed to provide a means for us to earn fees by linking to Amazon.com and affiliated sites.Read our full terms and conditions here.