FTC Disclosure: This post contains affiliate links which means if you make a purchase through one of these links, I may earn a small commission on your sale which allows me to cover a portion of the cost of running the Delicious Obsessions site and free content we provide every week. This has no effect on your price and is simply a cost of doing business from the company you purchase from. I only recommend products or services that I have personally tried and love. You can view it like leaving a tip. Thank you for your support!
It feels like a bit of an understatement to say that most of us lead busy lives.
At the moment, I'm working a full-time job, attending an intense online nutrition course, blogging, and still taking care of myself and being a girlfriend. Any help I can get, I take it.
For me, to get through the last several months when things have been busier, I've relied heavily on my meal prep Sundays and trying to batch cook as much as possible. For the first few months, I made bigger meals my boyfriend and I could eat throughout the week, and then, completely by accident, I stumbled upon the magic of Freezer Enchiladas.
In the past few years, I've become a big fan of making people meals as gifts instead of buying them something they may not want or need. (I'm beyond practical.) I made my boyfriend's parents enchiladas for Christmas and decided to kill two birds with one stone and made a batch for ourselves as well. And, I ended up killing a lot more birds than I thought. In the frenzy of making enough enchilada filling, I made wayyy too much filling.
So, I decided to make more enchiladas later in the week and freeze them. When all was said, wrapped, and baked, I had THREE 8×8 pans of enchiladas ready for the freezer. And as the weeks passed, the relief I felt from having those in the freezer was amazing. One less meal I had to plan, prep, and shop for made things just that much easier.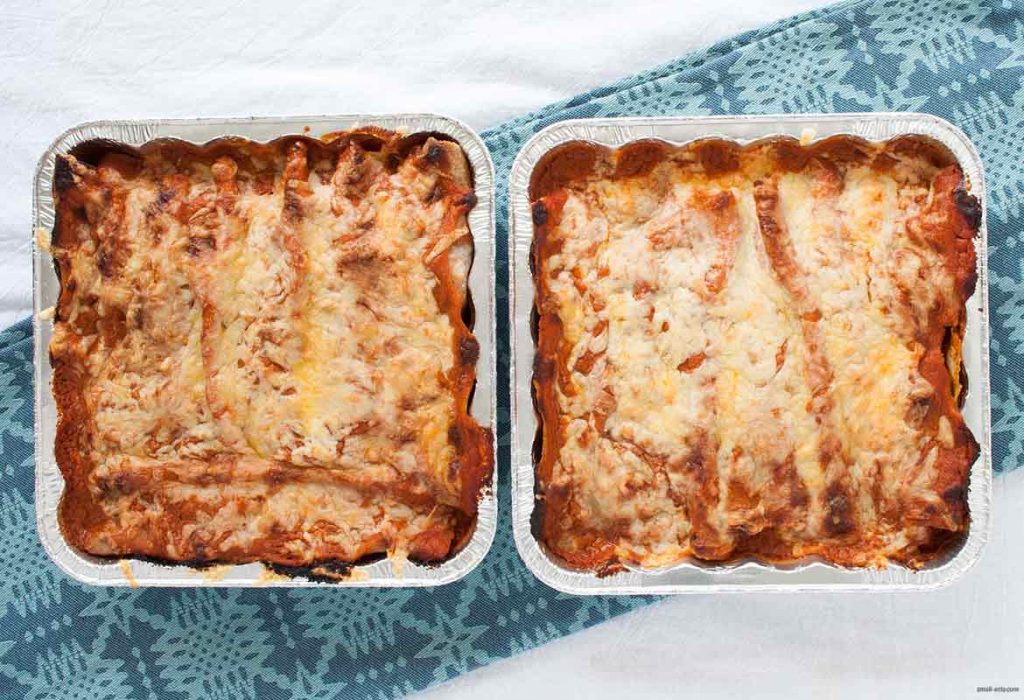 I've since adjusted my recipe to make two enchilada pans, one for now and one for later, or two for later, or one for you and one for a friend. I prefer to buy 8×8 aluminum cake pans from the store to make these. If they're going to a friend, I don't have to track down my pan. If I'm freezing both of them, I'm not out two 8×8 pans for the rest of the few weeks until we eat them.
The filling for these enchiladas is a hearty mix of black beans, tomatoes, cauliflower and Swiss chard. Feel free to make the filling your own and swap out the kind of beans or the vegetables for what you have on hand or is available in your area.
Whether you're in a busy season in your life or you want to maximize your kitchen time, I hope you enjoy these Vegetarian Freezer Enchiladas and the time-saving magic they bring.
Coupons and Freebies for Vegetarian Freezer Enchiladas Ingredients
I am always asked about my favorite ingredients and what I use in my own kitchen. I have linked to the products from my affiliate partners that I personally use and recommend. All funds earned go to help support the maintenance of this site and free content. You can view it like leaving a tip. Thank you! 🙂 And now, here are the special coupon offers that select affiliate partners are currently offering:
Thrive Market

: If you sign up through

this link

, you will get

15% OFF your first order

.
Vitacost

: If you sign up through

this link

, you'll get a coupon for

$10 off your first purchase.
Amazon, of course, has everything you need for this recipe. Their prices are often very good, though I love to shop around and sometimes find that Vitacost and Thrive Market have better deals. If you like saving money, it's good to shop around! 🙂
I get all of my herbs and spices from Mountain Rose Herbs. I have tried so many other brands and have never found the quality, flavor, and aroma to be as good as the herbs I get from Mountain Rose.
Vegetarian Freezer Enchiladas
Makes 2 8×8 pans of enchiladas

Ingredients
Red Enchilada Sauce:
Enchilada Filling:
Instructions
Preheat oven to 375.
To make the enchilada sauce, bring oil to a medium-high heat in a medium stock pot. Whisk in the flour and chili powder.
Reduce heat to medium and gradually mix in tomato sauce and spices. Pour in a little bit of stock at a time, while whisking.
Whisk until smooth and add as much to get the consistency you want. (I prefer a thicker sauce, so I used less than 1 1/2 cup of stock.) Simmer for about 5-10 minutes.
On a foil-lined baking sheet, rub coconut oil along the entire inside of the pan. Arrange the cauliflower florets in a single layer and sprinkle with salt, pepper, and garlic powder.
Roast for 15-20 minutes, until fork tender.
In a sauté pan, bring 1-2 tsp of coconut oil to medium heat. Add in minced garlic and Swiss chard stems and cook until translucent, about 3-4 minutes.
Add in Swiss chard leaves and cook until wilted, about 4-7 minutes.
Stir in tomatoes, beans, and roasted cauliflower until combined. Add chili, salt, and pepper to taste.
Arrange two 8×8 pans (I use aluminum ones that are easy to freeze) and pour 2-3 large scoops of enchilada sauce across the bottom of the pan.
Wrap tortillas in a cloth/paper towel and heat for a minute in the microwave. This can prevent them from cracking when you roll them. Spoon a line of filling in the center of the tortilla and roll. Make sure not to overpack your tortillas or they'll be too hard to roll.
Place the fold side down in the pan. Repeat with all tortillas and fill both pans.
Top with sauce and cheese and bake for 20-25 minutes, until the cheese is golden brown. Allow enchiladas to cool.
If you're freezing both, cover with foil and write reheating instructions on top: Heat at 375, 20 minutes covered and 20-30 minutes uncovered, or until warmed all the way through. Place freezer pan in the freezer and if you're keeping one to enjoy now, store in the fridge or serve.
Enchilada Sauce Adapted from Recipe Girl
Paid Endorsement Disclosure: Delicious Obsessions is a participant in the Amazon Services LLC Associates Program, an affiliate advertising program designed to provide a means for sites to earn advertising fees by advertising and linking to AMAZON.COM. This post may contain affiliate links and/or ads. We only recommend products or services that we have personally tried and love. When you make a purchase through any of these links, we earn a small commission on each sale, which allows us to cover a portion of the cost of this site. This has no effect on your sale price and is simply a cost of doing business for the company you are purchasing from. All funds received help with the continued maintenance of this website and free content. You can view it like leaving a tip. Thank you! Read our full terms and conditions here.

Aimée Suen is a healthy food blogger at small eats. After gaining weight in college, Aimée started cooking, eating more fruits and vegetables, exercising and learning more about food. She discovered that healthy eating doesn't need to be bland, boring, or restrictive and she started blogging to share that. Aimee is passionate about sharing recipes, nutrition and knowledge that can inspire and empower people to live happy, healthy lives. When she's not in the kitchen, she's studying to become a Nutritional Therapist Practitioner, practicing yoga, or reading. You can find Aimée on Instagram, Twitter and Pinterest.