FTC Disclosure: This post contains affiliate links which means if you make a purchase through one of these links, I may earn a small commission on your sale which allows me to cover a portion of the cost of running the Delicious Obsessions site and free content we provide every week. This has no effect on your price and is simply a cost of doing business from the company you purchase from. I only recommend products or services that I have personally tried and love. You can view it like leaving a tip. Thank you for your support!
Sea Salted Chocolate Raspberry Caramels are delicious little bites of bliss. These healthier caramels are super easy to make and the perfect treat to share with someone you love.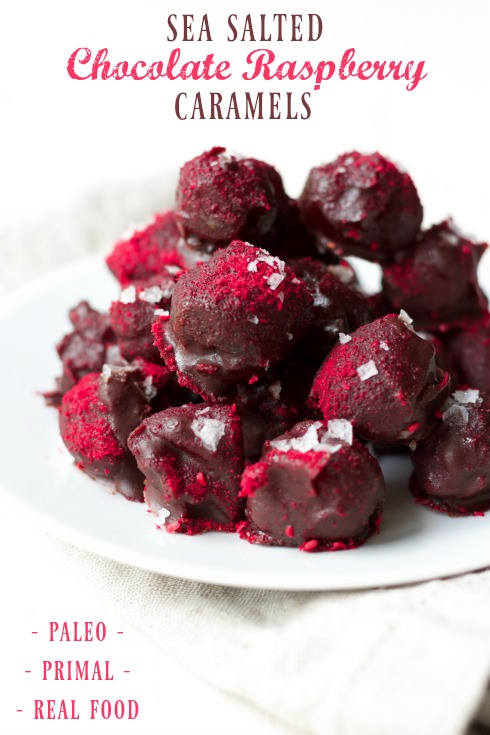 It's no surprise that National Chocolate Month is celebrated in February. Chocolate has become a common must-have for Valentine's Day, so it seems fitting that the whole month of February celebrates chocolate.
Most of us who love chocolate don't need an excuse to enjoy some chocolate, but it's fun to know that it's a celebrated food nonetheless.
I'm pretty crazy for chocolate. I love to enjoy it however I can. Sometimes that means nourishing hot chocolate and other times that means chocolate raspberry fudge or a chocolate orange smoothie. I simply cannot refuse homemade, healthier, chocolate goodies.
There's something just so special about chocolate.
Chocolate is known for making people feel HAPPY. It's also known to help boost the mood, make you feel better and it even releases endorphins into the brain. With all those feel good hormones, it's no wonder that chocolate produces so much pleasure for people.
So why not enjoy some chocolate caramels with a touch of sweet raspberries?!
Chocolate and raspberries are meant to be!
Chocolate is lovely on its own, but it's also so delicious paired with other flavors. There are many beautiful flavor combos like chocolate orange, chocolate mint, chocolate spice, and even chocolate with a little bit of heat!
Chocolate is also delicious paired with berries and is most commonly known for being paired with strawberries. But in my opinion, chocolate is extra special with raspberries.
Sweet, creamy, silky, chocolaty goodness paired with bittersweet, slightly tart, juicy raspberries is pure bliss.
Add these delicious flavors to a chewy caramel and you have a match made in heaven.
These delectable little bites of sea salted chocolate raspberry caramels are made with a special ingredient. Medjool dates! You don't need to any candy thermometer or tons of stirring to make caramel for these babies. All you need is some delicious sweet dates.
When dates are cold, and especially with they're paired with chocolate, they end up tasting very similar to caramel. The secret is making sure they stay cold, this gives them that authentic chewy caramel texture.
These Medjool dates are rolled into mini bites, drenched in homemade chocolate, then dusted with raspberries and a few pieces of flaked sea salt.
Sea Salted Chocolate Raspberry Caramels are incredibly special and decadent. Make sure to share some with loved ones, but make sure you keep a few just for you.
Coupons and Freebies for Sea Salted Chocolate Raspberry Caramels Ingredients
I am always asked about my favorite ingredients and what I use in my own kitchen. I have linked to the products from my affiliate partners that I personally use and recommend. All funds earned go to help support the maintenance of this site and free content. You can view it like leaving a tip. Thank you! 🙂 And now, here are the special coupon offers that select affiliate partners are currently offering:
Thrive Market

: If you sign up through

this link

, you will get

15% OFF your first order

.
Vitacost

: If you sign up through

this link

, you'll get a coupon for

$10 off your first purchase.
Amazon, of course, has everything you need for this recipe. Their prices are often very good, though I love to shop around and sometimes find that Vitacost and Thrive Market have better deals. If you like saving money, it's good to shop around! 🙂

Sea Salted Chocolate Raspberry Caramels
yield: 30 mini caramels   
Ingredients
Instructions
Add freeze dried raspberries to a high-powered blender or food processor. Pulse until raspberries are a fine powder. Set aside.
Line a baking sheet with parchment paper. Place in the freezer to chill.
In a small saucepan, gently heat the healthy fat of choice, cocoa/cacao powder, honey/maple syrup and sea salt over low heat, stirring occasionally until fully melted and glossy. Place chocolate in the freezer for a few minutes (2-3 minutes) to thicken just a bit while you prep the dates.
Using a pairing knife, cut dates in half and discard the pits. Roll each date half into a little ball curling the date in towards the stickier inside. They will not be perfectly round, they will look rustic. The warmth of your hands will help form them into a roundish ball. Set aside.
Remove the chocolate from the freezer, give it a stir. Add all of the rolled dates to the chocolate and use a spoon to coat all of them in chocolate. Remove the chilled, lined baking sheet from the freezer and place chocolate coated dates on the parchment paper. Place baking sheet back into the freezer and allow to set up for 3-4 minutes, the chocolate should still look slightly glossy. Remove from freezer. Using a fine mesh strainer, dust a fine mist of the powdered raspberries over each chocolate date. Repeat a second time until all of the raspberry powder is gone. Add a pinch of flaked sea salt to the top of each chocolate date. Return to the freezer. Freeze for at least 1 hour before eating for a truer caramel texture … if you can wait.
Notes
Caramels keep well in the freezer and taste delicious right out of the freezer. If they've been in the freezer for several hours or days, you can let the caramels sit at room temperature for 1-2 minutes before eating, but I prefer them right out of the freezer.
Paid Endorsement Disclosure: Delicious Obsessions is a participant in the Amazon Services LLC Associates Program, an affiliate advertising program designed to provide a means for sites to earn advertising fees by advertising and linking to AMAZON.COM. This post may contain affiliate links and/or ads. We only recommend products or services that we have personally tried and love. When you make a purchase through any of these links, we earn a small commission on each sale, which allows us to cover a portion of the cost of this site. This has no effect on your sale price and is simply a cost of doing business for the company you are purchasing from. All funds received help with the continued maintenance of this website and free content. You can view it like leaving a tip. Thank you! Read our full terms and conditions here.

Emily Sunwell-Vidaurri is a water kefir and chocolate loving, holistic-minded wife and homebirth mom of two little loves. She's the founder and voice behind Recipes to Nourish, a gluten free blog focusing on Real Food and Holistic Health. She's a real foodie, passionate about nourishing home cooking, lover of seasonal food, advocate of "green" living and daydreams about being a homesteader by the sea. Her passion and mission is to make healthy and natural living as uncomplicated and enjoyable as possible. Find Emily's latest recipes and natural living tips at Recipes to Nourish. Connect with her on Facebook, Instagram, Pinterest, and Twitter plus grab her free eBook Holistic Tips to Keep Your Family Healthy.