FTC Disclosure: Delicious Obsessions may receive comissions from purchases made through links in this article. As an Amazon Associate I earn from qualifying purchases.Read our full terms and conditions here.

Ready for a new Meatless Monday recipe? I have you covered with these amazing Roasted Red Pepper and Artichoke Lentil Burgers with Cucumber Herb Raita.
If you're a fan of skipping the meat from time to time, but still want something high in protein and very filling, these tasty lentil burgers will hit the spot. The roasted red peppers and artichoke bruschetta (my secret ingredient) create a flavorful patty that is perfectly complimented by the cool cucumber herb raita.
As most of you know, I do eat meat, but let's face it, high-quality meat is not cheap (read my 5 Tips for Sourcing Affordable Grass-Fed Meats here) and sometimes you need to stretch your grocery budget a little. Legumes are an excellent way to do this, as they are packed with protein, fiber, and a wide array of minerals and vitamins.
While I have never really eaten a lot of beans regularly, lentils are one legume that I really love. There was a long period of time that I was legume-free as I worked on healing my gut. I strictly followed the paleo diet (and the paleo autoimmune protocol for a big chunk of that), so beans, lentils, peas, etc. were out for me.
I have to say when I decided to go paleo, I was a little sad that I couldn't make one of my favorite soups 0f all time — Creamy Coconut Lentil Soup (which happens to be one of the most popular recipes I've ever published!). Looks like I'm not the only lentil lover out there. 🙂
Thankfully my diet has relaxed quite a bit over the last year and I've incorporated a lot of foods back into my regular diet, including legumes from time to time. Hello, lentils! So happy to see you again!
Welcome Back Lentils + a Bring on the Beans Sale!
Recently, Sprouts Market asked if they could hire me to create a new recipe for them using one of their many varieties of beans or lentils. Of course, I said yes because I had been wanting to create a new red lentil recipe and the timing could not have been more perfect. And I just love the folks at Sprouts and it's always an honor to work with them.
Soup and stew have always been my go-to for lentils, but this time I wanted to make a patty of some sort. Something that I could eat for the main course, or even a quick snack when needed. These Roasted Red Pepper and Artichoke Lentil Burgers were born. The Cucumber Herb Raita seemed like the perfect accompaniment to this Indian/Mediterranean-inspired meal.
All of the ingredients for this recipe can be found at Sprouts Market, including the lentils since Sprouts has such an incredible Bulk Department. They have pretty much anything and everything you could need, all at great prices too.
What's even better is that today (Jan. 18th, 2017), their Bring on the Beans sale is starting, which means you can get the following beans in their Bulk Department for just $0.99 per pound! Since beans keep pretty much forever, now is the time to stock up!
Pinto Beans
Black Beans
Black-Eyed Peas
Red Kidney Beans
Garbanzo Beans
Green Lentils
Red Lentils
Split Peas
Make sure you stop by a Sprouts Market near you and take advantage of this great sale. And honestly, their prices are great on A LOT more than just the beans. 🙂 Find a location near you here. I've also done a few recipes for Sprouts over the last few months, so if you've missed those, you can check them out here:
A Note on Legumes
Beans, beans, the magical fruit!
A lot of people avoid beans because of the digestive distress they feel when eating them. If you happen to be one of those people, then I encourage you to take the extra time to prepare them properly by soaking them before you prepare them. Actually, I recommend this to everyone, not just those who have trouble with beans.
The process of preparing beans before cooking can really help cut down or eliminate the digestive "discomfort" that legumes can have on some people, as well as eliminate any anti-nutrients. I wrote a blog post about this many years ago where you can learn how to soak beans and legumes. So many people report that by taking the extra time to soak their legumes before cooking they experience no issues when eating them!
If you are not already familiar with the book, Nourishing Traditions, then it is a must-read for anyone interested in real and traditional foods. This book was pivotal in my real food journey and is where I learned about the proper preparation of legumes, grains, nuts, and seeds. You can find it on Amazon here. It is on my real food book list and I recommend it to everyone (makes a great gift too). Read my Top 10 Real Food and Nutrition Books Everyone Should Read here.
Now, let's dive into the recipe!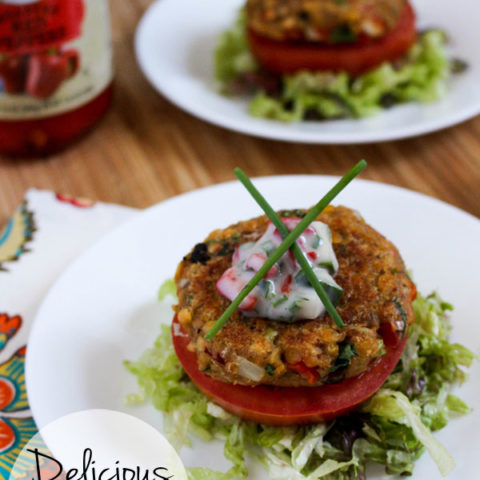 Roasted Red Pepper and Artichoke Lentil Burgers with Cucumber Herb Raita :: Gluten-Free, Dairy-Free, Vegan
If you're a fan of skipping the meat from time to time, but still want something high in protein and very filling, these tasty lentil burgers will hit the spot. The roasted red peppers and artichoke bruschetta (my secret ingredient) create a flavorful patty that is perfectly complemented by the cool cucumber herb raita.
Ingredients
Lentil Burgers
1 cup Sprouts Market red lentils
1 1/2 cup water or broth
1/4 cup onion, finely diced (can use red or yellow)
3-4 Sprouts Market Roasted Red Peppers, finely diced
2 tbsp fresh parsley, chopped
1/2 cup Sprouts Market Artichoke Bruschetta with Quinoa
3/4 tsp garlic powder
3/4 tsp onion powder
1/4 tsp sea salt
1/4 tsp ground black pepper
1 1/2 - 2 tbsp psyllium husks or powder (you can also use any flour of your choice, but you may need to increase the amount in order for the patties to bind properly)
Avocado oil for cooking
Cucumber Raita
1 cup English cucumber, finely diced
1 Sprouts Market Roasted Red Pepper, finely diced
1 tsp fresh dill, minced
2 tbsp fresh chives, minced
2 tbsp fresh parsley, minced
1 cup plain coconut milk yogurt (or plain yogurt of your choice)
1 tbsp lemon juice
1/8 tsp sea salt
pinch ground black pepper
Instructions
Rinse your Sprouts Market red lentils in cool water and pick out any that are discolored or black.
In a small pot with a tight lid, combine your lentils and water, cover, and bring to a simmer over medium heat.
Reduce heat to low. Cook for 12-16 minutes (stirring occasionally) or until the lentils are soft, but not completely mushy.
Remove from heat and place the cooked lentils into a large bowl to cool.
While the lentils are cooling, dice your onions and Sprouts Market Roasted Red
Peppers and add to the bowl.
Chop your parsley and add to the bowl.
Add the Artichoke Bruschetta with Quinoa, garlic powder, onion powder, sea salt, and black pepper to the bowl. Stir mixture until well combined.
Add the psyllium husks or powder and stir until the mixture is combined and let sit for a few minutes while you prepare your raita.
Finely dice your cucumber and Sprouts Market Roasted Red Pepper and place in a small bowl.
Mince your dill, chives, and parsley and add to the cucumber and red pepper.
Add your coconut milk yogurt (or yogurt of choice), lemon juice, sea salt, and pepper and stir to combine. Set aside.
Heat a large skillet or frying pan over medium heat.
When the pan is heated, add 1-2 tbsp avocado oil or pan spray and form the lentil mixture into patties, about 1/2 cup of the mixture per patty (or larger if you prefer).
Place patties on the heated pan and cook until golden brown on one side (about 5-6 minutes) and then flip. Cook another 5-6 minutes or until browned on the other side.
Remove from heat and repeat with the remaining lentil mixture. You may need to add more oil or spray to the pan.
Serve on buns of your choice, or over a bed of shredded lettuce and sliced tomato. Top with a dollop of your cucumber raita and enjoy!
These cooked burgers store and freeze very well. To store in the fridge, place in an airtight container with a piece of parchment or wax paper between each layer of burgers. To freeze, wrap tightly in plastic wrap and store in a ziptop bag. When ready to serve, simply reheat in a frying pan until warmed through.
Nutrition Information:
Yield:

8
Serving Size:

1
Amount Per Serving:
Calories:

152
Total Fat:

5g
Saturated Fat:

1g
Trans Fat:

0g
Unsaturated Fat:

3g
Cholesterol:

2mg
Sodium:

240mg
Carbohydrates:

23g
Fiber:

7g
Sugar:

7g
Protein:

7g
This website provides approximate nutrition information for convenience and as a courtesy only. Nutrition data is gathered from Nutritionix and we often find their calculations to be slightly inaccurate based on the whole food ingredients we use on this site. Nutrition information can vary for a recipe based on many factors. We strive to keep the information as accurate as possible, but make no warranties regarding its accuracy. We encourage readers to make their own calculations based on the actual ingredients used in your recipe, using your preferred nutrition calculator.

Delicious Obsessions is a participant in the Amazon Services LLC Associates Program, an affiliate advertising program designed to provide a means for us to earn fees by linking to Amazon.com and affiliated sites.Read our full terms and conditions here.