FTC Disclosure: Delicious Obsessions may receive comissions from purchases made through links in this article. As an Amazon Associate I earn from qualifying purchases.Read our full terms and conditions here.

Today is Black Friday. Which means the U.S. has gone nuts and people are getting trampled (sadly) :'( in order to snag the best deal on something from a big box store.
No. Thank. You.
I'd rather stay at home and buy things I love from companies I TRUST all while sitting in my PJ's and drinking a cup of golden milk (recipe here).
Don't get me wrong, there are some pretty kick ass deals out there this weekend. I just want to be a little more conscientious about where I spend my money right now and try to support the PEOPLE that I personally know and love. I guess there is one exception to this and that is Amazon. I'm hoping to get an 8 quart Instant Pot on sale, so I will be popping over there today.
I am a big fan of supporting small businesses — both online and locally. Whether it be people I personally know or brands that I found that I have come to know and love, I like knowing that my money is going to help someone further their dream of independence through entrepreneurship whenever possible.
Being an entrepreneur and a small business owner is not an easy gig. It's not for the faint of heart, as owning a business is sure to take you through more ups and downs than you ever dreamed.
BUT, the reward is so immense that I can't even describe the feeling. It's a combination of all of the following (+ more):
The feeling of knowing you created something that helped someone else.
The feeling of knowing that your products or services are serving the greater good in the world.
The feeling of knowing that your hard work is helping support your family (and other families if you are lucky enough to have employees or contractors that you hire).
The feeling of freedom. It's a feeling that I really haven't experienced anyplace else.
That's why I am excited to share this weekend's special offers with you. All of these products come from small businesses started by people who were seeking to do good in the world through whatever product or service they were called to create.
It's a beautiful, cyclical cycle of reward for all parties involved. I support these brands because I love their products and buy them for my own home. I also share about them with my audience to help increase awareness of their products and services.
These brands support me by offering an affiliate program where I can earn a small commission for any new business I send their way. Lastly, as customers, we all win because we know our money is going to a brand we love and we get products we love to use ourselves. Our money goes to help support another person's dream and that's something that we can feel good about.
When you buy from small businesses, you are helping to make dreams a reality. As an entrepreneur, I thank you, from the bottom of my heart, for helping me make my own dreams a reality. <3
Without further adieu, let's dive into the great offers I've rounded up for this Cyber weekend. We have deals from:
Perfect Supplements
100% Pure
Morrocco Method
20 Dishes
Beanilla
And more!
P.S. Supporting small business is not something that is seasonal. It's something that should take place year round. While many small businesses run extra special deals around Thanksgiving and other holidays, they deserve to be supported even when they are not running something on sale. 🙂
Cyber Weekend Special Offers
Delicious Obsessions eBooks – 50% OFF 
This special offer is applicable on the following eBooks, which includes my best-selling DIY Herbal Coffee Guide and Real Food 101 eBooks.
Dates: November 23rd through November 29th
Coupon Code: BLACKFRIDAY50
Speaking of the Herbal Coffee Guide, that eBook is in the process of getting fully redesigned and updated and will feature new info and recipes. Anyone who purchases this book now will receive the current eBook and then also the updated version when the new edition is released.
(please note that this sale DOES NOT apply to the AIP Breakfasts and the AIP Instant Pot Cookbooks. Those are community cookbooks that I cannot adjust the price on.)
20 Dishes – 63% OFF NEW Instant Pot Freezer Cooking eBook + BIG Discounts on Memberships
I am SO super excited about the launch of this new eBook over at my other site, 20 Dishes. The Instant Pot has been a game-changer for me in getting healthy food on the table when time is tight. This new eBook features 20 Quick & Easy Make Ahead Gluten-Free Instant Pot Meals.
In addition to this, we are running a rare sale on all of our membership levels. The prices are going back up soon so if you've been considering a 20 Dishes membership so you can spend less time cooking and more time living, now is the chance!
Dates: November 25th through November 28th
Coupon Code: No Coupon Needed For This Sale!
Where: 20 Dishes Online Shop
If you don't know why I love the Instant Pot so much, read this post all about the Instant Pot here. You can find them on Amazon (and they're on sale today too!).
Perfect Supplements – 35% OFF + a Bonus 10% Just for My Readers!
This is an AWESOME sale from one of my very favorite online small businesses where you can save 35% OFF on any of their Perfect Supplements Brand products (no limits,  no minimums), PLUS you get an extra 10% off your order just for being a Delicious Obsessions reader (must use coupon code DELICIOUS10).
This is one deal that I will be taking full advantage of to re-stock my pantry and supplement cabinet. Dessicated liver anyone? 😉
Dates: November 25th through November 28th
Coupon Code: The 35% Will Be Automatically Deducted and Displayed on The Store, but you MUST USE COUPON CODE DELICIOUS10 to save the extra 10%
If you're not familiar with Perfect Supplements, they are one of my all-time favorite brands. It's a family owned business with a mission to make clean, effective health products available to the masses. They have a wide range of supplements and foods and I use a ton of their products in my own home. Some of my favorites include:
Perfect Desiccated Liver
Perfect Bovine Collagen
Perfect Bovine Gelatin
Perfect Plant Protein
Perfect Liver Detox Support
Perfect Coconut Oil
Perfect Lip Nutrients
100% Pure – 20 Items for $10 Each
100% Pure is a new company that I just started using. They offer clean, toxin-free skin care, makeup, and body care. They are currently running a Black Friday sale that features 20 products for $10 each. You do have to reach an order value of $35 for this deal to "unlock", but that is easy to do with so many great products. This deal can be used with other coupon (except new customer only codes).
I started using them because of their nail polish options. Nail polish is one thing that I love, love, love and it is really hard to find a clean brand that actually performs. I also tried their mascara and lipstick. So far I'm really happy with all of their products and look forward to exploring more of their options! Their products are:
All natural ingredients sourced from farms that do not use pesticides or chemicals
Always cruelty free
Large vegan selection
Fruit pigmented cosmetics
The Gelatin Secret – 30% OFF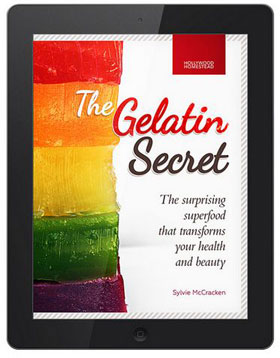 If you've been reading this site for any amount of time, you know that I love gelatin and collagen. It's, in my opinion, right up there at the top of the superfood list and is full of gut-healing and body healing nutrients, protein, and amino acids.
One of my favorite resources is the eBook The Gelatin Secret from my friend Sylvie McCracken. Through Monday, you can snag this book for 30% OFF.
Looking for some gelatin goodness? Click here to see all of my posts on gelatin and recipes using this super food.
GAPS Diet Journey eBooks – 50% OFF
One of my favorite eBook authors is my friend Starlene over at GAPS Diet Journey. She is the coconut flour master and her books and expertise has saved me (and countless other people) A LOT of wasted time and money when it comes to working with coconut flour.
Dates: November 25th through November 28th
Coupon Code: BLACKFRIDAY50
Mastering the Art of Baking with Coconut Flour is a must-have for any gluten and grain free kitchen. I am also a huge fan of her Baker's Dozen Sweet Treats Series, especially the Pumpkin Treats and the Chocolate Treats books. YUM!
AIP Breakfast eCookbook – 50% OFF
If you are on the AIP (autoimmune protocol), or getting ready to start it, then these are two excellent resources for you. I was lucky enough to be an author of the AIP Breakfasts eBook, and then Eileen, the organizer of that book also wrote the reintroduction guide, which was just what I wish I had when I first started the AIP main years ago.
Morrocco Method – 5 Days, 5 Huge Sales (up to 50% OFF) + FREE Gifts!
Morrocco Method is one of my favorite natural hair care companies. I've written about them several times on my site (read this post or read this post). They offer super clean products that contain nothing nasty or artificial.
This year, they are doing something a little fun and different. For five days, they are sharing their biggest sales of the year, up to 50% OFF your favorite items. In addition, Plus, they are giving out free gifts for all orders $49+.
Dates: November 28th through December 2nd
Coupon Code: No Coupon Needed For This Sale! Each Day a New Sale Will be Featured.
Beanilla – 15% OFF Everything + FREE Shipping
I've been a user of Beanilla products for years now. I love the quality of everything I get from them. They not only sell all sorts of amazing vanilla, but they have other baking products as well. Enjoy 15% OFF everything in their store, TODAY (Friday) ONLY!!

Delicious Obsessions is a participant in the Amazon Services LLC Associates Program, an affiliate advertising program designed to provide a means for us to earn fees by linking to Amazon.com and affiliated sites.Read our full terms and conditions here.