FTC Disclosure: This post contains affiliate links which means if you make a purchase through one of these links, I may earn a small commission on your sale which allows me to cover a portion of the cost of running the Delicious Obsessions site and free content we provide every week. This has no effect on your price and is simply a cost of doing business from the company you purchase from. I only recommend products or services that I have personally tried and love. You can view it like leaving a tip. Thank you for your support!
Last week I published a recipe for a Cranberry Satsuma Relish with Coconut and Ginger that I absolutely ADORE. Like that recipe, this recipe has been sitting in my drafts for well over three years, if not longer. I was so excited when I rediscovered these lost recipes and now it's finally time to publish!
Since I know that not everyone is too keen on the raw cranberry relish and would prefer to have a more traditional cranberry sauce to go with their turkey dinner, I wanted to share this recipe too.
I get it. I love them both to be honest and would be quite happy with a dollop of each one on my plate of turkey and fixings.
For those who love their cranberry sauce, I have a super simple, super delicious recipe for you today. It's my Citrus Ginger Cranberry Sauce and it's pretty similar to last week's recipe, only it is cooked which helps develop the flavors of the cranberry and citrus even more.
If you want even more cranberry recipe ideas, check out the very bottom of this post for 4 of my all-time favorites! 🙂
Coupons and Freebies for Citrus Ginger Cranberry Sauce
I am always asked about my favorite ingredients and what I use in my own kitchen. I have linked to the products from my affiliate partners that I personally use and recommend. All funds earned go to help support the maintenance of this site and free content. You can view it like leaving a tip. Thank you! 🙂 And now, here are the special coupon offers that select affiliate partners are currently offering:
Thrive Market: If you sign up through this link, you will get 15% OFF your first order.
Amazon, of course, has everything you need for this recipe. Their prices are often very good, though I love to shop around and sometimes find that Thrive Market has better deals. If you like saving money, it's good to shop around! 🙂
I get all of my herbs and spices from Mountain Rose Herbs. I have tried so many other brands and have never found the quality, flavor, and aroma to be as good as the herbs I get from Mountain Rose.
Citrus Ginger Cranberry Sauce
Ingredients
4 cups organic cranberries (fresh or frozen)
1 organic orange, zested, peeled, segmented, and chopped
1 organic orange, zested and juiced
1 lemon, juiced and zested
1 lime, juiced and zested
2 tbsp. honey or maple syrup (or more if you like it sweeter)
1-2 tbsp. fresh grated ginger (1 tbsp. will be very mild, more will add a kick)
1/4 tsp. sea salt
1/4 tsp. cinnamon
1 tsp. to 1 tbsp. organic cornstarch or arrowroot powder (optional) OR a small sprinkle of psyllium husk powder (optional)
Instructions
Wash the skins of your citrus and zest and juice the lemon, lime, and one orange.
Zest your second orange and then peel and segment it, removing the white membrane from the segments. Rough chop the peeled segments.
In a saucepan over low heat, combine all of the ingredients (stir everything together) and cover with a tight lid.
Let the cranberries cook down for 30-45 minutes (stirring a couple times) or until the cranberries are soft and some of them have popped.
Depending on the consistency that you like your cranberry sauce, you can puree it in a blender or with your immersion blender. I like to leave mine a little chunky, so I use my potato masher and just gently mash some of the sauce until about half is mashed and half is not. I like a little chunk in my sauce.
Your sauce should get relatively thick from the pectin in the orange, but if it's not thick enough for your liking, you can make a slurry of cornstarch or arrowroot with a little warm water and stir it in. Cook for about 5 minutes on low stirring regularly. This will thicken it quite a bit.
Remove from heat. You can serve hot, warm, or cold. It's delicious any way you choose. I love it with turkey, but it also tastes great plain, or over some vanilla ice cream! 🙂
Want More Cranberry Recipes? Here Are a Few Tasty Treats!
I am a huge fan of anything cranberry. These are 4 of my all-time favorite cranberry recipes! I hope you enjoy! 🙂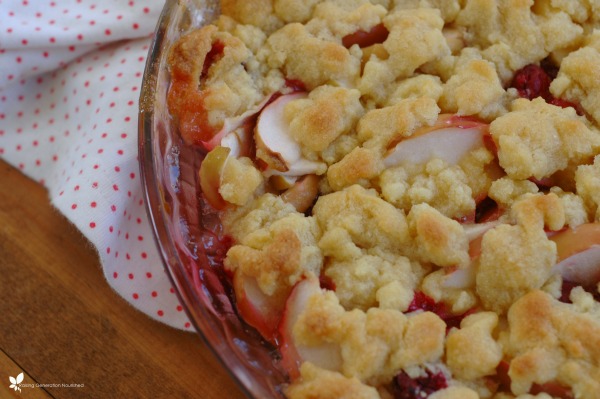 Paid Endorsement Disclosure: Delicious Obsessions is a participant in the Amazon Services LLC Associates Program, an affiliate advertising program designed to provide a means for sites to earn advertising fees by advertising and linking to AMAZON.COM. This post may contain affiliate links and/or ads. We only recommend products or services that we have personally tried and love. When you make a purchase through any of these links, we earn a small commission on each sale, which allows us to cover a portion of the cost of this site. This has no effect on your sale price and is simply a cost of doing business for the company you are purchasing from. All funds received help with the continued maintenance of this website and free content. You can view it like leaving a tip. Thank you! Read our full terms and conditions here.