FTC Disclosure: This post contains affiliate links which means if you make a purchase through one of these links, I may earn a small commission on your sale which allows me to cover a portion of the cost of running the Delicious Obsessions site and free content we provide every week. This has no effect on your price and is simply a cost of doing business from the company you purchase from. I only recommend products or services that I have personally tried and love. You can view it like leaving a tip. Thank you for your support!
Rustic galettes are a summertime favorite. Like a pie, they can be filled with all kinds of berries and stone fruit like plums, peaches, pluots, nectarines, or cherries. These Mini Plum Raspberry Galettes are so beautiful with thickly sliced plums and juicy red raspberries. 
Galettes are so much fun to make with seasonal fruit. Have you ever made a galette? They're similar to a pie and basically the same thing as a crostata, except one is French and one is Italian. Galettes are not baked in a pan like a tart, they're a flat layer of dough (pie crust) filled with sweet or savory yumminess. The edges of the dough fold up around the filling and do not cover the top.
I love baking galettes instead of pies because there is no pressure rolling out a perfect pie crust. Galettes are meant to be rustic in my opinion. They don't need to be perfect, and they look better with imperfections. In fact, the imperfections and the seasonal filling are always showstoppers.
How to Choose Galette Fillings
Seasonal fruit, vegetables, and herbs are all lovely in galettes. Stone fruit and berries are some of my favorite choices.
Plums are truly something special. These colorful beauties are part of the drupe family, also known as stone fruit. Why are they called stone fruit? Because they have a "stone" on the inside, also known as a pit, inside that stone is the seed.
Plums are so delicious and come in different varieties with the inside flesh ranging in color from light yellow, to pink to reddish dark purple. They scream summer. I love that you can find them starting in June and all the way through early fall. They are a family favorite and we buy them often. They are absolutely perfect for galettes.
Another summer favorite is berries. Raspberries bushes and blackberry vines are heavy with beautiful, juicy berries during this time of year. Maybe they're growing in your yard or you're lucky enough to be able to forage for some in your neighborhood? For the rest of us, farmers markets seem to be packed with beautiful little blue baskets of berries.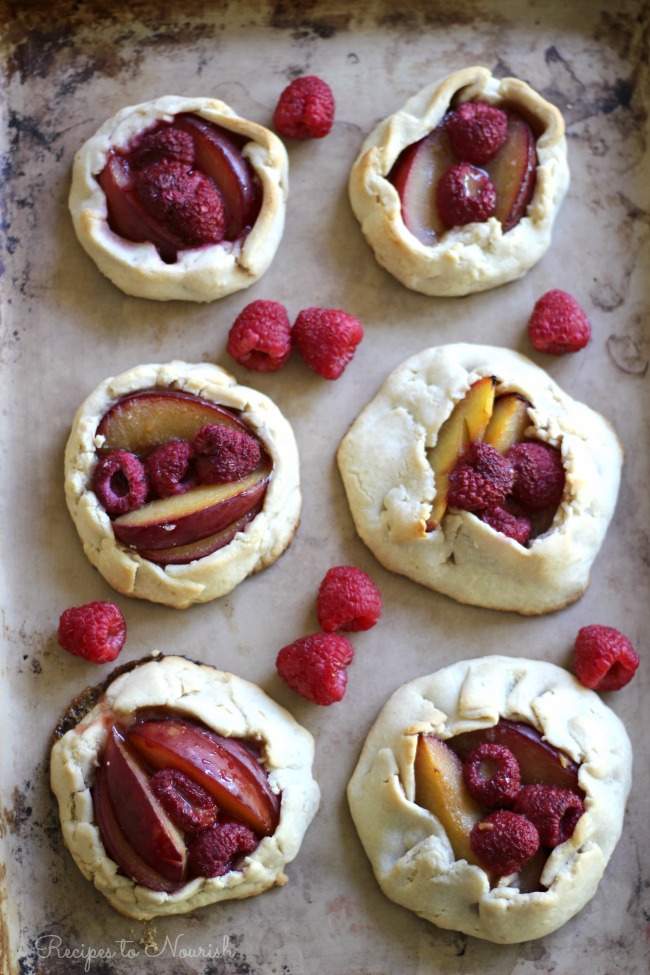 How to Make Grain-Free Mini Galettes
I grew up making baked goodies with my southern grandma. She was the queen of homemade pies and cobblers. It was so much fun getting to be in the kitchen with her.
Those beautiful treats were made with refined white flour, and that's a thing of the past for me. One of my favorite gluten-free and grain-free flours is cassava flour. I find that it's most similar to white flour. It's even kind of glutenous in the way it binds and absorbs liquid.
Even though my grandma mostly taught me how to bake, it is my mom's killer apple pie and crust that stays in my mind. This galette dough is based off of my mom's pie crust recipe, which is adapted from Alice Waters' famous pie crust.
To make these lovely Mini Plum Raspberry Galettes, you'll need cassava flour, a good amount of grass-fed butter, a little honey or maple syrup, some cold water and a bit of vanilla and apple cider vinegar. This buttery dough comes together quickly and rolls out between two layers of parchment paper. Yes, parchment paper is needed for this dough.
The dough is easy to handle and the beautiful thing is if any seams or breaks occur, you can easily piece it back together. Just cut out some mini circles of dough, add small amounts of the plum and berry filling, fold the boarder of the pasty dough over the fruit to form edges and you're on your way to baked summertime bliss.
Coupons and Freebies for Grain-Free Mini-Galettes Ingredients 
I am always asked about my favorite ingredients and what I use in my own kitchen. Below are special coupon offers that select affiliate partners are currently offering:
Thrive Market

: If you sign up through

this link

, you will get

15% OFF your first order

.

Vitacost

: If you sign up through

this link

, you'll get a coupon for

$10 off your first purchase.
Tropical Traditions

: If you make a purchase from them through

this link

, you will receive a free copy of their

Virgin Coconut Oil book

with your order.
Amazon, of course, has everything you need for this recipe. Their prices are often very good, though I love to shop around and sometimes find that Vitacost and Thrive Market have better deals. If you like saving money, it's good to shop around! 🙂
I get all of my vanilla beans and other vanilla goodies from Beanilla. I've tried a ton of brands of vanilla and vanilla beans and Beanilla is by far the best quality I've found! Make sure you check out their Bean Bucks Rewards program so you can save on future orders.

Mini Plum Raspberry Galettes
Author:
Emily Sunwell-Vidaurri @ Delicious Obsessions
Instructions
Add cassava flour and cubed tablespoon pieces of very cold butter to a food processor fitted with a "S" metal blade. Pulse about 10 to 15 times or until the butter is the size of peas. With the motor running, add honey or maple syrup, apple cider vinegar, vanilla extract and ice cold water, tablespoons at a time through the feed tube. Turn off once the water is added and continue to pulse 3 to 5 times just to combine making sure to stop before the dough comes together (moist clumps should form).
Pour the dough onto a large piece of unbleached parchment paper. Form the dough into a ball and flatten into a round disc. Place the dough in the refrigerator while you make the filling.
Preheat oven to 400 degrees F. Line baking sheet with parchment paper, set aside.
Make the filling. First halve the plums then cut each half into thirds, leaving you with 6 thick slices. Add plums slices and berries to a large bowl or dish. Add arrowroot and honey or maple syrup and gentle fold to combine. Set aside.
Remove the chilled dough from the refrigerator. Place dough on a large piece of parchment paper. Place another large sheet of parchment paper on top of the dough (this keeps the dough from sticking to the rolling pin). Use a rolling pin to roll the dough into a large circle, about 11 to 12″. Using a pairing knife or a 5-6" circle cookie cutter (look around your kitchen, you might have a container with a lid that works perfectly to make some circles) cut circles in the dough. Gently remove the top piece of parchment paper and carefully peel off and transfer dough circles to parchment paper lined baking sheet. Repeat process until all dough is used (I was able to make 7 circles).
Using a slotted spoon, scoop 3 slices of plums and a few berries (leaving juice behind) on top the mini dough circles, making sure to leave about a 2″ boarder of crust.
Gently fold the boarder of the pasty dough over the fruit (about 1½ to 2″), forming an edge. Don't panic if the dough breaks, because it will, just use your fingers to pinch the dough and seal up any tears or cracks.
Pour reserved fruit liquid/juice over the fruit only. Brush edges of the crust with melted butter, ghee or cream.
Bake the mini galettes for about 17-20 minutes, until the crust is light golden brown and the fruit is tender. Let cool on the baking sheet for at least 20 minutes before serving. Set the baking sheet on top of a wire cooling rack to cool quicker. [Note: It's helpful to use a metal spatula or offset spatula to loosen the mini galettes from the parchment paper, especially if any juices leaked out during the baking process.]
Notes
Yield: Makes 7 mini galettes.
Paid Endorsement Disclosure: Delicious Obsessions is a participant in the Amazon Services LLC Associates Program, an affiliate advertising program designed to provide a means for sites to earn advertising fees by advertising and linking to AMAZON.COM. This post may contain affiliate links and/or ads. We only recommend products or services that we have personally tried and love. When you make a purchase through any of these links, we earn a small commission on each sale, which allows us to cover a portion of the cost of this site. This has no effect on your sale price and is simply a cost of doing business for the company you are purchasing from. All funds received help with the continued maintenance of this website and free content. You can view it like leaving a tip. Thank you! Read our full terms and conditions here.

Emily Sunwell-Vidaurri is a water kefir- and chocolate-loving, holistic-minded wife and homebirth mom of two little loves. She's the founder and voice behind Recipes to Nourish, a gluten free blog focusing on real food and holistic health. She's a real foodie, passionate about nourishing home cooking, lover of seasonal food, advocate of "green" living and daydreams about being a homesteader by the sea. Her passion is to make healthy, natural living as uncomplicated and enjoyable as possible. Find Emily's latest recipes and natural living tips at Recipes to Nourish. Connect with her on Facebook, Instagram, Pinterest, and Twitter plus grab her free eBook Holistic Tips to Keep Your Family Healthy.