FTC Disclosure: Delicious Obsessions may receive comissions from purchases made through links in this article. As an Amazon Associate I earn from qualifying purchases.Read our full terms and conditions here.

I LOVE tostones!
Honestly, I love anything fried and starchy, so tostones are right up there at the top of my favorites list.
I don't eat them a lot since they are so addicting and I can't be trusted around them. But, every once in a while I get a hankering for them that I must soothe.
Tostones are a Latin side dish made in the Dominican Republic, Cuba, Haiti, etc. Each country has their own little spin on making them, but they are essentially plantains that have been sliced, fried, smashed, and fried again.
How to Make Tostones (Fried Plantains)
They are SUPER easy to make, so I wanted to make a video to show you how to make tostones. The video features plain tostones, with just plantains, salt, and pepper. If you just want to get a little fancier, try my Sweet Spice Tostones recipe, which is included below the video.
How to Peel Plantains
If you're having some trouble peeling plantains, watch my video on how to peel plantains below.
Delicious Obsessions Trusted Product Recommendations (+ coupons and freebies!) For Sweet Spice Tostones
I am always asked about my favorite ingredients and what I use in my own kitchen. I have linked to the products from my affiliate partners that I personally use and recommend. And now, here are the special coupon offers that select affiliate partners are currently offering:
Thrive Market: If you sign up through this link, you will get 15% OFF your first order.
Amazon, of course, has everything you need for this recipe. Their prices are often very good, though I love to shop around and sometimes find that Thrive Market has better deals. If you like saving money, it's good to shop around! 🙂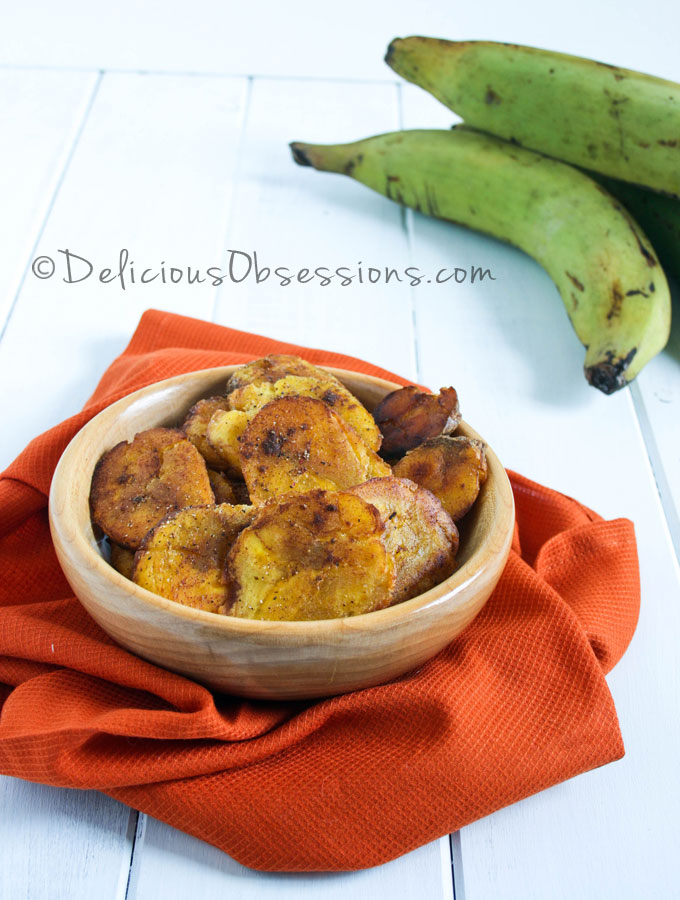 Sweet Spice Tostones (Fried Plantains)
If you love tostones, you are going to swoon for this sweet spice version. Warm spices are the perfect complement to the sweet and creamy fried plantains. Enjoy as-is, or alongside your favorite meal.
Instructions
Peel your plantain and slice into 1/4 inch thick slices.
Mix the dry spices and coconut sugar together in a separate bowl and set aside.
Heat your coconut oil over medium heat in your skillet or frying pan. I like to use my cast iron frying pan.
When the oil is hot, place the sliced plantains in the oil.
Let cook for 2-3 minutes and flip. They should be lightly golden brown on one side.
Cook for another 2-3 minutes and then remove from the oil and place on a plate or cutting board.
Using the bottom of a glass, press down the on the plantains until they are flattened a little. You want to smash them a bit.
Place back into the oil and cook on each side 1-2 minutes more, or until the plantains are golden brown.
Remove from oil and place on a paper towel-lined plate. Sprinkle your spice mixture over the pieces.
Let cool and serve.
Store in an airtight container in the fridge for up to 3 days. You can even re-heat in a frying pan or the oven if you like.
Recommended Products
As an Amazon Associate and member of other affiliate programs, I may earn a small commission from qualifying purchases.
Nutrition Information:
Yield:

2
Serving Size:

1
Amount Per Serving:
Calories:

164
Total Fat:

0g
Saturated Fat:

0g
Trans Fat:

0g
Unsaturated Fat:

0g
Cholesterol:

0mg
Sodium:

588mg
Carbohydrates:

44g
Fiber:

3g
Sugar:

23g
Protein:

1g
This website provides approximate nutrition information for convenience and as a courtesy only. Nutrition data is gathered from Nutritionix and we often find their calculations to be slightly inaccurate based on the whole food ingredients we use on this site. Nutrition information can vary for a recipe based on many factors. We strive to keep the information as accurate as possible, but make no warranties regarding its accuracy. We encourage readers to make their own calculations based on the actual ingredients used in your recipe, using your preferred nutrition calculator.
Have you ever tried tostones? Leave a comment below!
Sometimes You Just Need a Good Snack!
If you're reading this blog, chances are you've embarked on your gluten-free journey, but are missing your favorite snack foods. You're bored with all of the gluten-free options out there (which, let's face it, aren't all that healthy). Let me ask you a few questions:
Are you new to a real foods diet or just bored with eating the same thing every day?
Are you in need of healthy snack ideas for your whole family?
Would you like recipes that are easy, delicious, and healthy?
If you answered yes to any of these, then my eBook, Gluten-Free Snacks, is for YOU! This book features delicious real food snack recipes from an established community of real food bloggers. All of the recipes featured in this ebook are tried and true recipes that have been put to the test of both preparation and taste.
Long before blogging and social networks, trading recipes has been a way to connect and transfer culture, nourishment, and love from the heart of the home (the kitchen) to others. So, in the spirit of old-fashioned cookbooks produced by schools and churches, each cook featured in this book has provided her BEST recipe, so it winds up a collection of the best of the best!
You will love all the new ideas and new flavors in this book. Clear, easy to follow instructions, beautiful photographs, and accessible ingredients will make this book a favorite resource.
Feed your family healthy and nourishing gluten-free snacks every day without sacrificing taste! These snacks are a great way to add variety to your family's diet. Healthy snacks are what keep us going between meal times, giving us the energy and sustainable blood sugar that we need to power through our to-do list.
It's time to ditch the food boredom and embrace deliciousness once again! The Gluten-Free Snacks eBook is your ticket to healthy, delicious, well-balanced snacks to keep you energized and focused no matter the time of day or activities you're enjoying! Learn more about this eBook and how to download your copy of Gluten-Free Snacks here (or click on the image below).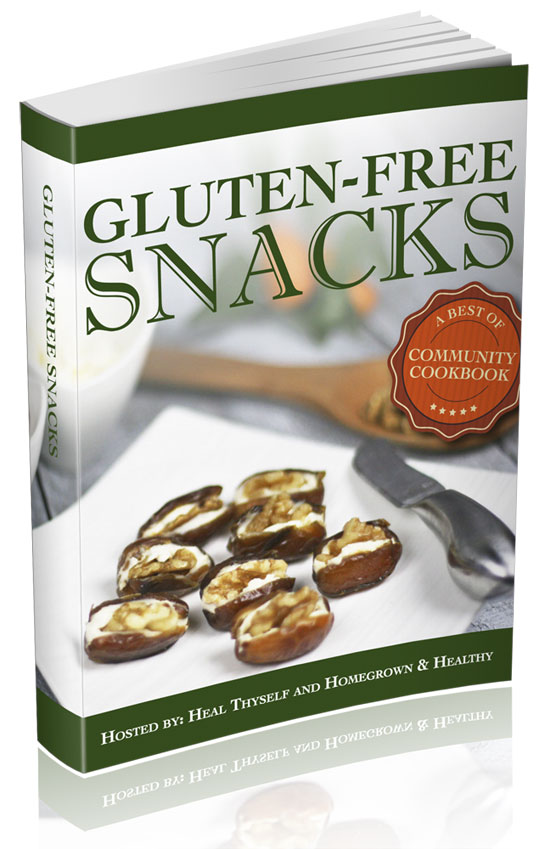 Delicious Obsessions is a participant in the Amazon Services LLC Associates Program, an affiliate advertising program designed to provide a means for us to earn fees by linking to Amazon.com and affiliated sites.Read our full terms and conditions here.