FTC Disclosure: Delicious Obsessions may receive comissions from purchases made through links in this article. As an Amazon Associate I earn from qualifying purchases.Read our full terms and conditions here.

Last week, I had the amazing honor to be interviewed by Andrea Nakayama. This made me feel so special, because I have followed her work closely over the last couple years.
I first became acquainted with Andrea in her interviews on Sean Croxton's popular health summits. I never imagined she'd reach out to me and want to chat!
If you're not familiar with Andrea, make sure you check out her site, Replenish PDX here. You can also find her on Facebook, Pinterest, and Twitter.
In our talk, we discussed all things herbal coffee, blood sugar balance, and our journeys to health. I hope you'll check it out. 
But, before you do, I must tell you about Andrea's free seminar taking place this Wednesday (4/22) at 5:30pm PST / 8:30pm EST, called Even Keel.
Even Keel is a free 75-minute seminar where you'll discover:
why balancing your blood sugar matters (hint: it's not just about preventing diabetes)
the connections between blood sugar swings and heart disease, cancer, candida, adrenal fatigue, and autoimmunity
what drives us to grab for the sugar and what you can do about it (hint: it's not your lack of willpower)
practical tips for balancing blood sugar that you can start using immediately
You have all heard me talk about blood sugar balance time and time again, so this is the perfect time to learn more from an exceptionally amazing practitioner FOR FREE!
Supporting Your Blood Sugar Balance Through Herbs
When it comes to supporting blood sugar balance in the body (as well as your thyroid and adrenals since they are all part of the endocrine system), caffeine may not be your best friend. While those with sluggish adrenal glands and a slow thyroid tend to feel run down and in need of a regular pick-me-up (like coffee and other caffeinated beverages), in the long run, caffeine can do more harm than good while you are healing. I go into the "whys" around caffeine and your blood sugar balance in this detailed post here. In addition to the caffeine, there are other constituents, molds, and mycotoxins that can show up in coffee that some people find they react to.
When I was diagnosed with autoimmune disease and adrenal fatigue, one of the first things that had to go was coffee. To be honest, I never drank coffee because of the caffeine. I drank coffee for the taste and aroma, as well as the emotional experience I felt to my morning cup of joe. For me, it was a ritual that I looked forward to every day (and sometimes multiple times a day). Whether I was brewing it at home or going to my local coffee shops, the experience was one that I clung to tightly.
But, when I was faced with new health struggles, I knew I had to do whatever I could to support my body and give it the tools it needed to heal. Giving up coffee and caffeine was one step in this direction.
And it sucked.
I turned to the coffee substitutes on the market in a desperate attempt to recreate the ritual I had grown so fond of, but nothing ever tasted the way I wanted it to. Nothing ever gave me that same experience that my cup of "real" coffee did. I knew there had to be something better, but I simply could not find it on my health food store's shelves.
Necessity is the mother of invention so that is why I created my own coffee substitutes. They were made with organic, sustainably harvested herbs with zero grains, zero gluten, and zero caffeine. Just herbs. Herbs that not only tasted delicious but supported my body's function, like liver detox, bile production, digestion, etc. In my mind, if I can get something to not only taste amazing but do amazing things for my body, then it's a no brainer!
I sold these pre-made blends on Etsy for awhile and the demand was more than I could keep up with. People literally LOVED these blends and were stunned at how much like coffee they actually tasted. Customers who had been dealing with a variety of chronic illnesses had given up coffee to heal their bodies, but like me were deeply missing their morning cup of joe ritual.
After careful consideration and work with some highly experienced advisors, I decided to stop selling the pre-made blends and instead share my proprietary recipes in the form of an eBook. That way I could arm people with the knowledge and recipes they needed to make their own caffeine-free, gluten-free, grain-free blends in the comfort of their own home. 
That is why I created the best-selling DIY Herbal Coffees eBook: A Complete Guide To Making Delicious Herbal Coffees to Support Healing & Stress Relief. Now in its second edition, this ebook features all of my proprietary herbal blend recipes to you can craft a homemade herbal cup of "coffee" at home.
In addition, you get a ton of researched information about coffee's impact on the health of those dealing with issues like adrenal fatigue, blood sugar dysregulation, autoimmune disease, thyroid disease, and any other chronic illness.
Lastly, you get access to your own personal coffee shop. I show you how to recreate your favorite coffee shop drinks and pastries with wholesome, nourishing real food ingredients. No junk here.
This book truly is a comprehensive guide to supporting your health, reducing your stress, and bringing a little something special back into your healing journey. You can learn more and download your own copy of this revolutionary wellness guide here, or simply click on the image below.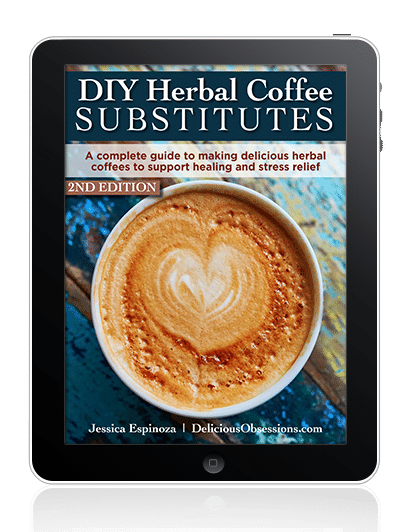 Delicious Obsessions is a participant in the Amazon Services LLC Associates Program, an affiliate advertising program designed to provide a means for us to earn fees by linking to Amazon.com and affiliated sites.Read our full terms and conditions here.