FTC Disclosure: Delicious Obsessions may receive comissions from purchases made through links in this article. Read our full terms and conditions here.

To me, there is nothing more satisfying than a big bowl of rich French onion soup.
I have always loved French onion soup — even as a child. In my pre-paleo days, I enjoyed a big hunk of crusty bread in there topped with lots of cheese. Nowadays, I just have the cheese, but honestly, this soup is so good that you don't even need that!
Rich, hearty beef bone broth mixed with caramelized onion and just the right balance of thyme and red wine.
Drool…. As I write this, I am longing for another bowl!
Did I mention this French onion soup is super easy to make? And, it freezes beautifully, so if you're like me and are a fan of batch cooking, try making a double or triple batch and stick it in the freezer!
What is So Cool About Bone Broth?
You'll see me talk about bone broth a lot on this site. Not only is it one of the most nutrient-dense superfoods out there, it tastes amazing will take your recipes to a whole new level when compared with store-bought stock or broth.
If you're new to the benefits of bone broth, make sure you check out these posts:
Delicious Obsessions Trusted Product Recommendations for Rich French Onion Soup
I am always asked about my favorite ingredients and what I use in my own kitchen. I have linked to the products from my affiliate partners that I personally use and recommend. And now, here are the special coupon offers that select affiliate partners are currently offering:
Thrive Market: If you sign up through this link, you will get 15% OFF your first order.
Amazon, of course, has everything you need for this recipe. Their prices are often very good, though I love to shop around and sometimes find that Thrive Market has better deals. If you like saving money, it's good to shop around! 🙂
I get all of my herbs and spices from Mountain Rose Herbs. I have tried so many other brands and have never found the quality, flavor, and aroma to be as good as the herbs I get from Mountain Rose.
Rich French Onion Soup
I have linked to the products from my affiliate partners that I personally use and recommend. If you purchase through one of these links, I may earn a small commission.
Author:
Jessica Espinoza @ Delicious Obsessions
Recipe type:
Soup, Entree
Cuisine:
Gluten and Dairy Free, Autoimmune Paleo
Instructions
Place the butter (or coconut oil) in a large soup pot and add your thinly sliced onions and minced garlic.
Cook over medium heat, covered but stirring occasionally, until the onions are translucent and starting to turn golden brown. This will take about 10 minutes. Careful not to let the onions burn.
Stir in the arrowroot powder until the onions are coated.
Add the red wine and stir around.
Let the mixture cook for 3-4 minutes to burn off the alcohol.
Add the spices and stir.
Add the beef stock and bring soup to a nice simmer.
Reduce heat to low / medium-low and let simmer for 45 minutes.
Remove from heat and serve.
Tastes amazing as-is, or if you can tolerate dairy, you can top with Parmesan, provolone, or Swiss cheese. For an extra treat, you can lay the cheese over the soup bowl and then toast in your oven until the cheese is bubbly and golden brown.
Real Food 101 + Companion Cookbook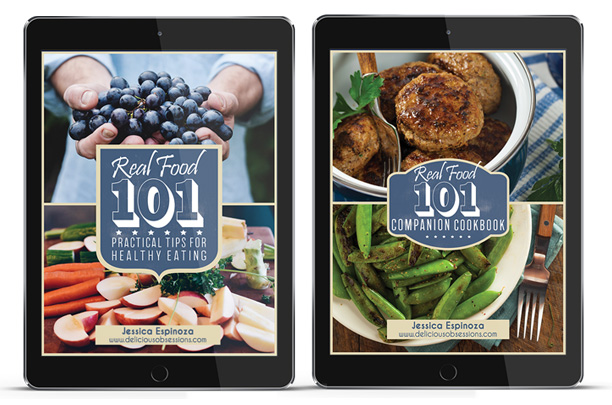 This Rich French Onion Soup is just one of the amazing recipes in my newest book, The Real Food 101 Companion Cookbook! The Real Food 101 Companion Cookbook is your comprehensive guide to delicious, Real Food recipes that are easy to prepare and won't break the bank.
Created as a companion to our popular Real Food 101: Practical Tips for Healthy Eating eBook, this cookbook helps support our mission of helping people eat better and live better.
True health can only come through a solid foundation of good nutrition.
This cookbook is perfect on its own or to complement the practical wisdom in Real Food 101: Practical Tips for Healthy Eating eBook. If you're already familiar with real food and are just looking for some delicious, kitchen-tested recipes to help you stay the course, then The Real Food 101 Companion Cookbook is for you.

Delicious Obsessions is a participant in the Amazon Services LLC Associates Program, an affiliate advertising program designed to provide a means for us to earn fees by linking to Amazon.com and affiliated sites.Read our full terms and conditions here.