FTC Disclosure: Delicious Obsessions may receive comissions from purchases made through links in this article. As an Amazon Associate I earn from qualifying purchases.Read our full terms and conditions here.

Note from Jessica: This article was written by Kris Gunnars of Authority Nutrition and shared here with his permission. Make sure you stop by and check out his site. TONS of great info there. 
I recently started wearing blue blocker glasses (these are the ones I have) in an effort to help improve my sleep and help me wind down in the evenings. So far, so good. They took a little getting used to, but once I did, I could feel my eyes getting tired and my brain shutting off. The first night I wore them, I slept like a baby! I am interested to see if I have any noticeable changes over the next month. You'll see a goofy picture of me below! 🙂
How Blocking Blue Light at Night Can Transform Your Sleep by Kris Gunnars
Sleep is highly underrated.
It is one of the "pillars" of optimal health… just as important as diet and exercise.
Poor sleep is linked to heart disease, type 2 diabetes, and depression. It is also one of the strongest risk factors for obesity (1, 2, 3, 4).
The problem is that humans are sleeping much less than they did in the past.
But that's not the end of it, unfortunately… the quality of our sleep has suffered as well.
It turns out that perhaps the single biggest contributor to our collective sleep problems, is the use of artificial lighting and electronics at night.
These devices emit light of a blue wavelength, which tricks our brains into thinking that it is daytime (5).
Numerous studies suggest that blue light in the evening disrupts the brain's natural sleep-wake cycles, which are crucial for optimal function of the body (6, 7).
Fortunately, this problem has a simple solution and there are a few actionable steps you can take to get rid of that blue light in the evening, potentially improving your health at the same time.
Let me explain how that works…
Blue Light is Crucial in The Daytime… But a Disaster at Night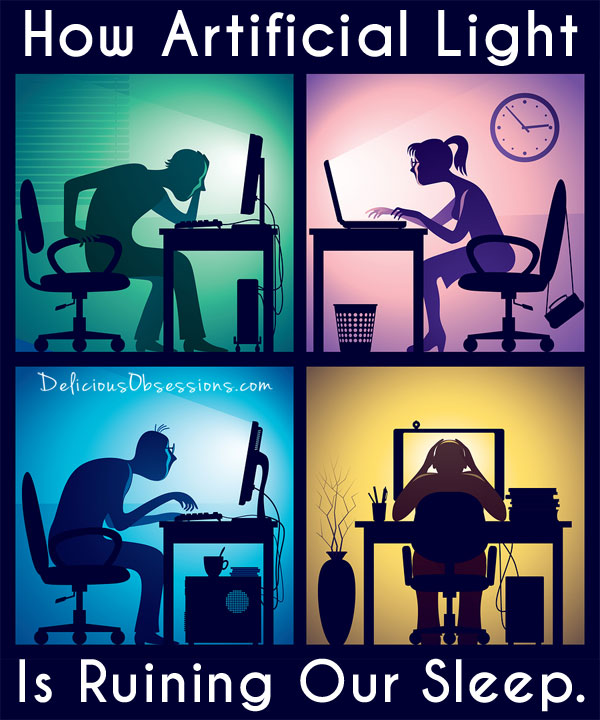 Our bodies have an internal "clock" that is situated in the brain.
This clock regulates our circadian rhythm, the 24-hour biological cycle that influences many internal functions (8).
Most importantly, it determines when our bodies are primed to stay awake and be productive, and when we feel tired and want to go to sleep (9).
The circadian rhythm isn't 100% accurate. Sometimes it is a bit longer than 24 hours, sometimes a bit shorter.
For this reason, it needs signals from the external environment in order to adjust itself. The most important signals that adjust this internal clock are daylight and darkness.
This actually makes perfect sense… throughout evolution, brightness meant that it was daytime and that we should be awake and get stuff done, while darkness meant that it was time to sleep and recover.
But not all light is equal, it is primarily light of a blue wavelength (blue light) that stimulates sensors in the eye to send signals to the brain's internal clock.
Keep in mind that sunlight and white light contain a mixture of various wavelengths. There is a lot of blue light within (10).
Getting blue light (especially from the sun) in the daytime is very important. It helps us to stay alert, while improving performance and mood (11).
There has even been some success using blue light therapy devices to treat depression, and blue light bulbs in an office can reduce fatigue and improve the mood, performance and sleep of workers (12, 13, 14).
But even though blue light is incredibly beneficial during the day, it can be a complete disaster if we are exposed to it in the evening.
The problem is that modern light bulbs and electronic devices (especially computer monitors), also produce large amounts of blue light and "trick" our brains into thinking that it is daytime.
When it gets dark in the evening, a part of the brain called the pineal gland secretes the hormone melatonin, which signals to our bodies and brains that it is time to get tired and go to sleep.
Blue light, whether from the sun or a laptop, is very effective at inhibiting melatonin production (15, 16).
This means that our bodies don't get the proper signal that it's time to go to sleep, reducing both the quantity and quality of our sleep.
Studies have linked melatonin suppression in the evening to various health problems, including metabolic syndrome, obesity and cancer, as well as mental disorders like depression (17, 18, 19, 20).
Many have speculated that melatonin-disrupting blue light may be one of the key drivers behind obesity and many of the chronic diseases that are so common today.
However… indoor lighting and electronic devices are a major part of the modern lifestyle and they aren't going away anytime soon.
Fortunately, there is a simple way to block blue light from entering your eyes and disrupting the natural sleep-wake cycle.
Bottom Line: Blue light in the evening tricks the brain into thinking that it is daytime, which inhibits the production of melatonin and reduces both the quantity and quality of sleep.
Using Blue-Blocking Glasses at Night is a Simple Way to Solve This Problem
(follow me on Instagram here!)
The easiest and most effective way to avoid blue light in the evening, is to use amber-colored glasses.
These glasses effectively block all blue light, so your brain doesn't get the signal that it is supposed to stay awake.
Studies show that when people use blue-blocking glasses, even in a lit room or using an electronic device, they produce just as much melatonin as if it were dark (21, 22).
In one study, people's melatonin levels in the evening were compared during three different lighting conditions (23):
Dim light.
Bright light.
Bright light with blue-blocking glasses.
The graph below shows what happened to a typical subject's melatonin levels…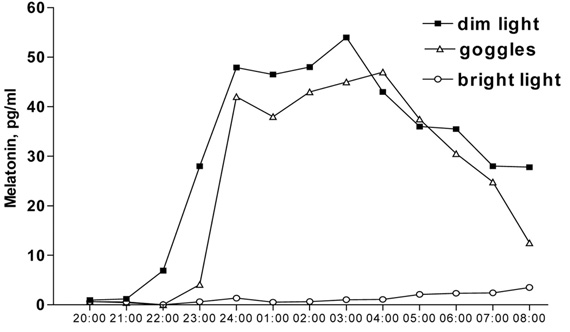 As you can see, the bright light almost completely suppressed melatonin production, while the dim light did not.
But the people wearing the blue-blocking glasses produced the same amount of melatonin as those being exposed to the dim light. The glasses almost completely blocked the melatonin suppressing effect of the bright light.
Now to the fun part… not only have blue-blocking glasses been shown to increase melatonin, studies also suggest that they can cause major improvements in sleep and mental performance.
In one study, 20 individuals were randomized to use either blue blocking glasses, or glasses that didn't block blue light, for 3 hours before bedtime. The study went on for two weeks (24).
The subjects using the blue-blocking glasses had major improvements in both sleep quality and mood.
These glasses have also been shown to greatly improve sleep in shift workers, when they put them on before bedtime (25).
There was also a study in elderly cataract patients, showing that blue-blocking lenses improved sleep and significantly reduced daytime dysfunction (26).
Overall, it seems pretty clear that using blue-blocking glasses in the evening is effective. Not only does it improve sleep, but it also improves mood and cognitive function.
Of course, this hasn't been studied in a large, long-term study… but given the immense importance of sleep for health, it wouldn't surprise me if these glasses could also help prevent chronic disease and lead to a longer life.
Bottom Line: Studies show that blue-blocking glasses increase melatonin production in the evening, leading to major improvements in sleep and mood.
Other Ways to Block Blue Light
If you don't want to use these glasses every night, then there are a few other ways to reduce blue light exposure in the evening.
One popular way is to install a program called F.lux on your computer.
This program automatically adjusts the color and brightness of your screen based on your timezone. When it is dark outside, the program effectively blocks all blue light from your computer and gives the screen a faint orange color.
Although I'm not aware of any study on it, many people who use the computer a lot in the evening claim that this program helps them fall asleep.
There are a few other things you may want to consider:
Turn off all lights in your home 1-2 hours before bedtime.
Get a red or orange reading lamp, which doesn't emit blue light. Candlelight works well too.
Keep your bedroom completely dark (highly recommended), or use a sleep mask.
It is also important to expose yourself to plenty of blue light during the day. If you can, go outside during the day and get some natural sunlight.
If that is not an option, consider using a blue light therapy device in the daytime. It is like a strong lamp that simulates the sun and bathes your face and eyes in blue light.
What to Expect
I have a long history of sleeping problems. It usually takes me at least an hour to fall asleep and I tend to wake up frequently throughout the night and feel poorly rested in the morning.
However… about a week ago, I purchased blue-blocking glasses from Amazon. I got the ones made by UVEX – they are cheap but get the job done.
I've set a reminder on my phone to always put them on at 8:30 pm. If I'm not home at that time, then I just put them on as soon as I get home in the evening.
After having them on for about 1-2 hours, I start feeling very relaxed and naturally tired.
Since I started using them, I've been falling asleep much faster and waking up refreshed in the morning. My mood has improved significantly and I'm finding it a lot easier to think and write.
I've personally tried a lot of different things in order to sleep better… but using blue-blocking glasses is by far the most effective sleep "hack" I have tried.
If you're looking for some blue blocker glasses to try, they are very inexpensive on Amazon. These are the ones I have.
Supporting the Your Sleep, Thyroid, and Adrenals Through Herbs
When it comes to supporting your body's Circadian rhytm and the ability to sleep, the adrenals, thyroid, and blood sugar balance play an important role. When the endocrine system is out of balance at all, it can affect our sleep dramatically.
If you're struggling with your sleep, caffeine may not be your best friend. While those with sluggish adrenal glands and low thyroid tend to feel run down and in need of a regular pick-me-up (like coffee and other caffeinated beverages), in the long run, caffeine can do more harm than good while you are healing. I go into the "whys" around caffeine and your adrenals in this detailed post here. In addition to the caffeine, there are other constituents, molds, and mycotoxins that can show up in coffee that some people find they react to.
When I was diagnosed with autoimmune disease and adrenal fatigue, one of the first things that had to go was coffee. To be honest, I never drank coffee because of the caffeine. I drank coffee for the taste and aroma, as well as the emotional experience I felt to my morning cup of joe. For me, it was a ritual that I looked forward to every day (and sometimes multiple times a day). Whether I was brewing it at home or going to my local coffee shops, the experience was one that I clung to tightly.
But, when I was faced with new health struggles, I knew I had to do whatever I could to support my body and give it the tools it needed to heal. Giving up coffee and caffeine was one step in this direction.
And it sucked.
I turned to the coffee substitutes on the market in a desperate attempt to recreate the ritual I had grown so fond of, but nothing ever tasted the way I wanted it to. Nothing ever gave me that same experience that my cup of "real" coffee did. I knew there had to be something better, but I simply could not find it on my health food store's shelves.
Necessity is the mother of invention so that is why I created my own coffee substitutes. They were made with organic, sustainably harvested herbs with zero grains, zero gluten, and zero caffeine. Just herbs. Herbs that not only tasted delicious but supported my body's function, like liver detox, bile production, digestion, etc. In my mind, if I can get something to not only taste amazing but do amazing things for my body, then it's a no brainer!
I sold these pre-made blends on Etsy for awhile and the demand was more than I could keep up with. People literally LOVED these blends and were stunned at how much like coffee they actually tasted. Customers who had been dealing with a variety of chronic illnesses had given up coffee to heal their bodies, but like me were deeply missing their morning cup of joe ritual.
After careful consideration and work with some highly experienced advisors, I decided to stop selling the pre-made blends and instead share my proprietary recipes in the form of an eBook. That way I could arm people with the knowledge and recipes they needed to make their own caffeine-free, gluten-free, grain-free blends in the comfort of their own home. 
That is why I created the best-selling DIY Herbal Coffees eBook: A Complete Guide To Making Delicious Herbal Coffees to Support Healing & Stress Relief. Now in its second edition, this ebook features all of my proprietary herbal blend recipes to you can craft a homemade herbal cup of "coffee" at home.
In addition, you get a ton of researched information about coffee's impact on the health of those dealing with issues like adrenal fatigue, blood sugar dysregulation, autoimmune disease, thyroid disease, and any other chronic illness.
Lastly, you get access to your own personal coffee shop. I show you how to recreate your favorite coffee shop drinks and pastries with wholesome, nourishing real food ingredients. No junk here.
This book truly is a comprehensive guide to supporting your health, reducing your stress, and bringing a little something special back into your healing journey. You can learn more and download your own copy of this revolutionary wellness guide here, or simply click on the image below.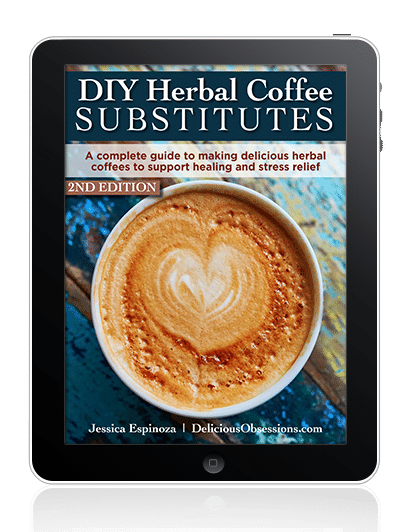 Delicious Obsessions is a participant in the Amazon Services LLC Associates Program, an affiliate advertising program designed to provide a means for us to earn fees by linking to Amazon.com and affiliated sites.Read our full terms and conditions here.