FTC Disclosure: Delicious Obsessions may receive comissions from purchases made through links in this article. Read our full terms and conditions here.

These grain-free blueberry lemon scones have become one of my favorite treats. They remind me of the blueberry scones that I used to get at Starbucks in my SB addiction days.
A hazelnut latte and a blueberry scone. Breakfast of champions, right? 😉
Wrong!
I am so glad those days are behind me, but I must say that I do still remember the deliciousness of those scones.
Thankfully my sweet friend Kelly from The Nourishing Home saved me with her new cookbook, Everyday Grain-Free Baking.
She has knocked it out of the park with this book. The book features pretty much every recipe you could imagine needing on a grain-free diet.
Pair these scones with a cup of my caffeine-free, grain-free herbal coffees and you have a delicious, coffee house style snack with none of the guilt and no hefty price tag.
3 Quick Facts about Everyday Grain-Free Baking
Everyday Grain-Free Baking includes more than 100 irresistible recipes that are compatible with the most common grain-free diets, i.e. Paleo, Primal, SCD and GAPS.
Everyday Grain-Free Baking includes delicious, easy-to-make recipes that grain-free, starch-free, refined-sugar-free and dairy-free, or contain dairy-free options so they can easily be converted as such.
Everyday Grain-Free Baking shows you how to make delicious grain-free, dairy-free baked goods that your whole family will enjoy – whether or not everyone is living a grain-free lifestyle!
Recipes from the simple to the complex to the classic, including:
Breads and Rolls
Biscuits, Scones, and Crackers
Muffins
Pancakes and Waffles
Pies, Tarts, and Crisps
Cakes and Cupcakes
Classic Cookies
Brownies and Bars
Sweet Additions (frosting, curd, ganache, pastry cream, and more)
Since I try to keep my sugar intake on the lower side, I don't often bake sweet treats. But, Kelly's book is going to be my go-to whenever I need something for a special occasion. There are so many amazing recipes that will please just about everyone, no matter what style of eating they follow.
I wanted to try every single recipe in this book, but since I need to keep my baked treats to a minimum, I settled on trying out two recipes: the Blueberry Lemon Scones and the Nutty Chocolate Chunk Cookies.
I had been wanting to send a batch of treats with my husband to his job, so I figured a big batch of cookies would be just the ticket! He said his team loved them and they were pretty much gone in a snap!
I am so thankful that Kelly has granted me permission to share her recipe for grain-free blueberry lemon scones with you today (keep on scrolling down!). I am certain you'll love them as much as I do!
But, before you go,
Delicious Obsessions Trusted Product Recommendations for Grain-Free Blueberry Lemon Scones
I am always asked about my favorite ingredients and what I use in my own kitchen. I have linked to the products from my affiliate partners that I personally use and recommend. And now, here are the special coupon offers that select affiliate partners are currently offering:
Thrive Market: If you sign up through this link, you will get 15% OFF your first order.
Amazon, of course, has everything you need for this recipe. Their prices are often very good, though I love to shop around and sometimes find that Thrive Market has better deals. If you like saving money, it's good to shop around! 🙂
I get all of my herbs and spices from Mountain Rose Herbs. I have tried so many other brands and have never found the quality, flavor, and aroma to be as good as the herbs I get from Mountain Rose.
Blueberry Lemon Scones
I have linked to the products from my affiliate partners that I personally use and recommend. If you purchase through one of these links, I may earn a small commission.
Author:
Kelly Smith @ Everyday Grain-Free Baking
Cuisine:
Grain-Free, Gluten-Free, Dairy-Free, Paleo/Primal
Instructions
In a food processor, combine the almond flour, baking soda, and salt. Pulse in the cold butter (or palm shortening) until it's well incorporated. If you don't have a food processor, use a pastry cutter to cut the butter (or shortening) into the dry ingredients.
In a large bowl, whisk together the eggs, coconut milk, lemon juice, zest, and honey until well combined.
Using a spoon, stir the dry mixture into the wet mixture until thoroughly combined. Then fold in the blueberries. Place dough in fridge to cool about 10–15 minutes.
Preheat oven to 350°F while dough is chilling. Line a baking sheet with parchment paper; set aside. Sprinkle your work surface with a handful of blanched almond flour. Melt a teaspoon of butter (or coconut oil) for brushing the tops of the scones.
Once dough is chilled, gather it together in a ball and place floured surface. Shape the dough into a 6x6-inch square, then cut it in half twice to form 4 small squares. Next, cut each of the 4 small squares in half diagonally to form 8 small triangles.
Brush the tops of the scones with melted butter (or coconut oil). Sprinkle tops with a little bit of coconut crystals or maple sugar, if desired.
Using a spatula, gently place each scone onto the prepared baking sheet. Bake about 15–18 minutes, until scones are light golden brown along the edges. Serve warm with your favorite herbal or green tea.
Learn How to Make Perfect Ice Cream (and Other Frozen Treats) at Home
Ice cream is the quintessential dessert (and, ahem, it would probably go pretty darn great with this recipe!). I mean, I can't think of a single person that I've ever met who doesn't like ice cream. While not everyone is as passionate about the cold, creamy, sweet concoction as I am, I am betting that if you're reading this, you probably enjoy a frozen treat of some sort every now and then.
If so, then I have the PERFECT resource for you today.
I am crazy for ice cream, but I find that there are very few commercial ice creams that I can eat. I can't do dairy, so that scratches a good 75% of them off the list. And the non-dairy options either taste funny, have too much sugar, or have weird gums and additives that my poor gut just doesn't tolerate.
So, what's a gal to do?
Master the art of making her own ice cream at home, that's what!
And create I did and The Splendid Scoop and Other Frozen Treats eBook was born! This is one of my best-selling eBooks because I arm you with everything you need to make your own perfect ice cream (or other frozen treats) at home any time you want. 
And I do it all with real food ingredients, no refined sweeteners, not gums, not stabilizers. No junk here.
Oh, and I also have made the recipes allergen-friendly and even adaptable for stricter healing diets (like the AIP).
So, if you are ready to master the art of making your own ice cream at home, this is the perfect book for you. Don't let another special occasion or hot day in the summer pass you by watching everyone else enjoying cold treats while you sit on the sideline due to your dietary restrictions.
No more!
If you are ready to learn more about The Splendid Scoop and Other Frozen Treats and see how you can download your own copy today, click here (or just click on the image below!).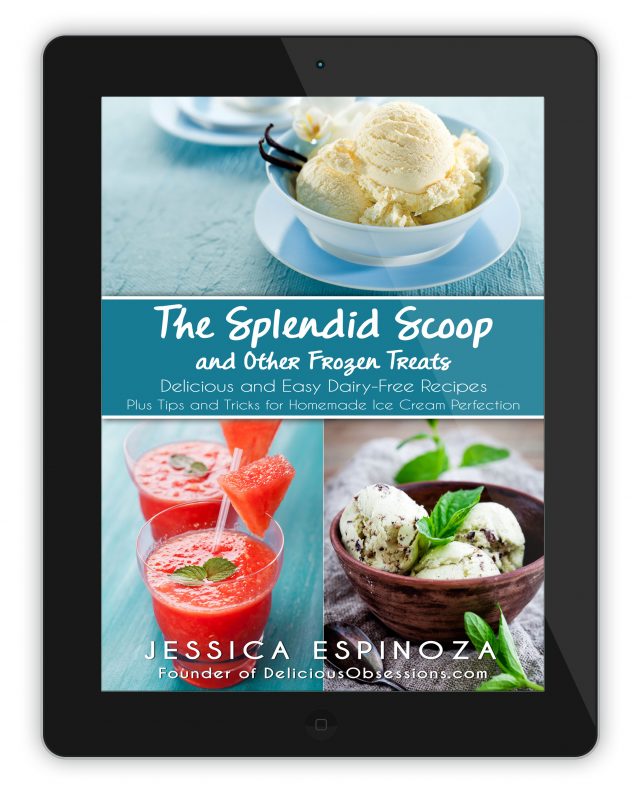 Delicious Obsessions is a participant in the Amazon Services LLC Associates Program, an affiliate advertising program designed to provide a means for us to earn fees by linking to Amazon.com and affiliated sites.Read our full terms and conditions here.