FTC Disclosure: Delicious Obsessions may receive comissions from purchases made through links in this article. As an Amazon Associate I earn from qualifying purchases.Read our full terms and conditions here.

This chicken, lemon, and broccoli stir-fry has quickly become one of my favorite meals.
It's excellent for breakfast, lunch, and dinner. I like to make double and triple batches so I can freeze portions to have on hand when I'm in a time crunch.
It's also an EXCELLENT paleo meal on a budget.
Wait! Did I say paleo on a budget?
Yes, yes I did.
These are four words that some people may think don't go together.
But today, I am here to tell you that YES, you can go paleo on a budget!
Paleo Meal Planning on a Budget
My friend Liz, author of the popular Paleo on a Budget site, just released her newest cookbook.
This book, however, is more than just your standard cookbook. It's a well-rounded, all-encompassing, budget-meal-plan-resource.
Liz's mission has always been to show how it is possible to eat real, nourishing food without breaking the bank, but this book takes it to a whole new level.
Paleo Meal Planning on a Budget features simple, budget-friendly meal plans and prep strategies to accommodate any lifestyle.
Here are a few things you'll find in the book:
A walk-through of how to meal plan effectively.
Ideas on how to prep your meals for the week, reducing your time and stress in the kitchen.
The 411 on coupons (can you really use coupons on a real food diet?).
Tips & tricks on saving money, including ideas on how to save money outside your kitchen!
A general list of must-have pantry items for the budget paleo kitchen.
A 4 week meal plan complete with 2 different prep strategies, shopping lists, and tidbits of information that WILL make your life easier (not only with these meal plans, but as you move on into the future of paleo cooking).
30+ recipes covering everything from breakfast to lunch to dinner and a dessert or two.
Handy quick reference section to save you even more time in the kitchen!
What I loved about this book, besides the money-saving tips (which I really need!), is how simple, yet delicious her recipes were.
In addition to the tasty Chicken, Lemon, and Broccoli Stir-Fry (recipe below), here are two of my favorites:
Lunchtime Spaghetti Squash Salad (wow! This recipe is divine and uber-simple)
Blueberry Chicken Salad (another super simple and delicious meal)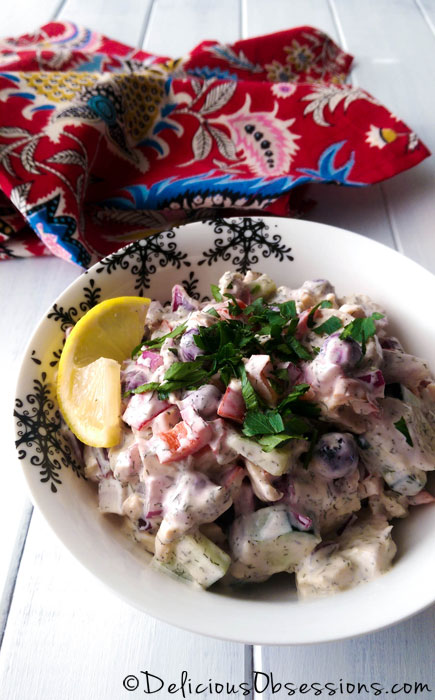 If you are looking for a book that gives you the blueprint for eating well AND saving money, Liz's book is a must-have.
Learn more about Paleo Meal Planning on a Budget and order here.
Want to know more about Liz?
Chicken, Lemon, and Broccoli Stir-Fry
I am always on the hunt for fast, easy, and tasty meals. This recipe delivered all three. I saved even more time by using leftover roasted chicken that I had, so that cut the cooking time by quite a bit.
This recipe freezes well, so make extra and then portion it up so you have quick and easy meals when you're in a hurry.
If you are like me and love lemon, use the two lemons. One just wasn't quite enough for these lemon-loving taste buds. 🙂
Chicken, Lemon, and Broccoli Stir-Fry : Gluten-Free, Grain-Free, Dairy-Free
I am always on the hunt for fast, easy, and tasty meals. This recipe delivered all three. I saved even more time by using leftover roasted chicken that I had, so that cut the cooking time by quite a bit.
Ingredients
fat of choice (I like coconut oil)
1 medium onion, medium-finely diced
1⁄2 (12-oz.) pkg. mushrooms, cleaned, de-stemmed, and sliced
11⁄2–2 lbs. chicken breasts (or thighs if preferred), chopped into bite-sized pieces 1 tsp. cumin
1–2 lemons
12 oz. cooked broccoli
1 tsp. dried basil
1 tsp. dried oregano
salt and pepper to taste
Instructions
Heat a large skillet with your fat of choice over medium heat.
Add your onion and mushrooms and let them start to soften.
While they are cooking, chop up your chicken and add it to the skillet. Mix well and allow it to cook.
When it's almost cooked through, add in your cumin, juice of half a lemon, and your broccoli. Mix.
Add your basil, oregano, and juice of another half a lemon to the pan. Add a little more fat, salt, and pepper to the pan when your chicken is cooked. Mix it once again.
Taste test and adjust seasoning as needed. Depend- ing on how juicy your lemon is, you might need another half or whole lemon's worth of juice.
Enjoy!
Recommended Products
As an Amazon Associate and member of other affiliate programs, I may earn a small commission from qualifying purchases.
Nutrition Information:
Yield:

4
Serving Size:

1
Amount Per Serving:
Calories:

305
Total Fat:

5g
Saturated Fat:

1g
Trans Fat:

0g
Unsaturated Fat:

3g
Cholesterol:

96mg
Sodium:

200mg
Carbohydrates:

33g
Fiber:

11g
Sugar:

9g
Protein:

41g
This website provides approximate nutrition information for convenience and as a courtesy only. Nutrition data is gathered from Nutritionix and we often find their calculations to be slightly inaccurate based on the whole food ingredients we use on this site. Nutrition information can vary for a recipe based on many factors. We strive to keep the information as accurate as possible, but make no warranties regarding its accuracy. We encourage readers to make their own calculations based on the actual ingredients used in your recipe, using your preferred nutrition calculator.
What are your tips for eating paleo on a budget? Leave a comment below!

Delicious Obsessions is a participant in the Amazon Services LLC Associates Program, an affiliate advertising program designed to provide a means for us to earn fees by linking to Amazon.com and affiliated sites.Read our full terms and conditions here.