FTC Disclosure: Delicious Obsessions may receive comissions from purchases made through links in this article. As an Amazon Associate I earn from qualifying purchases.Read our full terms and conditions here.

~~~~~
I am crazy about macadamia nuts. I don't get to enjoy them often, as they can be a bit pricey, but when I do I take great pleasure in them!
Macadamia nuts are actually one of the best nuts we can eat (if you are one of the lucky people who can tolerate the occasional nut in your diet).
They have some of the highest Omega-3 content and lowest Omega-6 (polyunsaturated fat) content of any nut. Remember, too much Omega-6 in the diet can lead to inflammation. Macadamias are also high in Omega-9 (oleic acid like what's in olive oil – monounsaturated fat). It's important to note that our bodies do need a balance of omega fatty acids (3, 6, and 9) and while most people get too much Omega-6, we don't typically get enough Omega-3 and Omega-9.
Macadamia nuts are also pretty low in carbs when compared to some other nuts. They are high in healthy fat which makes them very satiating, so you don't need to eat a big bowl to soothe your craving — a small handful is typically enough to do the trick.
Macadamias are also a great source of magnesium, phosphorus, potassium, zinc, manganese, thiamine, copper, and iron, as well as an excellent source of vitamin B17.
Macadamia nut oil, though expensive, is really the ONLY nut oil that I feel safe eating on occasion because it is very shelf-stable and resistant to oxidation from heat. Mark Sisson has a great article on macadamia oil here.
In addition, the phytic acid content of macadamias is also lower than other nuts, which means that it's not as critical that they are soaked and dehydrated for proper digestion. While you can soak and dehydrate them, I will give you a word of warning. They take FOREVER to dehydrate once soaked. Waaaaaaaaaaaaaay longer than any other nut. If you do soak and dehydrate them you need to make sure they are thoroughly dehydrated so they don't spoil during storage.
When it comes to nuts (and I don't eat a ton), macadamias are my nut of choice.
If I'm going to make nut butter, then what better to splurge on than macadamia nuts? And, I knew I wanted to do something a little different, which is why I created this recipe for Vanilla Cardamom Macadamia Nut Butter. It was inspired by a delicious almond butter that I had awhile back, JemRaw's Organic Cashew Cardamom Butter. The flavors of that nut butter were outstanding and I knew they would work well with macadamia nuts too.
So, I set out to create this delicious masterpiece. And, perfect timing too because recently, the nice folks over at Blendtec sent me one of their blenders and the Twister jar to test out in my kitchen. You can read my review tomorrow and then I'll be giving one away — YAY! — on Monday!
What better way to break that Twister Jar in than to whip up some nut butter? My past blenders have just not given me the results I wanted, so I was excited to see how this batch turned out.
Delicious Obsessions Trusted Product Recommendations for Vanilla Cardamom Macadamia Nut Butter
I am always asked about my favorite ingredients and what I use in my own kitchen. I have linked to the products from my affiliate partners that I personally use and recommend. And now, here are the special coupon offers that select affiliate partners are currently offering:
Thrive Market: If you sign up through this link, you will get 15% OFF your first order.
Amazon, of course, has everything you need for this recipe. Their prices are often very good, though I love to shop around and sometimes find that Thrive Market has better deals. If you like saving money, it's good to shop around! 🙂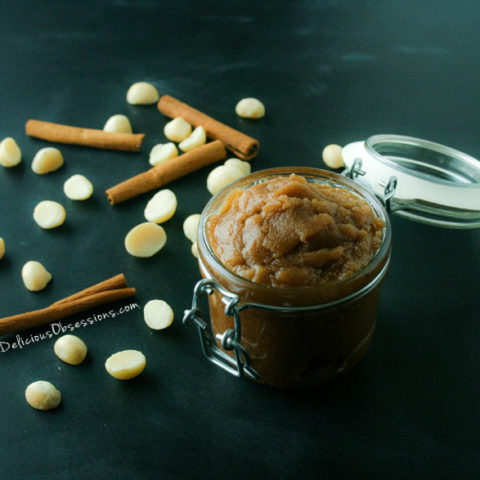 Vanilla Cardamom Macadamia Nut Butter :: Grain-Free, Gluten-Free, Dairy-Free
This recipe was inspired by a delicious nut butter that I had awhile back called JemRaw's Organic Cashew Cardamom Butter. The flavors of that nut butter were outstanding and I knew they would work well with macadamia nuts too. And boy did they ever!
Instructions
Place all of the ingredients in your blender. I used my Blendtec Twister jar.
Blend on medium-high speed until smooth. In the Twister jar, it only took 40 seconds on speed #6. In other blenders, it may take a bit longer and you may need to stop and stir from time to time.
NOTE 1: Depending on the blender, you may need to let the motor rest from time to time too. That is why I love the Twister jar. It's fast, easy, and I don't have to worry about the blender's motor burning out!
NOTE 2: You can also try this in a food processor. I have used my KitchenAid food processor in the past and it's a little slow, but works OK. It won't get as smooth and creamy as the Twister jar though.
Recommended Products
As an Amazon Associate and member of other affiliate programs, I may earn a small commission from qualifying purchases.
P.S. I absolutely LOVE my
Blendtec blender
.
Read my Blendtec vs. Vitamix comparison here
.
What is your favorite nut butter? Have you ever tried making your own at home? Leave a comment below!

Delicious Obsessions is a participant in the Amazon Services LLC Associates Program, an affiliate advertising program designed to provide a means for us to earn fees by linking to Amazon.com and affiliated sites.Read our full terms and conditions here.