FTC Disclosure: Delicious Obsessions may receive comissions from purchases made through links in this article. As an Amazon Associate I earn from qualifying purchases.Read our full terms and conditions here.

One of the things I love most about blogging is getting to check out all of the new paleo cookbooks when they come out. I am what you would call a bit of a cookbook hoarder — I love cookbooks and have amassed an enormous collection.
When Mediterranean Paleo Cooking showed up in my mailbox, I was beyond blown away. This is one of the best cookbooks I've seen this year.
I've mentioned before that the first thing I do when I get a new cookbook is flip through the book and add a sticky note to all of the recipes I want to try. At the top of my list was the Strawberry Coffee Cake, Stuffed Cabbage Rolls, and the Braised Beef Artichoke and Peas.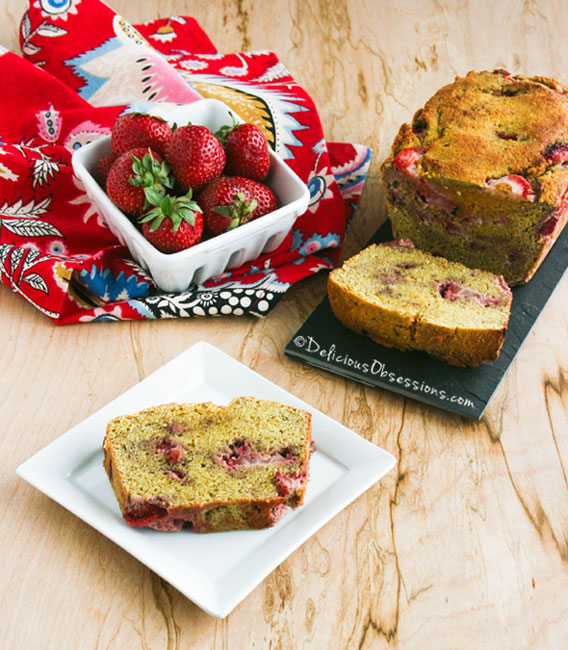 Caitlin was nice enough to allow me to share a couple of her delicious recipes and today, I'm sharing the Strawberry Coffee Cake recipe (next week, I'll be sharing the Stuffed Cabbage Rolls).
This coffee cake is delicious. It's moist and flavorful and not overly sweet. I found it to be the perfect balance of sweetness between the fresh strawberries and honey. I added a nice dollop of grass-fed butter on a slice when it came out of the oven and devoured it. DELISH!
The recipe is simple to make and only takes 10 minutes (it took me a little less) to prep and toss in the oven. I ended up making mine in a loaf pan, but you could probably make it in any dish of your choosing. I think it may also make pretty good muffins too.
I didn't try it, but I am guessing it would freeze quite well, so you could make a loaf and then portion it up for future snacks.
Hope you enjoy and thank you, Caitlin, for letting me share this recipe!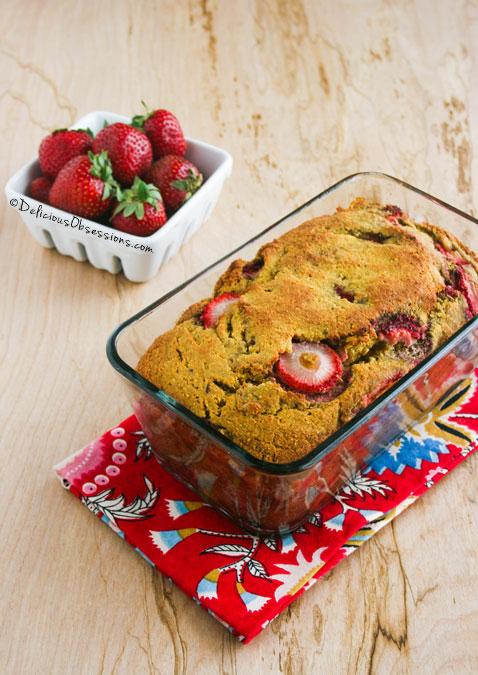 Delicious Obsessions Trusted Product Recommendations for Strawberry Coffee Cake
I am always asked about my favorite ingredients and what I use in my own kitchen. I have linked to the products from my affiliate partners that I personally use and recommend. And now, here are the special coupon offers that select affiliate partners are currently offering:
Thrive Market: If you sign up through this link, you will get 15% OFF your first order.
Amazon, of course, has everything you need for this recipe. Their prices are often very good, though I love to shop around and sometimes find that Thrive Market has better deals. If you like saving money, it's good to shop around! 🙂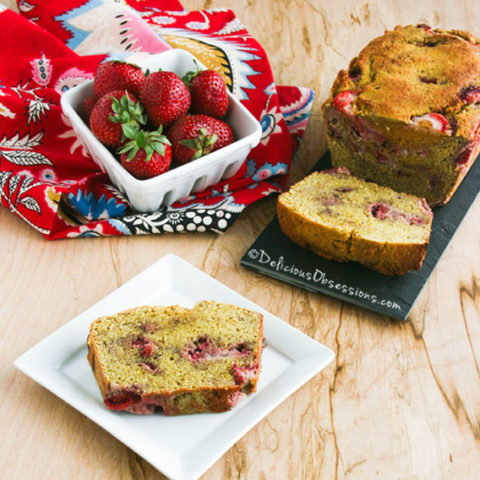 Strawberry Coffee Cake :: Gluten-Free, Grain-Free, Dairy Free
If you like coffee cake and you like strawberries, this is a match made in heaven. Delicious coffee cake bursting with little chunks of strawberries. Perfect to go with your favorite cup of tea or coffee.
Instructions
Preheat the oven to 350 F.Grease an 8-by-8 inch baking dish with coconut oil.
Sift the coconut flour and baking soda in a medium bowl.
In a large bowl, beat the eggs and flax together and let sit for 2 minutes. Then add the coconut oil, orange blossom water, and honey and mix until well combined.
Slowly add the dry flour mixture to the egg mixture and stir until thoroughly combined. Gently fold the strawberries in the batter.
Pour the batter into the prepared baking dish.
Bake for 35 minutes, or until a toothpick inserted in the center comes out clean.
Let the cake cool in the pan for 5 to 10 minutes before slicing and serving.
Recommended Products
As an Amazon Associate and member of other affiliate programs, I may earn a small commission from qualifying purchases.
Nutrition Information:
Yield:

8
Serving Size:

1
Amount Per Serving:
Calories:

89
Total Fat:

6g
Saturated Fat:

1g
Trans Fat:

0g
Unsaturated Fat:

4g
Cholesterol:

140mg
Sodium:

134mg
Carbohydrates:

3g
Fiber:

2g
Sugar:

1g
Protein:

6g
This website provides approximate nutrition information for convenience and as a courtesy only. Nutrition data is gathered from Nutritionix and we often find their calculations to be slightly inaccurate based on the whole food ingredients we use on this site. Nutrition information can vary for a recipe based on many factors. We strive to keep the information as accurate as possible, but make no warranties regarding its accuracy. We encourage readers to make their own calculations based on the actual ingredients used in your recipe, using your preferred nutrition calculator.
Like I mentioned above, this book blew me away. It was so nice to see a fresh take on paleo meals. Ethnic dishes are sometimes hard to convert to fit the paleo diet style, but Caitlin has done an excellent job in this book. She, along with professional chef Nabil Boumrar, has created an entirely new world for paleo cooking.
The other amazing thing about this book is that Caitlin has taken it a step further and has offered tested recipe substitutions for the following:
Low-FODMAP
Autoimmune Paleo
GAPS
Egg-free
Nut-free
Low-carb
So many times cookbooks isolate certain groups of people because they may have to follow an even stricter diet. It's nice to know that no matter your eating style, you can find amazing recipes in this book.
If I had to sum up the book in one word, it would be:
Flavor.
Every recipe is bursting with flavor and you get to tickle the senses by using herbs and spices that are not common to many people's everyday cooking.
What Does the Book Include?
Here is a detailed run-down of what all this book includes:
Over 150 Paleo-friendly recipes inspired by the relaxed coastal attitude and ingredients of the Mediterranean – all gluten-free, grain-free, refined sugar-free, and dairy-free.
Chef's tips from Nabil help you learn as you go, with advice on cooking and techniques for Mediterranean ingredients
Nutritionist's tips from Caitlin to educate you on the health benefits of Mediterranean foods
Familiar, comfort-food favorites are modified for a Paleo lifestyle, including pizza, pasta, rice, biscuits, and brownies
Mediterranean recipe favorites recreated including falafel, pita bread, moussaka, hummus, and biscotti cookies.
Recipe/ingredient notes and swaps for those who have food allergies (including to eggs and nuts) as well as for those following a low FODMAP diet, lower carbohydrate diet, SCD or GAPS diet, or the autoimmune protocol
Two 30-day meal plans to help you jump-start your Paleo lifestyle: for general health or to follow an autoimmune protocol
six different menu plans perfect for a weeknight dinner party or special occasion (including one that is 100% AIP compliant or is easily modified to be so with notes on the recipes)
18 guilt-free desserts with no refined sugar
Shopping lists and an optimal food buying guide make it easy to find the right ingredients
Want More Info?
I hope that I have piqued your interest in this amazing new book. Here are several ways you can get more info on Med Paleo:
Connect with Caitlin on:

Delicious Obsessions is a participant in the Amazon Services LLC Associates Program, an affiliate advertising program designed to provide a means for us to earn fees by linking to Amazon.com and affiliated sites.Read our full terms and conditions here.