FTC Disclosure: Delicious Obsessions may receive comissions from purchases made through links in this article. As an Amazon Associate I earn from qualifying purchases.Read our full terms and conditions here.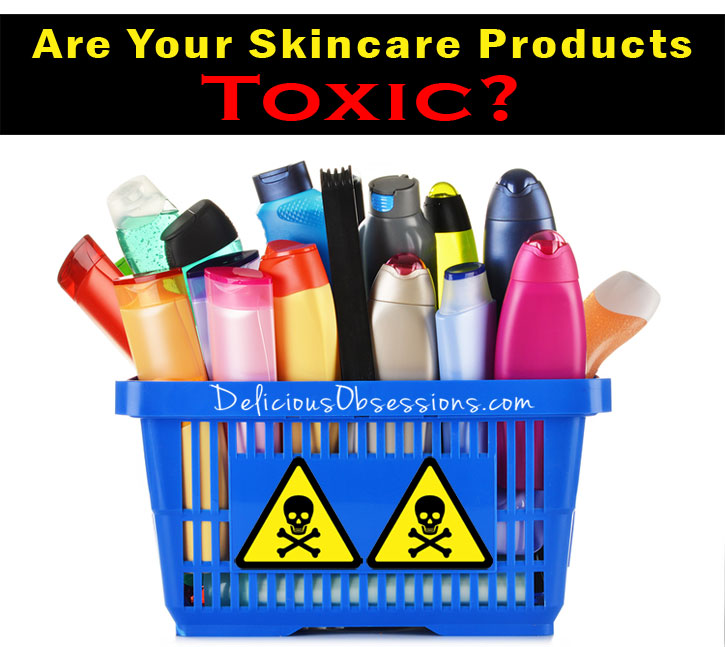 If you've been following this site for any amount of time, you know that I am a big advocate of eating whole, nourishing foods. Food is the #1 place we can start to create wellness in the body.
But, I am also a fan of only using nourishing skin products that contain zero chemicals, artificial anything, parabens, and other nasty toxins. In my opinion, just eating clean is not enough to create true wellness. We must also try to live clean as well.
I'd like to ask you a few questions:
Did you know that most people who use conventional skin care products absorb almost 5 pounds of chemicals into their body per year?
Did you know that many of these chemicals are directly linked to cancer, brain damage, organ damage, reproductive system damage, and more?
Did you know that the FDA does NOT systematically review the safety of skin care products and their ingredients? (source)
This video is eye-opening to say the least:
There is a Better Way
Several years ago, I made a conscious effort to rid my home and skincare routine of toxins and chemicals. Even though I had always been careful about what I used, when I really started looking at my products, I was amazed at how much junk I was putting on my body and in my environment.
Even the "safe" and "organic" products were still often filled with questionable ingredients.
I started reading labels and experimenting with making my own products.
Turns out, it wasn't as hard as I expected to make that transition and now I have become so sensitive to most commercial products that I can't even stand to be around them.
Not long after I made the decision to clean out my beauty routine, I found what has now become my #1 skin care line and have been a loyal customer ever since. I do make my own products here and there, but I also use this line more than anything else.
About L.c of acirema
Enter L.c. of acirema, a small handcrafted line of herbal skin care products created by one of my dearest friends, Lori.
Lori is one of the smartest and kindest people I know. She came into my life very unexpectedly, but at a time where I needed a friend like her. We hit it off immediately and have been close ever since. She has been an inspiration to me, as well as a confidant as we both travel along our roads to healing.
The first product I ever tried was the Thai Ginger Hair Oil and I was sold. I quickly tried as many of her products as I could and fell in love with all of them. That is why I am so excited to share about her products today and I know you're going to love them (and her!).
I've already done a couple reviews of Lori's products over the last couple years, but she has added some new products since then. You can read my past reviews of her products here and here.
Lori creates her products first and foremost for her family. If they won't use it, then she won't sell it. She has a wide range healing salves, facial cleansers, lotions, body oils, herbal teas, and more.
What makes Lori's products special is that she is a trained clinical herbalist, having completed over 1,300 hours of studies at the Rocky Mountain Center for Botanical Studies, in Boulder, CO. She is also completing additional studies to become a certified nutritionist so she can further help clients with their healing through natural methods.
So, she really knows her stuff and is very particular about the ingredients that she uses in her products. Because of her training and strong background in herbs, all of her products are non-toxic, safe, and effective, using the highest quality ingredients available.
Check out my more recent review (2015) of L.c.'s products in the video below:
The Best Skincare Line Ever. Period.
OK, I may be a little biased, but I honestly think Lori has a gem of a skin care line. I use at least two of her products every single day. I have also introduced her to a number of my friends and family and everyone raves about her stuff. So, I know it's not just me. 😉
When it comes to my skin care products, there are a number of things I look for:
No preservatives
No parabens, phthalates, sulfates, etc.
No artificial colors or scents
No mineral oil or any other petroleum product
Smell good scents that DO NOT use "fragrances" oils (did you know the term "fragrance" can have up to 4,000 separate chemicals, which the FDA does not require the manufacturer to list? Many of these chemicals are carcinogenic, toxic, or hormone disruptors.).
Organic, sustainably sourced ingredients that I can pronounce.
All of L.c.'s products meet my requirements. Let's take a look, shall we?
Disclosure: Because of my love for Lori's products and the fact that she has added so many new items, I asked her if I could review them here. I was not compensated for this post and all views and options expressed are my own. I am simply excited to have found a local company whose products I believe in and wanted to share that excitement with you.
Mystère Herbal Hair and Body Oil
First up, we have my FAVORITE skincare product of all time — Mystère.
This herbal hair, body, and perfume oil is amazing. I am 99.9% sure I will never use another skin or body oil other than this one. The pure essential oils in Mystère help create self-expression, confidence, and creativity. When first applied, it has a very subtle and almost muted scent, however, it opens up with vibrancy.
Mystère is ultra-restorative and skin-conditioning. I've been using it on my face and body and my skin is glowing. And it smells heavenly! Here are a few ways you can use Mystère (or any of Lori's other skin care products):
You can use it in your hair for frizz control and shine boosting.
You can dab on a few drops as a perfume.
You can add a drizzle to your bath water for a soothing and relaxing bath.
You can massage it into your scalp to help cleanse and support your skin.
You can massage into dry patches or abrasions.
You can use as a cuticle oil.
Add some of it to a bottle of your favorite unscented lotion or body butter.
Lori also offers other body oils in Lavender and Thai Ginger (my second all-time fave!). Learn more about the Mystère Hair and Body Oil here.
Lavender Herbal Foot Spa Kit
This is the perfect gift for yourself or someone you love! This herbal kit will indulge your feet in a spa-like experience from the comfort of your own home.
Did you know the soles of your feet have an amazing ability to absorb? Foot baths don't just treat the feet, they deliver aromatherapeutic benefits to the rest of the body.
Lavender essential oil is calming and cleansing, in addition to being one of the most well-known essential oils. The lavender is paired up with with different scents for each of the three spa treatment steps:
Lavender Piquancy Herbal Foot Spa Soak: This herbal foot soak will soothe and revive your feet. Add to some warm water, sit back and relax. A cup of tea is nice in this step. 🙂
Lavender & Spearmint Uplifting Foot Spray: This sweet, soothing restorative spray helps sore and damaged feet. While maintaining a mild, gentle aroma, this spray contains some heavy-hitting ingredients to fight fatigue, fungus, bacteria, itching, odor, and more. And to top it all off, revel in the tingling magic menthol crystals work on sore, tired feet. Your feet will feel tingly and happy after using!
Lavender & Virginia Cedarwood Foot Butter: I love this foot butter and use it during the winter when my skin needs some extra love. It is rich and nourishing, plus a little goes a long way.
Learn more about the Lavender Herbal Foot Spa Kit here.
Herbal "Oil Cleansing" Skin Care 101 Kit
Oil cleansing is all the rage right now and for good reason. It is the most gentle and effective way to clean your skin (remember, like dissolves like).
All of these facial cleansers and "beauty" products we use on our skin are actually doing more harm than good. Our skin has a delicate ecology (called the acid mantle), which keeps our skin protected and healthy. These harsh cleansers destroy the acid mantle and alter the ecology of our skin, which can cause our skin to work extra hard to repair it.
Let's show our skin some love and put down the toxic skin care products.
This kit has everything you need to get started toward more natural cleansing and care of your skin, including:
Mug Preference Facial Oil
Queen of Mug Herbal Toner
Eye Pop/Skin Revitalizing Lotion
Skin Restorative Herbal Infusion
Instructional booklet going over each step for all natural facial care
This is the perfect kit to get yourself, or someone you know, started with natural skin care. Learn more about the Skin Care 101 Kit here.
The All Natural Baby Kit
Have a new baby or toddler? Know someone who does? Then you need this kit.
It's important to remember that what we put on our skin goes directly into our body. This is just as important for children (if not more so), as it is adults. Our poor kids are bombarded with toxins and chemicals from the time they leave the womb, it's no wonder that our health as a race is suffering.
And these items are not just for babies and children. Adults can use them too. As a matter of fact, I use them in my own home for myself and my husband.
Each All Natural Baby Kit includes:
Baby Bum and Boo-boo First Aid Salve
Cuddle Me Herbal Baby Oil
Baby Bum and Boo-boo Spray
Learn more about the Herbal Baby Skincare Kit here.
Dragon Juice Herbal Tea
This is the best. tea. ever.
It is so refreshing and good for you too with no sugar and no caffeine.
Lori originally created this blend as a natural alternative to Kool-Aid and fruit juices for her own kids. It is super bright red and has a fresh citrus flavor. It can be served hot or cold, but I really enjoy it iced.
The special blend of tonic herbs that she uses are safe for every day consumption, and all herbs are certified organic. Ingredients include rosehips, hibiscus, lemonbalm, nettles, and ginger.
Learn more about Dragon Juice here. Also, make sure you check her Etsy shop regularly, as she often offers other delicious tea blends.
Special Coupon Code for Delicious Obsessions Readers
Lori was kind enough to offer a special coupon code for my readers. It is only available for 72 hours though, so make sure you take advantage of it now. Use LUCKYDELICIOUS20 at checkout to save 20% on your order. This coupon code expires at 12:01am on November 20th, 2014.
Tell me, what product are you most excited about? Anything stand out to you? Leave a comment below! 

Delicious Obsessions is a participant in the Amazon Services LLC Associates Program, an affiliate advertising program designed to provide a means for us to earn fees by linking to Amazon.com and affiliated sites.Read our full terms and conditions here.