FTC Disclosure: Delicious Obsessions may receive comissions from purchases made through links in this article. As an Amazon Associate I earn from qualifying purchases.Read our full terms and conditions here.

Editor's Note: Please welcome my friend Hannah to the site today for another great blog post! Hannah is the founder of Whole Simple Life and is a formerly sick and tired Mama who is reclaiming her health naturally, one step at a time. She teaches others about cultured foods, unprocessed, and sugar free eating, green smoothies, and stress and anxiety management! Stop by her site to join her for lots of great articles on natural health and wellness and to be inspired to lead a healthier more positive life!
Catch up on other posts in this series!
~~~~~~
Lemon essential oil is the featured oil in part 3 of my series on oils for every beginner. There are hundreds of essential oils and blends out there and the information can be a bit overwhelming. So much so that most people get turned off and stay away from essential oils just from feeling overwhelmed.
I hope to make your life a bit easier by giving you the most basic and useful information on the most common essential oils so that you can begin using them today.
We'll focus on lemon oil today, one of my personal favorites. In fact I'm out, because I use it all the time, it's on my next order! Lemon oil is inexpensive, versatile, light, refreshing and nourishing to your nervous system.
In addition to using essential oils for mental/physical issues, they can be used for so many things around your home including cleaning which is really handy so let's get started.
DISCLAIMER: Before we get started, due to the FDA and FTC laws on health claims, I need to make this very clear. None of the information in this post is to be construed as medical advice. I am not a doctor or certified medical practitioner of any sort. These uses are not intended to diagnose, treat, or cure any disease. You should always consult your doctor before making any changes to your diet, supplements, or exercise routine. For a full disclaimer, please read this site's Terms and Conditions.
Practical Uses For Lemon Essential Oil:
Supports Healthy Skin: Mix a few drops of pure lemon oil with 1 t. carrier oil (almond, olive, coconut oil) and massage daily on problem area.
Helps focus and concentration: Add 3-5 drops of lemon essential oil to your diffuser while you're studying or doing work at your computer.
Promotes a relaxed feeling / calming: Add 3-5 drops to your diffuser when you feel stressed or add 3 drops to 1 c. epsom salt and put in bathwater as it's filling up to create a relaxing bath.
Supports energy: Diffuse 3-5 drops in your diffuser. I also sometimes add a few drops to my shower in the morning to wake me up!
Air Freshener: Lemon oil is a great air freshener and leaves a bright, invigorating scent.
Cleaning: Lemon oil is a great natural degreaser. You can place a few drops in a spray bottle with water and use it to clean your oven top. Use lemon oil to clean sharpie marker, I've done this on our countertops. Place a couple drops on the spot and let it sit for about 15 minutes then wipe away. You might have to repeat but it will come out. Put a couple drops in your sink with baking soda and scour clean and rinse down your garbage disposal to freshen your sink. Put a couple drops in your washing machine to freshen it up.
Now you have a few new ways to use lemon essential oil in your home on a daily basis. Essential oils are so fun to learn about. Don't worry about getting overwhelmed and knowing everything all at once. Just start by purchasing 1 or 2 oils and begin experimenting with them. Before you know it, you'll be using them all day long!
For more information about the essential oils I use for myself and my family, click here or on the image below.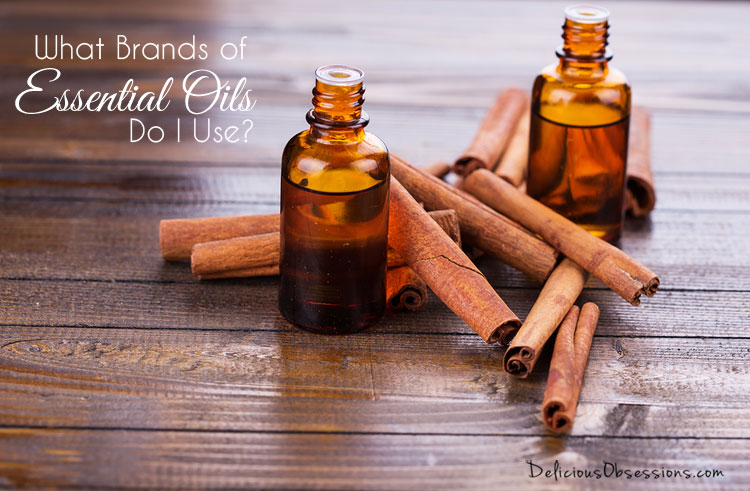 Delicious Obsessions is a participant in the Amazon Services LLC Associates Program, an affiliate advertising program designed to provide a means for us to earn fees by linking to Amazon.com and affiliated sites.Read our full terms and conditions here.