FTC Disclosure: Delicious Obsessions may receive comissions from purchases made through links in this article. Read our full terms and conditions here.

I have professed my love for ice cream many times on this site.
You guys probably think I'm silly, but hey, I love the stuff!
While I am pretty much a fan of ice cream in any style, shape, or form, ice cream floats are always a delicious way to enjoy the creamy cold treat.
Since I don't drink soda anymore (though I must confess, vanilla ice cream and Dr. Pepper used to be one of my favorite combinations), my floats are a tad different nowadays.
Instead of sugar-filled, chemical-laden commercial soda, I now use my healthy, home-brewed "soda":
Water kefir and kombucha!
Both are fizzy, refreshing, and taste great over ice cream!
New to water kefir? Don't worry! I have you covered in this Water Kefir Beginner's Guide.
New to kombucha too? Don't worry! I have you covered in this Kombucha Brewing Beginner's Guide.
Check out my favorite ice cream recipes here:
My passion for homemade ice cream and frozen treats is exactly why I wrote my eBook, The Splendid Scoop. You can learn more about that book here, or read on down to the bottom of this article.

Refreshing Water Kefir (or Kombucha) Ice Cream Float
Author:
Jessica Espinoza @ Delicious Obsessions
Recipe type:
Dessert, Beverage
Instructions
Place the ice cream in your glass and top with the fresh berries.
Pour water kefir or kombucha over the ice cream and berries.
Serve immediately!
Want to Learn How to Make Your Own Ice Cream Perfection At Home?
I've got you covered in my best-selling eBook, The Splendid Scoop and Other Frozen Treats: Delicious and Easy Dairy-Free Recipes, Plus Tips and Tricks for Homemade Ice Cream Perfection!
When the weather gets warm, nothing is more delicious than a bowl of cold ice cream or a delicious frozen treat. But, when you're on a restricted diet, finding treats that are suitable for your needs can be tricky. Plus, what happens when you want to make ice cream, but don't own an ice cream maker? Can you still make tasty treats without all the special equipment?
Yes! You can!
That is why I created The Splendid Scoop and Other Frozen Treats eBook! I, myself, am on a restricted diet for health reasons and when the weather starts warming up over 65 F, I start to get cranky. ? I am definitely a cool weather gal and one way to keep me sane and satisfied during the height of summer is knowing that I can make something delicious, at home, using healthy ingredients that fit my lifestyle.
All of the recipes in this book are dairy, grain, and gluten free. They can easily be modified for the autoimmune protocol as well, making them extra special for those on super restricted diets.
In The Splendid Scoop and Other Frozen Treats eBook, You Will Learn:
Why making your own ice cream and frozen treats at home is better than buying them at the store (even the organic ones!).
Tips and tricks for homemade ice cream success.
How to make ice cream without an ice cream maker (it's easier than you think!).
Delicious dairy-free recipes the whole family will love (recipes are also gluten and free and can easily be adapted for the autoimmune protocol as well).
Extensive resource suggestions for real food, wellness, and beyond.
Don't let another summer or special occasion pass you by. No longer will you have to watch your friends and family indulge on their favorite frozen treats while you sit on the sidelines due to your dietary restrictions.
Now you can enjoy creamy, delicious, and allergen-friendly frozen treats once again with The Splendid Scoop.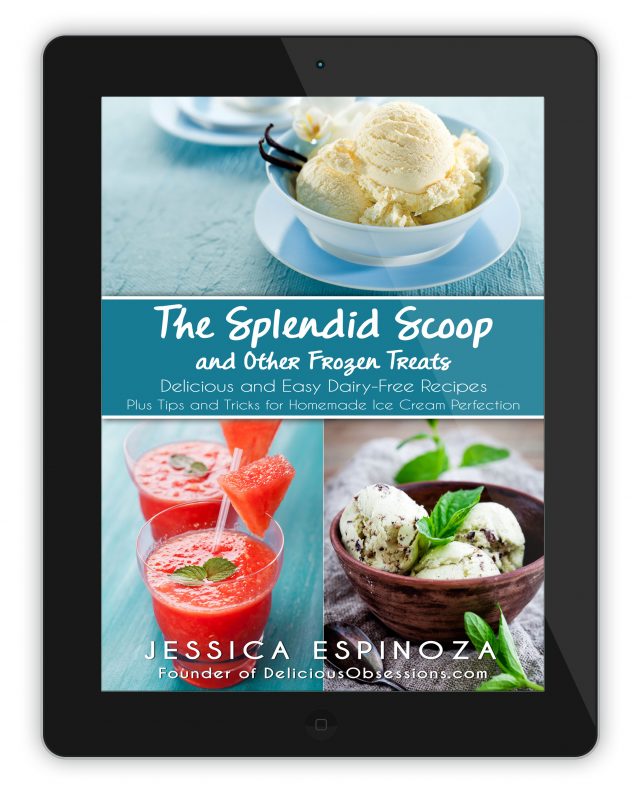 Delicious Obsessions is a participant in the Amazon Services LLC Associates Program, an affiliate advertising program designed to provide a means for us to earn fees by linking to Amazon.com and affiliated sites.Read our full terms and conditions here.