FTC Disclosure: Delicious Obsessions may receive comissions from purchases made through links in this article. As an Amazon Associate I earn from qualifying purchases.Read our full terms and conditions here.

The elderberry.
A tiny purple berry with a big nutritional punch.
Are you familiar with this berry? It's one of my personal favorites and I am excited to share this post with you today!
The Goodness of the Elderberry
Most people are familiar with elderberry as an immune booster. It is a very common during cold and flu season. The elderberry is a great case where modern clinical studies are actually starting to confirm what ancient alternative healers have known for hundreds, if not thousands, of years — the elderberry improves immune response.
Researchers believe that the elderberry's immune boosting abilities come from the anthocyanins (this is what gives the berries their purple color) found in large concentrations in the berry. In addition to anthocyanins, elderberries contain powerful amounts of:
antioxidants
vitamin A
vitamin C
vitamin B6
thiamin
riboflavin
niacin
folate
calcium
iron
magnesium
phosphorus
potassium
copper
That's a lot of nutrition in one teeny tiny berry!
I have used elderberry as an immune booster for years. I keep it on hand year round, but especially in the fall and winter when cold and flu season hits. I use dried elderberries in my adaptogenic tea blends, rooibos tea blends, as well as in my elderberry and rose hips tonic. I'd love to get my hands on some fresh elderberries, as all I have ever had access to was dried. If you're in CO and know where I can find some, let me know!
Recently, the nice folks at Norm's Farms introduced me to their line of elderberry products. Seeing that I <3 elderberries, I was very excited to try test products.
Needless to say, I was very pleased and because I loved them so much (the product and the customer service), Norm's Farms is sponsoring this post and giveaway for one lucky winner (details below).
Who is Norm's Farms?
Like many of us, the family who founded Norm's Farms believes in the power of natural remedies to heal our bodies. From their website:
Our story begins with Norman Lenhardt, who had a vision for the world. He wanted to protect and preserve America's farm lands and to help ensure that we would have enough food to feed the world. When Norm was not advocating for farm preservation, city planning, or wildlife protection, he spent his time on his 170-acre farm. Located in the Missouri river bottom of Hartsburg, MO, Norm's Farm boasts some of the richest soil in the world. Today the farm is managed by Norm's son, Rodger Lenhardt. In honor of Norm's dream for land preservation, the farm has been put in a trust.
Norm's Farms was founded by Ann, Rodger, and Erin Lenhardt in Pittsboro, NC. It is their way of carrying on the work and vision that Norm was so passionate about. Because they knew the power of the elderberry, they have been working hard to improve the supply of elderberry products here in the U.S. All of the elderberries they use come from natural and sustainably grown family farms. No pesticides, chemical fertilizers, etc. are used in the growing of their berries.
They offer a nice selection of elderberry products in their online store, including:
Elderberry Extract
Elderberry Wellness Syrup
Elderberry Ginger Pecan Jam
Elderberry Jelly
Elderberry Jam
Dried Elderflowers
Elderberry plants
You can learn more about the company and view their products on their website here. You can also find their products on Amazon here (you can even order by the case!).
Crazy for Elderberries!
Norm's Farms sent me an awesome package of products to try out and let me tell you — I loved every one of them. I think that was to be expected since I already have a love affair with elderberries in the first place. The package I received included the following:
2 Elderberry Extracts
2 Elderberry Wellness Syrups
1 Elderberry Ginger Pecan Jam
1 Elderberry Jelly
1 Elderberry Jam
1 Blueberry Elderberry Preserves
One thing that I really liked was that they using glass for their packaging. Some products on the market are still packaged in plastic, which I try to avoid if at all possible. Their products were packaged very nicely in the shipping container and were wrapped so well that I think the box could have gone through a tornado and the glass would still be safe and sound. I feel like you can tell a lot about a company by the care they take when shipping their products.
The elderberry extract and elderberry wellness syrup will be perfect for fall and winter as cold and flu season arrives. I liked the flavor of Norm's Farms' products much better than the ones I have purchased from my local health food store. The taste is much fresher and less processed if that makes any sense.
Elderberry Extract
Their Elderberry Extract is is made from North American native elderberries (that have been grown in on sustainable farms here in the U.S.). This is important, as many of the elderberry products on the market are made from European Concentrate — I wonder if that is why I noticed such a difference in taste when comparing Norm's products to the other brands I have used?
The extract is made using a gentle water process to extract the elderberry juice and then they add a tiny bit of malic acid (derived from apples) to lower the pH so we can bottle it. There is no alcohol, sugars, artificial sweeteners, or any other ingredients in the elderberry extract. The way the berries are processed could also be why the extract tastes so much brighter and fresher than what I am accustomed to.
The extract is very flavorful and pleasant to take (unlike some natural remedies). I love it and sometimes want to drink the whole bottle (but I don't!). I also like using elderberry syrup as a flavoring in homemade water kefir and kombucha. YUM!
Ingredients: Elderberry, Water*, Malic Acid** (less than .03% by volume)
Recommended amount per day is 1-2 tbsp. You can take it plain, or you can add it to your favorite beverage. Try drizzling it over homemade yogurt or coconut cream for a little treat. You could even add some to tea or, I haven't tried it yet, perhaps over some ice with some sparkling water? I'm going to try that tonight! I bet it will be tasty.
Elderberry Wellness Syrup
The Elderberry  Wellness Syrup is equally as delicious as the extract. It is made the same way as the Elderberry Extract, except it has a blend of honey, cinnamon, and cloves added. It would also make an excellent flavoring for water kefir or kombucha.
Ingredients: Elderberry, Water, Honey, Cinnamon, Cloves, Sugar (less than 1% by volume), Xanthan Gum, (less than .04% by volume), Malic Acid* (less than .04% by volume).
I know what you're thinking. There's sugar in there. Yes, there is and I'm not really that worried about it considering how little it really is. I also consume very little sugar in my daily diet, so I'm not too concerned about a little bit here and there in the wellness syrup.
Some of you may also be wary of the xanthan gum, mainly because some people do experience digestive issues when consuming it. I personally don't have any issues with xanthan gum, so I was fine with it in this product. As always, do what's best for you!
Recommended amount per day is 1-2 tbsp. Like the extract, you can take it plain, or you can add it to your favorite beverage. This one is exceptionally delicious drizzled over homemade yogurt, coconut cream, or homemade vanilla ice cream. Yes, vanilla ice cream. Do it and you will not regret it. Promise. 😉
Elderberry Jams and Jellies
Jams and jellies are not something we eat a lot of in this house, as they are often very high in sugar. And, since we really don't eat much in the way of bread, bagels, muffins, etc., there really isn't much to put jam on. So, these items were a special little treat that we enjoyed.
The jams and jellies were delicious. Our favorites were the Blueberry Elderberry Preserves and the Elderberry Ginger Pecan Jam. If you like jams and jellies, you will love these.
Since we don't eat things that you would normally put jelly on, I got creative and found some other uses for these products.
I used the Blueberry Elderberry Preserves on my Vanilla Bean Faux Cheesecake. I took this dessert to a special family dinner and it was a huge hit! Click here for the recipe (it's gluten, grain, dairy, egg, and nut free).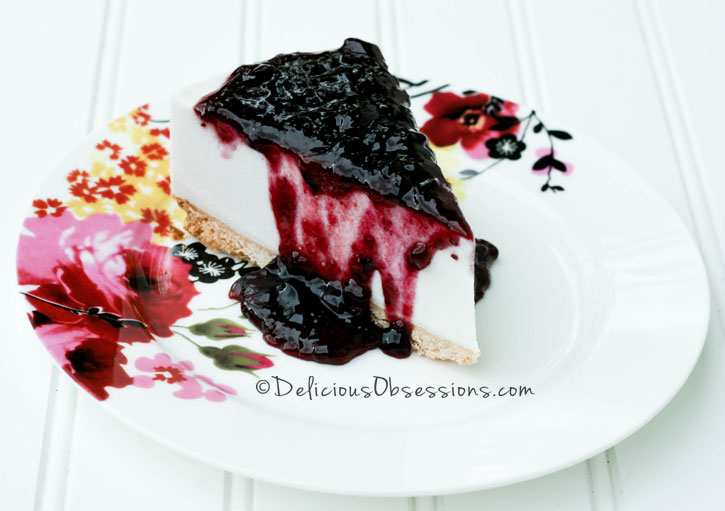 The regular elderberry jelly and jam, as well as the  Elderberry Ginger Pecan Jam got used in various batches of my Jam-Filled Thumbprint Cookies. Again, a huge hit. Click here for the recipe (it's gluten, grain, dairy, egg, and nut free).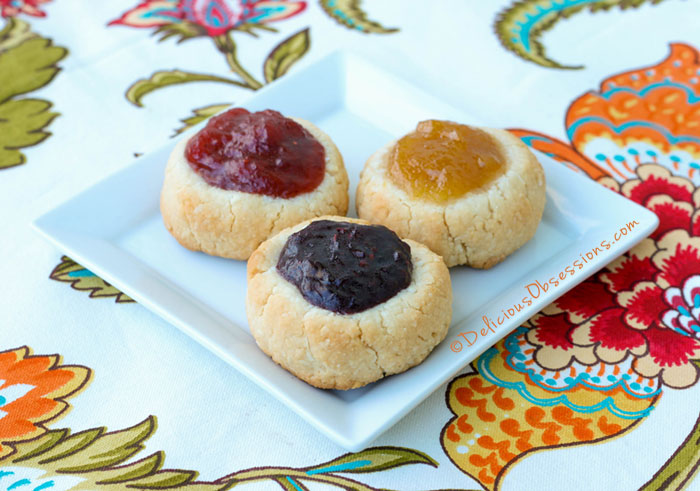 Overall, I was very pleased with the products I received and look forward to supporting Norm's Farms as they work hard to spread the knowledge and production of the North American elderberries, as well as improve the U.S. supply of elderberries and elderberry products.
I hope you'll stop by and say hi to them:
This post and giveaway is sponsored by Norm's Farms, but the opinions are completely my own. Thank you for supporting companies like this who are on a mission to make the world that we live in healthier! Their support, and yours, helps this site to continue providing delicious real food recipes and natural living information!

Delicious Obsessions is a participant in the Amazon Services LLC Associates Program, an affiliate advertising program designed to provide a means for us to earn fees by linking to Amazon.com and affiliated sites.Read our full terms and conditions here.