FTC Disclosure: Delicious Obsessions may receive comissions from purchases made through links in this article. As an Amazon Associate I earn from qualifying purchases.Read our full terms and conditions here.

Note from Jessica: Today's post is shared by my sweet friend Mindy. Mindy is a whole food lover with a passion for sharing natural and safe alternatives to conventional beauty products. Transitioning to a healthier lifestyle can seem overwhelming. So at her blog, Simple Pure Beauty, she likes to keep things simple by sharing safe, natural beauty product recipes and remedies using very few ingredients. Stop by Mindy's blog to learn about natural remedies, simple whole food cooking and creating safe, healthy environments for our families.}
With warmer weather coming, I like to trade in my heavier body butter for more of a lightweight, non-greasy homemade lotion. Because let's face it, when you're spending more time outside, you need a lighter lotion that moisturizes without leaving you feeling greasy.
For those with sensitive skin (like myself) using heavier lotions and body butters in hot weather can cause clogged pores and breakouts.
You will find that most body butter and lotion bar recipes call for shea butter or cocoa butter. I find that these butters are too heavy to use when creating a lightweight lotion or lotion bar.
For my recipes, I have chosen to use
fractionated coconut oil
and
jojoba oil
.
Fractionated Coconut Oil:
Is easily absorbed into the skin
Is a light, penetrating oil
Has a long shelf life
Is non-greasy
Jojoba Oil:
Is similar to our natural oils and won't clog pores
Is a great moisturizer
Is non-greasy
If you don't have fractionated coconut oil, feel free to use virgin or refined coconut oil.
Sweet Almond or Grapeseed Oil can be substituted for the Jojoba oil.
Non-greasy Homemade Lotion can be achieved in several different ways. I am going to share 2 of those ways:
Homemade Lotion Recipe – Uses emulsification to create a creamy, lightweight lotion.
Homemade Lotion Bar Recipe – Super easy process that creates lightweight lotion bars that can be applied by rubbing on your skin.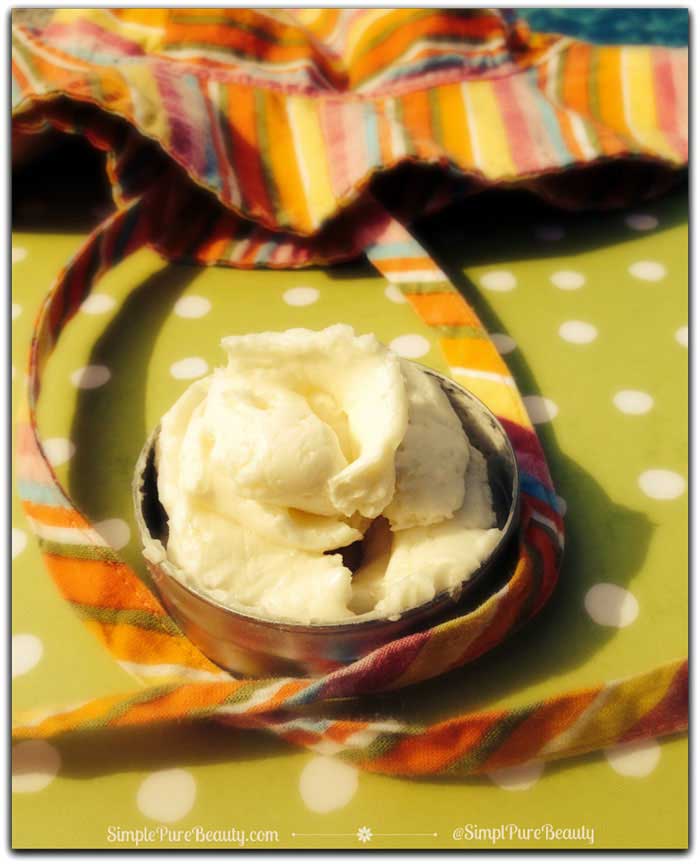 Delicious Obsessions Product Recommendations for Lightweight, Non-Greasy Homemade Lotion
I am always asked about my favorite ingredients and what I use in my own kitchen. I have linked to the products from my affiliate partners that I personally use and recommend. And now, here are the special coupon offers that select affiliate partners are currently offering:
Thrive Market: If you sign up through this link, you will get 15% OFF your first order.
Amazon, of course, has everything you need for this recipe. Their prices are often very good, though I love to shop around and sometimes find that Thrive Market has better deals. If you like saving money, it's good to shop around! 🙂
For more information about the essential oils I use for myself and my family, click here.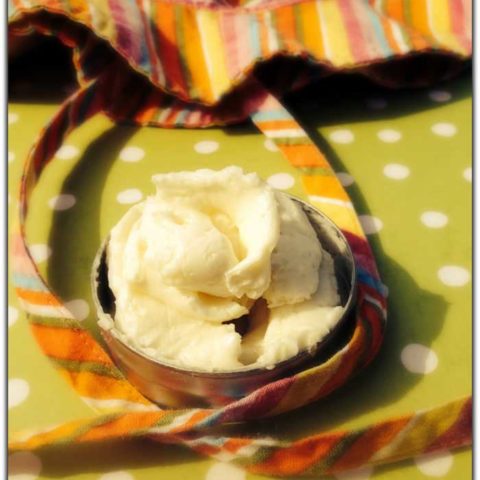 Non-Greasy Homemade Lotion Recipe
Make your own non-greasy lotion at home with this simple tutorial!
Instructions
Combine water and aloe vera gel in a separate bowl or measuring cup.
Place beeswax and oil in a double boiler and heat water on medium until beeswax is melted.
Bring water mixture to around the same temperature as beeswax mixture. (Either in a double boiler or in the microwave)
Add beeswax and oil to a food processor and let cool for a few minutes (not too long or it will start to harden)
Turn on the food processor and VERY slowly pour water/aloe mixture in.
Continue slowly pouring as the mixture starts to emulsify. Stop occasionally to scrape down the sides of the bowl.
Continue blending and pouring for up to 15 minutes or until you are happy with the consistency of your lotion.
Add vitamin E oil or Rosemary extract and essential oils and mix well.
Place finished lotion in containers and use within 3 months.
Notes
If you are short on time or a little intimidated by the creamy lotion recipe, then a homemade lotion bar is a quick and easy alternative. Start to finish, it takes let than 15 minutes and it's really fun to choose different shapes for your lotion bars.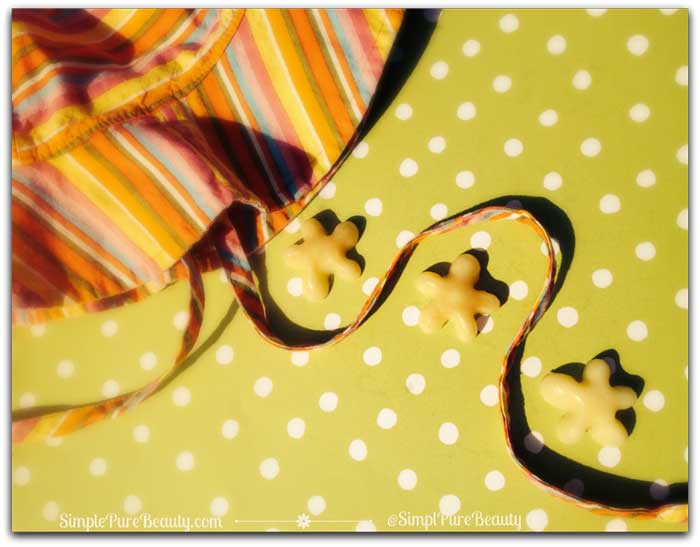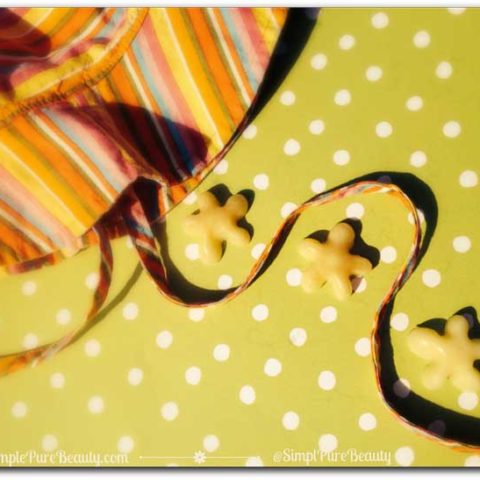 Homemade Lotion Bar Recipe
Yield:
2-8 bars (depending on mold size)
If you're short on time or intimidated to make your own lotion above, these bars are a super simple substitute!
Instructions
Combine beeswax and oil in a double boiler (or glass or bowl in a pan of 1-2 inches of water).
Heat water on medium heat until the beeswax is melted, stirring occasionally.
Remove from heat and stir in essential oils.
Pour into molds immediately as essential oils tend to want to separate.
Let cool and enjoy!

Recommended Products
As an Amazon Associate and member of other affiliate programs, I may earn a small commission from qualifying purchases.
Essential Oils for your Lotion Recipes:
Both of these lotion recipes can be left unscented or you can have some fun adding essential oils and fun scents to your lotion or bars. For my lotion, I used Sweet Orange Essential Oil and Vanilla for a creamy orange vanilla scent. Smells Yummy!
Cleaning Up:
I'm not going to lie. Making your own lotion can be quite messy and clean up can be tricky. Believe me, I learned from experience. 🙂
So here are a few tips:
Wipe out bowls & measuring cups immediately with paper towels before beeswax and oils cool.
Then wash with REALLY hot soapy water.
I hope you enjoy experimenting with this lightweight non-greasy lotion recipe!

Delicious Obsessions is a participant in the Amazon Services LLC Associates Program, an affiliate advertising program designed to provide a means for us to earn fees by linking to Amazon.com and affiliated sites.Read our full terms and conditions here.