FTC Disclosure: Delicious Obsessions may receive comissions from purchases made through links in this article. As an Amazon Associate I earn from qualifying purchases.Read our full terms and conditions here.

Editor's Note: Please welcome my friend Hannah to the site today for another great blog post! Hannah is the founder of Whole Simple Life and is a formerly sick and tired Mama who is reclaiming her health naturally, one step at a time. She teaches others about cultured foods, unprocessed, and sugar free eating, green smoothies, and stress and anxiety management! Stop by her site to join her for lots of great articles on natural health and wellness and to be inspired to lead a healthier more positive life!
~~~~~~~~~
Have you ever bought those pricey little snack bars at the grocery store only to open the wrapper and realize you just paid way too much for a tiny bar?
Yes, you are paying for convenience, but sometimes it's nice to know you can make some snacks at home and save a little cash.
One of my favorite tasty little treats are LaraBars. They are sugar and grain-free which is great since I am not eating either right now. They are the perfect sweet fix but the only sweetener is dates which is a great whole food alternative to sugar and is just as satisfying.
These little snacks provide a powerful punch of nutrition as they combine dates, coconut, nuts and a bit of coconut oil. There is nothing processed or fake about them. I can feel good feeding them to my whole family and the best thing is that they are kid-approved! Phew, that doesn't happen too often:)
This recipe is very easy to switch up and make your own. Keep the basic amounts of 1 cup of pitted dates, and then 1 cup of some other mix in, you can add any kind of nut or seed, or any other kind of dried fruit such as apricots or dried cranberries. Coconut tastes good with everything, in my opinion. You could also get fancy and add mini chocolate chips, cocoa powder or peanut butter for a more rich version.
A little food chopper works great to mix up the ingredients. Depending on the size of your little mixer you might need to chop the dates first, then take them out and add the nuts/coconut then mix them together in a bowl with your hands. I personally used my Vitamix and it worked really well. I turned the dial to 7 and used my tamper to keep everything mixing well.
I formed the mixture into little snack-sized balls but you could also press them into a pan and cut them into squares. I was able to get 9 little balls out of this recipe. You can store them in a small zip-top bag in the fridge to have them ready to go whenever you need a quick snack. In fact, I think I'm going to go grab one right now!
Coupons and Freebies for Almond Butter Protein Snacks Ingredients
I am always asked about my favorite ingredients and what I use in my own kitchen. I have linked to the products from my affiliate partners that I personally use and recommend. And now, here are the special coupon offers that select affiliate partners are currently offering:
Thrive Market: If you sign up through this link, you will get 15% OFF your first order.
Amazon, of course, has everything you need for this recipe. Their prices are often very good, though I love to shop around and sometimes find that Thrive Market has better deals. If you like saving money, it's good to shop around! 🙂
Homemade Coconut Date Snacks
I have linked to the products from my affiliate partners that I personally use and recommend. If you purchase through one of these links, I may earn a small commission.
Instructions
Add ingredients to a food processor or Vitamix blender.
Chop ingredients separately or all together depending on the size of your chopper.
Form into balls or bars, whichever you desire.
Store in the fridge wrapped in plastic for up to 2 weeks.
Enjoy!
Recommended Products
As an Amazon Associate and member of other affiliate programs, I may earn a small commission from qualifying purchases.
Sometimes You Just Need a Good Snack!
If you're reading this blog, chances are you've embarked on your gluten-free journey, but are missing your favorite snack foods. You're bored with all of the gluten-free options out there (which, let's face it, aren't all that healthy). Let me ask you a few questions:
Are you new to a real foods diet or just bored with eating the same thing every day?
Are you in need of healthy snack ideas for your whole family?
Would you like recipes that are easy, delicious, and healthy?
If you answered yes to any of these, then my eBook, Gluten-Free Snacks, is for YOU! This book features delicious real food snack recipes from an established community of real food bloggers. All of the recipes featured in this ebook are tried and true recipes that have been put to the test of both preparation and taste.
Long before blogging and social networks, trading recipes has been a way to connect and transfer culture, nourishment, and love from the heart of the home (the kitchen) to others. So, in the spirit of old-fashioned cookbooks produced by schools and churches, each cook featured in this book has provided her BEST recipe, so it winds up a collection of the best of the best!
You will love all the new ideas and new flavors in this book. Clear, easy to follow instructions, beautiful photographs, and accessible ingredients will make this book a favorite resource.
Feed your family healthy and nourishing gluten-free snacks every day without sacrificing taste! These snacks are a great way to add variety to your family's diet. Healthy snacks are what keep us going between meal times, giving us the energy and sustainable blood sugar that we need to power through our to-do list.
It's time to ditch the food boredom and embrace deliciousness once again! The Gluten-Free Snacks eBook is your ticket to healthy, delicious, well-balanced snacks to keep you energized and focused no matter the time of day or activities you're enjoying! Learn more about this eBook and how to download your copy of Gluten-Free Snacks here (or click on the image below).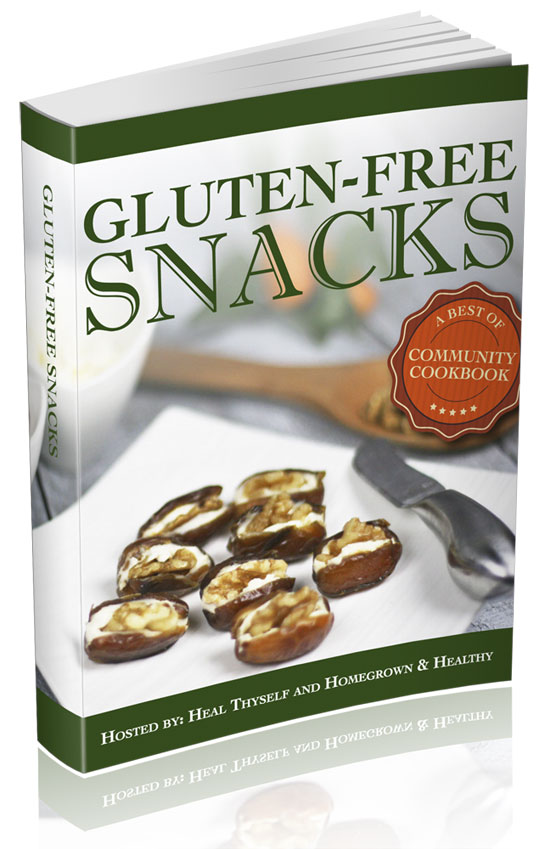 Delicious Obsessions is a participant in the Amazon Services LLC Associates Program, an affiliate advertising program designed to provide a means for us to earn fees by linking to Amazon.com and affiliated sites.Read our full terms and conditions here.