FTC Disclosure: Delicious Obsessions may receive comissions from purchases made through links in this article. As an Amazon Associate I earn from qualifying purchases.Read our full terms and conditions here.

Today I am excited to welcome Vivica, from The Nourished Caveman to Delicious Obsessions! Vivica will be one of my regular contributors to this site and I am thrilled to have her. Today, she is kicking off the week with a slow cooker lamb recipe that looks delicious. Please give her a warm welcome! ~Jessica
Lamb, hogget, mutton…
You have to agree with me, mutton is not the most popular kind of meat here in the United States. This was not always the case, as many people who immigrated to the US from other countries had a strong cultural appreciation for both lamb meat, hogget meat and mutton, unfortunately a few generations of fast food would dull even the most resilient traditional taste buds and not many remain who love these delicacies.
First of all, what the heck is a hogget?! A hogget is a sheep which has been butchered after one year of age, a mutton after two.
And WHY in the world should I bother with the meat of an old sheep you might think? Imagine your tender little lamb grazing on a rich and diverse native grassland, full of nutritious and aromatic herbs and grasses.
Now imagine the lamb two years later, nicely grown and plump from that wonderful life in the great outdoors and the perfect diet! Sure, the meat might not be as buttery tender as the one of a baby sheep, but the flavor will have developed into a rich satisfying fullness, and the meat will have acquired a finer texture.
A rich marbling will develop in mutton meat, and as our sheep grazed an unpolluted native grassland the fat will be free from pesticides and full of conjugated linoleic acid, which is good for the heart and protects against cancer. Maybe our mutton meat will not always come from this best case scenario, but at least sheep are not commonly raised in feedlots, freeing your conscience (and the environment) form that noxious burden.
Mutton meat also provides us with high quality protein, essential amino-acids and loads of valuable micronutrients.
Tagine Vs Slow Cooker
"A tagine is an historically Berber dish from North Africa that is named after the type of earthenware pot in which it is cooked."
The tagine pot is so designed that the tall lid will concentrate moisture and condense it, thus returning it to the cooking stew. This method enables to stew meat and vegetables in relatively little liquid.
Thinking about it, this method is actually very similar to the one of a slow cooker.
That is why I found this traditional Moroccan tagine recipe so easy to adapt to our modern lifestyle and the convenience of the slow-cooker!
Another advantage is that the slow cooking method will result in extremely tender meat, which lends itself perfectly to a nice cut of mutton, which might be too dry or tough otherwise. With this method, you cannot go wrong.
The best cut for this recipe is the shoulder, and you can either cut it yourself or have your butcher pre-cut it for you in 2 inch cubes.
I feel like Moroccan spices really support and enhance the flavor of the meat itself, and they do away with any strong flavor that might be offensive to a delicate palate.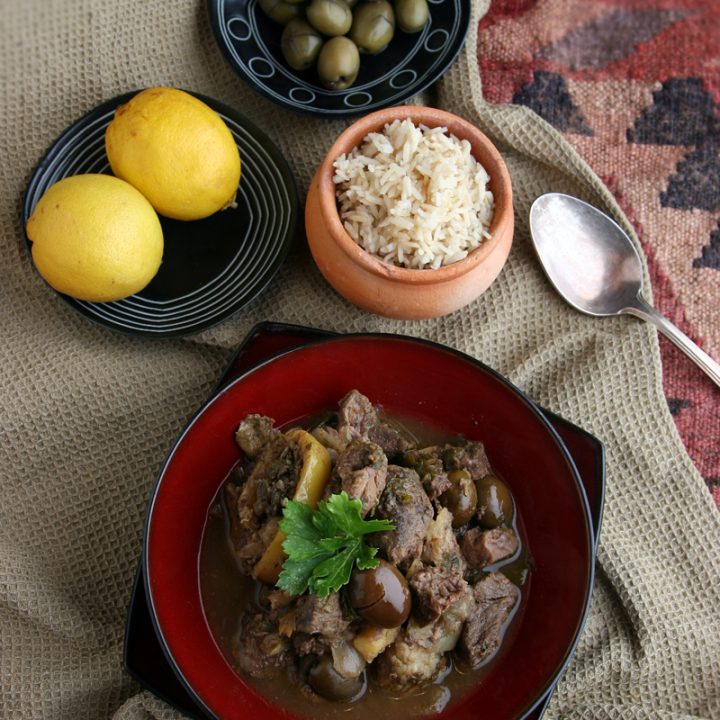 Slow Cooker "Tagine" of Mutton with Lemon and Olives
Yield: 4

Prep Time: 15 minutes

Cook Time: 4 minutes

Total Time: 19 minutes

The best olives for this dish are green, ripe Moroccan style olives, but any green olive can be successfully substituted. Traditionally in Moroccan cuisine, preserved lemons would be used, but I substituted fresh organic lemons with equally good results, making the recipe more easily accessible. Feel free to use preserved lemons when present.
Ingredients
2 pounds mutton shoulder meat cut in 2" cubes (mutton stew meat
1 pinch of saffron
1/4 teaspoon ground turmeric
1 teaspoon ground ginger
1/4 teaspoon ground cayenne
1/2 teaspoon freshly grated black pepper
1/4 teaspoon ground cumin
Celtic sea salt
1 large yellow onion
1 small bunch fresh parsley
1 small bunch fresh cilantro
1 cup green olives, drained and pitted.
2 organic fresh lemons or 2 preserved lemons
the juice of 1 organic lemon
Instructions
Mix all the dry spices together with few good pinches of celtic sea salt. Add to a food processor.
Now add the onion, the cilantro and parsley, cleaned and trimmed to the food processor and mix well together, without overblending, so small chunks still show.
Put the ghee, onion, and spice mixture in a slow cooker and add the mutton meat.
With a spoon or your hands mix well until the meat is coated with the spices.
If you are using fresh lemons wash them really good and cut them in 4. If using preserved lemons remove and discard the pulp, then add to the slow cooker.
Cook on low for 4 hours.
For the last half hour add the pitted olives and the lemon juice.
Adjust of salt before serving.
You can serve this with Moroccan style couscous, brown rice or if Paleo with cauliflower rice.
Recommended Products
As an Amazon Associate and member of other affiliate programs, I may earn a small commission from qualifying purchases.
Nutrition Information:
Yield: 4 Serving Size: 1
Amount Per Serving: Calories: 1080Total Fat: 76gSaturated Fat: 32gTrans Fat: 0gUnsaturated Fat: 38gCholesterol: 321mgSodium: 1446mgCarbohydrates: 21gFiber: 5gSugar: 11gProtein: 79g

IMPORTANT! PLEASE READ!!! This website provides approximate nutrition information for convenience and as a courtesy only. Nutrition data is gathered from Nutritionix and we often find their calculations to be slightly inaccurate based on the whole food ingredients we use on this site. Nutrition information can vary for a recipe based on many factors. We strive to keep the information as accurate as possible, but make no warranties regarding its accuracy. We encourage readers to make their own calculations based on the actual ingredients used in your recipe, using your preferred nutrition calculator.

Delicious Obsessions is a participant in the Amazon Services LLC Associates Program, an affiliate advertising program designed to provide a means for us to earn fees by linking to Amazon.com and affiliated sites.Read our full terms and conditions here.