FTC Disclosure: Delicious Obsessions may receive comissions from purchases made through links in this article. As an Amazon Associate I earn from qualifying purchases.Read our full terms and conditions here.

This is seriously the easiest and most delicious crock pot beef ever. It is my go-to crock pot beef recipe because it guarantees that I will have a delicious dinner on the table with minimal effort on my part.
I like easy.
Yes, yes I do.
Feel free to customize the recipe to suit your own needs. Sometimes I have some root veggies that need to be used, so I chop them up and toss them in about halfway through the cooking period. You can add more seasoning or less, depending on your needs.
But whatever you do, don't stress about dinner.
Just toss the few ingredients in the crock pot in the morning and by 6pm (or whenever you eat dinner), you have a delicious meal, ready to go.
Serve the beef with whatever side(s) you want. My husband loves it over my cheesy garlic mashed potatoes, so that's how he eats it (with lots of butter). Since I don't eat potatoes, I usually eat it with some cauliflower or root vegetable puree or some of my garlic herb cauliflower rice. It is pretty much delicious any way you eat it. The meat is tender and just falls apart. Yum!
Oh, and the leftovers are divine — simply divine. I actually think the leftovers taste better and are great on sandwiches, wraps, or just scrambled up with eggs.
Shout out to my friend Suzanne from Strands of My Life for shooting the photos for this recipe!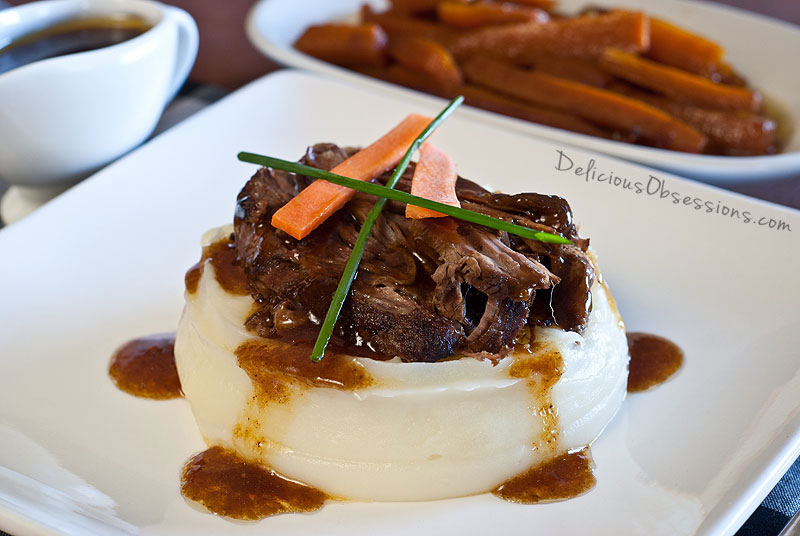 The Easiest and Most Delicious Crock Pot Beef Ever
I have linked to the products from my affiliate partners that I personally use and recommend. If you purchase through one of these links, I may earn a small commission.
Author:
Jessica Espinoza @ Delicious Obsessions
Ingredients
1 grass-fed beef roast or bison roast (3-4 pounds are what mine are usually)
10-15 cloves of garlic smashed or minced
1 cup sweet onion, thinly sliced
1 cup beef stock (or water)
1-2 tsp. fresh ground black pepper
Sea salt to taste, though the Worcestershire adds a lot of salt
Instructions
Place your roast in your crock pot.
Peel your garlic cloves and smash or mince them. Toss those in with the roast.
Slice your onion very thinly (or you can dice them if you prefer). Toss those in with the roast.
Pour your Worcestershire sauce and stock (or water) over the roast, and add your black pepper.
Cover and cook on low for 8-10 hours.
Serve with your choice of side. You can use the broth from the roast to make gravy, or you can just spoon it directly over each serving. The broth is delicious!

Delicious Obsessions is a participant in the Amazon Services LLC Associates Program, an affiliate advertising program designed to provide a means for us to earn fees by linking to Amazon.com and affiliated sites.Read our full terms and conditions here.