FTC Disclosure: This post contains affiliate links which means if you make a purchase through one of these links, I may earn a small commission on your sale which allows me to cover a portion of the cost of running the Delicious Obsessions site and free content we provide every week. This has no effect on your price and is simply a cost of doing business from the company you purchase from. I only recommend products or services that I have personally tried and love. You can view it like leaving a tip. Thank you for your support!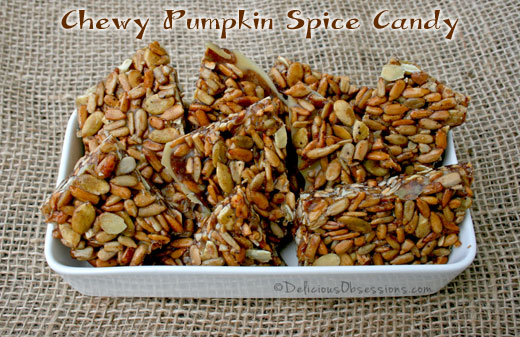 These chewy pumpkin spice candies are delicious and addicting. I say that about pretty much any candy I make, because let's face it. I don't just have a sweet tooth, I have sweet teeth! Seeing that I don't eat much in the way of sweets anymore, it is rare that I indulge and make candy or some other type of dessert or treat. However, fall rolled around and I realized I had a bunch of sunflower and pumpkin seeds in the freezer that needed to be used up, so it was the perfect time to make these tasty treats!
You really could use any nut or seed that you prefer. I have only made it with pumpkin seeds and sunflower seeds, but I imagine walnuts and/or pecans would be amazing! Depending on the thickness that you make the bars, they may end up being different textures. The thicker you make the bars, the more chewy they will be. If you spread the mixture out really thin, they end up being more like brittle, especially when chilled. I like to let these bars warm up to room temperature before serving. I think the flavors are much more pronounced, and you don't have to worry about anyone breaking a tooth on a bar that is a tad too firm!
These bars would make great gifts, so if you're making a goody basket for loved ones any time soon, this would be a great addition, as would my caramel glazed candied macadamia nuts.
Coupons for Chewy Pumpkin Spice Candy Ingredients
Below are special coupon offers that select affiliate partners are currently offering:
Thrive Market

: If you sign up through

this link

, you will get

15% OFF your first order

.
Vitacost

: If you sign up through

this link

, you'll get a coupon for $10 off your first purchase.
Amazon, of course, has everything you need for this recipe. Their prices are often very good, though I love to shop around and sometimes find that Vitacost and Thrive Market have better deals. If you like saving money, it's good to shop around! 🙂
I get all of my herbs and spices from Mountain Rose Herbs. I have tried so many other brands and have never found the quality, flavor, and aroma to be as good as the herbs I get from Mountain Rose.
Chewy Pumpkin Spice Candy Recipe
Ingredients
I have linked to the products from my affiliate partners that I personally use and recommend. All funds earned go to help support the maintenance of this site and free content.
Instructions
1. In a large frying pan, combine the ghee, coconut oil, honey, maple syrup, salt, pumpkin pie spice, and vanilla over medium heat. Stir it while it heats up to keep everything mixed together.
2. When the mixture starts to bubble, add your seeds (or nuts). Please be careful not to splatter yourself. This glaze is H.O.T. (don't ask me how I know). Stir the seeds around until coated and smooth them out in the pan so they are in an even layer.
3. Lower the heat to low or medium low (depending on your stove) and let the mixture continue to bubble, stirring occasionally. The sauce will continue to thicken and reduce, but be sure to watch it closely, as it can can burn quickly.
4. Keep stirring until the sauce has thickened (approx. 8-10 minutes).
5. Remove the mixture from heat and let it cool for a few minutes.
6. Spread in a single layer on a silicone mat (if you have one). You can also use wax paper. I like to sprinkle a dash of sea salt over the brittle at this time.
7. Let cool on the counter for 15-20 minutes and then you can transfer to the fridge or freezer to continue the cooling process.
8. Break or cut into pieces and serve. Store in an airtight container in the fridge or freezer. Serve at room temperature.
Paid Endorsement Disclosure: Delicious Obsessions is a participant in the Amazon Services LLC Associates Program, an affiliate advertising program designed to provide a means for sites to earn advertising fees by advertising and linking to AMAZON.COM. This post may contain affiliate links and/or ads. We only recommend products or services that we have personally tried and love. When you make a purchase through any of these links, we earn a small commission on each sale, which allows us to cover a portion of the cost of this site. This has no effect on your sale price and is simply a cost of doing business for the company you are purchasing from. All funds received help with the continued maintenance of this website and free content. You can view it like leaving a tip. Thank you! Read our full terms and conditions here.

Jessica is a real food wellness educator and the founder of the Delicious Obsessions website. She has had a life-long passion for food and being in the kitchen is where she is the happiest. She began helping her mother cook and bake around the age of three and she's been in the kitchen ever since, including working in a restaurant in her hometown for almost a decade, where she worked every position before finally becoming the lead chef. Jessica started Delicious Obsessions in 2010 as a way to help share her love for food and cooking. Since then, it has grown into a trusted online resource with a vibrant community of people learning to live healthy, happy lives through real food and natural living.