FTC Disclosure: Delicious Obsessions may receive comissions from purchases made through links in this article. As an Amazon Associate I earn from qualifying purchases.Read our full terms and conditions here.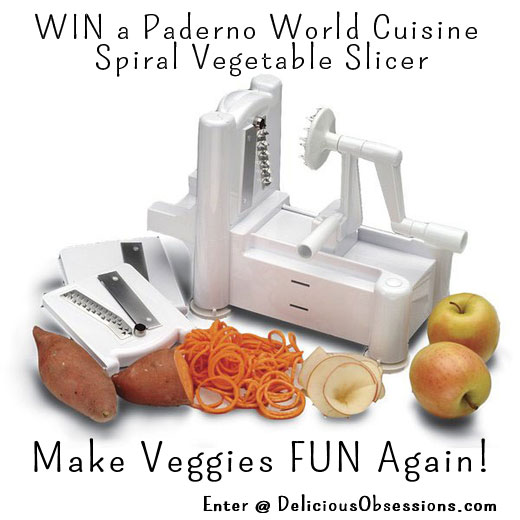 When I first went grain-free last year, one of the main things I missed was spaghetti noodles. We didn't eat pasta a lot, but there was this brand of quinoa pasta that we did enjoy on occasion. Funny how even when you don't eat something often, if you know you can't have it anymore, you instantly miss it.
Thankfully, I stumbled across the spiralizers, which is a great tool to help you make "noodles" out of veggies. Paderno World Cuisine was kind enough to send me two units of their spiral vegetable slicers, one for me to try out and one for me to give away (details at the bottom on how you can win!).
I love this slicer. Not only do I use it for making noodles for hot dishes (like spaghetti or noodle stir-frys), but I use it to make noodles and ribbons for salads and other cold dishes too. I also used it to make curly fries for my husband and he loved them! Some of the noodles that you'll make can easily get to be two feet long. For kids, this makes food prep fun!
The product is made of durable plastic, and while I am not a huge fan of plastic, your food will not be touching it for very long, nor are you heating the plastic up. I am not too concerned with leaching any chemicals with this product. The main unit has suction cup feet, which ensure that it stays put while you are using it. It comes with 3 blades: 1/8-inch spacing (great for shoestring-style potatoes or other veggies), 1/4-inch spacing (great for curly fries and pasta "noodles"), and a straight blade for ribbon cuts (great for salads).
You will have a core left of whatever you are slicing, but I just typically will eat that raw, slice it up real quick and add it to the sliced veggies, or give it to my dogs. My dogs LOVE vegetables, so this is a fun treat for them.
Would I consider this a necessary kitchen tool? No. But, I have really enjoyed using it and having the ability to make vegetable noodles in an easy fashion. Cleanup is easy as well. Since I am just using it for veggies or fruit, I wash everything off by hand with a little soap and let it air dry. Dishwasher cleaning is not recommended. It will dull the blades and potentially warp the plastic if the heat in your dishwasher gets too hot. All in all, I am quite pleased with the unit.
Who Wants to Win?
Want to win one for yourself? Use the Rafflecopter widget below to enter, but first, the required legal jargon.
Terms and Conditions: No purchase necessary. Void where prohibited. This contest open to US residents, 18 years and older, only. All entries will be validated and the winner will be chosen randomly via the Rafflecopter widget and will be notified via email, as well as announced on the Delicious Obsessions website. The winner will have 48 hours to contact me to claim their prize. If the winner does not contact me within that time frame, another winner will be selected at random. This giveaway will run from 12:01am, Friday, August 30th, through 12:01am, Saturday, September 7th. This giveaway is sponsored by Delicious Obsessions, LLC, PO Box 27414, Denver, CO, 80227, and they will provide one winner a Paderno World Cuisine Spiralizer at total retail value of approximately $35.00. You will be required to provide your name and shipping address to me (Jessica Espinoza, Delicious Obsessions, LLC, PO Box 27414, Denver, CO, 80227), and the spiralizer will be shipped directly to you within one week of receiving the shipping information.
*Advertisement from one of my trusted affiliate partners*

Delicious Obsessions is a participant in the Amazon Services LLC Associates Program, an affiliate advertising program designed to provide a means for us to earn fees by linking to Amazon.com and affiliated sites.Read our full terms and conditions here.