FTC Disclosure: This post contains affiliate links which means if you make a purchase through one of these links, I may earn a small commission on your sale which allows me to cover a portion of the cost of running the Delicious Obsessions site and free content we provide every week. This has no effect on your price and is simply a cost of doing business from the company you purchase from. I only recommend products or services that I have personally tried and love. You can view it like leaving a tip. Thank you for your support!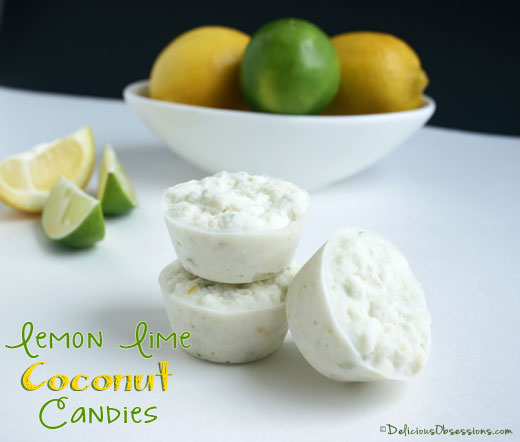 Bright, tangy, coconutty, and slightly sweet. A perfect combination of a satisfying treat without the guilt! I have made these candies for years. The original recipe came from Free Coconut Recipes and then over the years, it has evolved depending on my moods and the season. They are my go-to whenever I want something sweet, but don't want to make a big batch of something I will later regret eating. They are easily portion controlled and the richness of the coconut cream and coconut oil is very satiating to the taste buds.
As with any of my recipes, feel free to tailor this recipe to suit your own personal tastes. You can vary the type of citrus you use — orange, tangerine, and even grapefruit are all nice. The citrus and coconut pairs nicely together.
The coconut cream that I get is from my affiliate partner, Tropical Traditions, and it already contains a lot of oil, but you all know how much I love coconut oil, so I just couldn't help adding a tad more.
These hold up pretty well outside the fridge. They taste delicious both cold and room temperature. I prefer them at room temperature because the citrus pops even more and they have a delicious fudge-like texture. Oh, and did I mention they are easy to make? They only take a few minutes, so they're great to keep in mind for those times when you need a really fast dessert.
Coupons for Lemon Lime Coconut Candy Recipe Ingredients
Below are special coupon offers that select affiliate partners are currently offering:
Thrive Market

: If you sign up through

this link

, you will get

15% OFF your first order

.
Vitacost

: If you sign up through

this link

, you'll get a coupon for $10 off your first purchase.
Amazon, of course, has everything you need for this recipe. Their prices are often very good, though I love to shop around and sometimes find that Vitacost and Thrive Market have better deals. If you like saving money, it's good to shop around! 🙂
PLEASE READ!!!! Quick note about "coconut cream concentrate" and "coconut butter", since I get asked this all the time.
Whenever I refer to those two terms in my recipes, it means the product that is super finely ground coconut meat, which has a consistency similar to a nut butter. It's not referring to coconut milk or coconut cream (the liquid beverage-type products), and it's not referring to those vegan "butters" that often use coconut oil in them.
You cannot substitute dairy butter for coconut butter, nor can you substitute coconut oil for coconut butter.
Please read this post where I talk about coconut products in detail and clear up the common confusion with ingredient names.
Also, the texture of the cookies may vary depending in the brand(s) of coconut products you use. I have found in my years of cooking that there can be a big difference between brands of coconut products and how they work in recipes. For this recipe, I found I got the best results when I used coconut cream concentrate from Tropical Traditions and coconut flour from my local health food store. If you find that your dough is too dry, just add a tablespoon or two of coconut milk (or milk of your choice) to the mix until you get the right consistency.
Lemon Lime Coconut Candy Recipe
I have linked to the products from my affiliate partners that I personally use and recommend.
Ingredients
Instructions
Over low heat, warm the coconut butter and coconut oil until the oil melts and the butter is smooth. If you are using a sweetener, you can add it at this time.
Stir in the shredded coconut, as well as the lemon and lime zest.
Add the vanilla, lemon extract, lime extract, and salt and stir until combined.
Remove from heat and stir in the lemon and lime juice. I use a whisk. The citrus will almost make the coconut cream curdle for a second, but it smoots right back out if you keep stirring.
Spoon the mixture into molds of your choice (I use little mini silicone muffin pans), or you can spread it into a glass dish and then cut it into chunks later.
Chill in the freezer or fridge for an hour, or until firm.
Store in an airtight container in your fridge or freezer.
Paid Endorsement Disclosure: Delicious Obsessions is a participant in the Amazon Services LLC Associates Program, an affiliate advertising program designed to provide a means for sites to earn advertising fees by advertising and linking to AMAZON.COM. This post may contain affiliate links and/or ads. We only recommend products or services that we have personally tried and love. When you make a purchase through any of these links, we earn a small commission on each sale, which allows us to cover a portion of the cost of this site. This has no effect on your sale price and is simply a cost of doing business for the company you are purchasing from. All funds received help with the continued maintenance of this website and free content. You can view it like leaving a tip. Thank you! Read our full terms and conditions here.

Jessica is a real food wellness educator and the founder of the Delicious Obsessions website. She has had a life-long passion for food and being in the kitchen is where she is the happiest. She began helping her mother cook and bake around the age of three and she's been in the kitchen ever since, including working in a restaurant in her hometown for almost a decade, where she worked every position before finally becoming the lead chef. Jessica started Delicious Obsessions in 2010 as a way to help share her love for food and cooking. Since then, it has grown into a trusted online resource with a vibrant community of people learning to live healthy, happy lives through real food and natural living.