FTC Disclosure: Delicious Obsessions may receive comissions from purchases made through links in this article. As an Amazon Associate I earn from qualifying purchases.Read our full terms and conditions here.

OK, I know what you're thinking. You're thinking, "Isn't it a bit odd that Delicious Obsessions is writing a post on nail polish?" Well, while it may be a tad out of the ordinary for me, I have a really good reason and I am super excited to bring you this review today.
Most of you do not know that I am a bit of a, how should I say it, nail polish fanatic enthusiast. I LOVE nail polish. Always have, always will. I have an entire tackle box full of polish. I refuse to go out in public wearing sandals without my toes painted. While I paint my nails (both fingers and toes) year round, it's summertime when the tackle box really sees the most use. But, despite my love for nail polish and pretty fingers and toes, I have not painted my nails in over a year.
Why, you ask?
Because all of the nail polish I have is full of unpronounceable chemicals that have no place on (or in) my body. And, paired with the nail polish remover, you've got a rather nasty toxic combination.
In August of 2012, I embarked on a healing journey to get my autoimmune thyroid disease under control, as well as start prepping my body for pregnancy. I decided that it was time for me to really put my health on the front burner and make it a priority. One of the things that I focused on was reducing my toxin exposure. While I have always been into natural living and don't often use toxic cleaners, I took it a step farther and really started assessing my health and beauty products. I read labels, tossed products that had chemicals and other nasties, and either found natural, safe replacements for them, or just started making my own. That was everything from body lotions, perfumes, toothpastes, mouthwash, shampoo (read my no 'poo story here), make-up, you name it. And you know what? I love it. I love making my own products now. It saves me money and I get to customize the item just how I want it. Check out my full list of DIY tutorials for non-toxic health and beauty items here.
All that said, the one thing that I could not re-create on my own was nail polish. And, my health food store has a really small, unimpressive selection, so I figured I was just destined to go polish-less. I mean, nail polish really isn't a necessity, but truth be told, I like it and it's one of my vices. I sadly looked at my naked sandal-clad toes and sighed. Then, I just happened to be on Facebook later that day and someone posted about Keeki Pure & Simple. I immediately checked out their site, read their story, and scoured their product list. I contacted them about their products and they were kind enough to send me a few samples to try out. I was under no obligation to write a review in exchange for the free samples. All opinions expressed within this post are my own.
Who is Keeki Pure & Simple?
Keeki Pure & Simple was founded by Natalie Bauss, who is the mother of two children. They live on an organic farm in West Michigan. Natalie is has 20 years of experience as an esthetician and also has a background in sales and marketing. She started out by doing a lot of research as she embarked on her quest to make wholesome products for her own friends and family. "I started out creating recipes in my kitchen from things we'd grown on the farm, just experimenting," she says. Keeki is her daughter, Kiana's, nickname and she helps out around the office, as well as tests products before they go to market. What started as a kitchen experiment for her own kids and their friends, has since grown into an international brand, and now Natalie and the Keeki Team provide safe products for girls and women all over the world.
What About The Ingredients?
Our skin is our largest organ and quickly absorbs whatever we put on it. Our nails are no different. They are porous and will absorb whatever they are exposed to. Natalie's goal was to create safe, non-toxic products, that people did not have to worry about. All of their products are animal-friendly (if you want to paint your pups toenails), eco-friendly, and gluten-free. None of their products will ever contain:
Parabens
Pthalates
Toluene
Formaldehyde
Acetone
Synthetic Fragrance
Sodium Laureth Sulfate, Sodium Lauryl Sulfate
Nanoparticles
Gluten
As consumers, we have the right to know what is in the products we put on our skin. You can check out how Keeki Pure & Simple's products compare against other companies on the EWG Skin Deep Cosmetic Database. Traditional nail polish typically has a long list of ingredients, but the three that have been dubbed "the toxic trio" by health conscious folk are:
Dibutyl phthalate (DBP)

Formaldehyde

Toluene
Dibutyl phthalate (DBP) is also called benzenedicarboxylic acid, dibutyl ester, and other names. It is commonly found in perfumes, solvents, and plastics. The EWG stated that the European Union banned this ingredient for use in cosmetics, but leave it to the good ol' US of A to continue to use it. DBP has been show to irritate the lungs, create developmental delays, disrupt the endocrine system, as well as cause reproductive and nervous system problems. Source.
Formaldehyde is a colorless gas and is commonly used as a preservative (remember those stinky frogs we had to dissect in biology class?). When formaldehyde comes in contact with your skin or nails, it can cause problems like contact dermatitis, blistering, and chemical burns. Even exposure to low amounts of formaldehyde can lead to skin, eye, and respiratory problems. Higher levels of exposure has been known to cause cardiovascular problems. Source.
Toluene is an industrial solvent that can pass through the blood-brain barrier. This chemical then interacts with critical neurotransmitters, and can also include side effects like vertigo, seizures, coma, cerebral and cerebellar degeneration, seizures, decreased cognition, blindness, and more. Source.
None of Keeki's products contain any of those ingredients. Just out of curiosity, I counted the number of ingredients on one of my old bottles of nail polish and it had 35 base ingredients, most of which I could not pronounce (and included the toxic trio). If it was a shimmery/glittery variety, that added another 10 ingredients. Oh, and to my horror, it also contained aluminum. Awesome. Just awesome.
Keeki nail polish ingredients: Water, acrylate copolymer emulsion (EWG rating = 2), glycol ethers (EWG rating = 0). Depending on the color, the polish may contain mica (CI 77019), red (CI 15850), blue (CI 77007), white (CI 77891), green (CI 77289) or black (CI 77499) pigments.
What Did I Try?
I was able to try three of their nail polishes, along with their nail polish remover (specially formulated for their polish), and one of their lip shimmer sticks. The three nail polishes that I tried are:
I am not going to lie. As excited as I was about trying the polishes out, I was skeptical. I really didn't know how a non-toxic variety was going to give me the color, coverage, and durability that I have come to expect from my favorite brands of nail polish. It's almost like I thought nail polish needed all of those chemicals to work. I had tried non-toxic brands of nail polish before (years ago) and they never lasted for more than a day without starting to chip or peel. I'm hard on my hands and feet, so I'd like a polish that would stay put for at least a few days, if not a week, before I need to touch up or re-paint.
The Cherry Pie was the first one I tried. I prepped my toes and opened the bottle. When you first put the color on, it seems more pink than red. I was thinking it was more of a bright pink after I was done applying, but as it dried, it turned into a darker, rich cherry red color. I painted my toes on a Friday, and then proceeded to go barefoot and sandal-clad for the next few days. I didn't get my first chip until the following Thursday, so the nail polish remained chip-free for almost a week. Impressive, considering how rough I am on my feet! I would say that this polish actually adheres to my nails better than the old brands I used to use, making it a much more durable choice for me.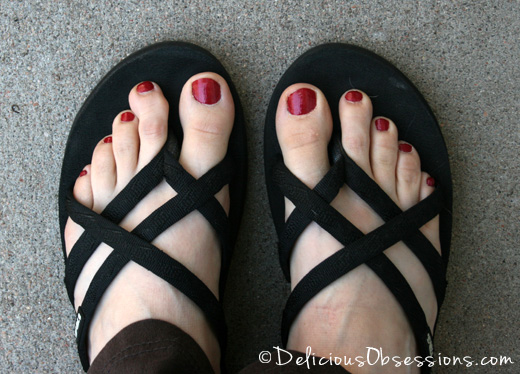 I personally prefer the darker and brighter colors on my toes and then a lighter, more nude color on my fingers, so the Graham Cracker was perfect for my fingernails. I have never had good luck with polish on my fingernails, considering that I'm constantly working with my hands. I am used to the polish on my nails chipping after a day on my fingers. I did have one small scratch on one of my nails after one day, but no actual chips for two full days. Not too shabby, IMO.
The Chocolate polish was the last one I tried and it went on my toes. As with the Cherry Pie, it held up well to my abuse – I'm always barefoot or in sandles. I went for almost a week before I noticed my first chip. It is really dark, once it dries, it's almost black (as you can see in my photo below), so if you're not into super dark colors, this one may not be a good choice. They have several color options in the brown family though, so lots to choose from!
All in all, I was really impressed with the polish. I found that it seems to dry a lot faster than other polishes, which was nice. It's tacky for just a couple minutes and fully dry in under 10 minutes. The con of the quick dry is that you have to make sure you get that layer on smooth the first time, because you don't have much time to go back and smooth it out if you miss a spot. Just use even strokes and make sure the brush isn't overloaded.
Their nail polish remover is specially formulated for their own nail polishes. And, let me tell you. Their remover smells SO good. One thing I always hated was nail polish remover. I could not stand the smell, but considered it a necessary evil. I was thrilled when this not only smelled pleasant, but actually smelled almost good enough to drink, though I won't go that far for the sake of the review! 😉
Traditional Nail Polish Ingredients (may vary from brand to brand): Acetone, Ethyl Acetate, Alcohol, Propylene Carbonate, Water, Dimethyl Glutarate, Dimethyl Adipate, Dimethyl Succinate, Glycerin, Diglycerol, Artificial Fragrance, Isopropyl Alcohol, Denatonium Benzoate, Benzophenone 1, Gelatin, Artificial Colors.
Keeki Remover Ingredients: Corn alcohol, butyl diglycol, Aloe Vera extract, Vitamin E, embittering agent.
Now, the butyl diglycol has a rating of 3-4 by the EWG's database, so yes, there is probably some risk with this ingredient, but compared to the products I was using, I am OK with this. One thing I noticed is that it does take a bit more elbow grease to remove the polish with this remover. I felt like I had to rub the nail longer than I normally would, but this really didn't bother me that much. Not sure if it's just me — maybe my nails are extra porous and that's why it takes longer? In any case, you may spend a little more time than you're used to removing the polish.
The last product that I tried was one of their lip shimmer sticks. After nail polish, lip gloss is my next favorite cosmetic item. I very rarely wear makeup. Only for SUPER special occasions. But, I will never be caught without some sort of lip gloss or chapstick. I typically make my own chapsticks and they can be found scattered throughout the house in every single room. I tried their Ooh LaLa Shimmer lip gloss, which had a slight plum color that just brightened up my lips a tad, but was not enough to feel like I was wearing lipstick.
Shimmer Ingredients (asterisk means organic): *Beeswax, *Cocoa Butter, *Coconut Oil, *Sunflower Seed Oil, *Peppermint Oil, *Vanilla Flavor & Mica.
Final Thoughts
I am quite pleased with their products and I am happy that they allowed me to test them out. I am also happy that I now have a source for non-toxic nail polish, so that my fingers and toes don't have to be naked anymore! 😉 While I am pretty much as far away from being a "girlie-girl" as you can get, when it comes to polish, I am a bit enthusiastic! I hope you'll check out their site and perhaps give their products a try. I'd love to hear from you if you've tried their products before. Leave a comment below and let's get the discussion started!
*Advertisement from one of my trusted affiliate partners*

Delicious Obsessions is a participant in the Amazon Services LLC Associates Program, an affiliate advertising program designed to provide a means for us to earn fees by linking to Amazon.com and affiliated sites.Read our full terms and conditions here.