FTC Disclosure: This post contains affiliate links which means if you make a purchase through one of these links, I may earn a small commission on your sale which allows me to cover a portion of the cost of running the Delicious Obsessions site and free content we provide every week. This has no effect on your price and is simply a cost of doing business from the company you purchase from. I only recommend products or services that I have personally tried and love. You can view it like leaving a tip. Thank you for your support!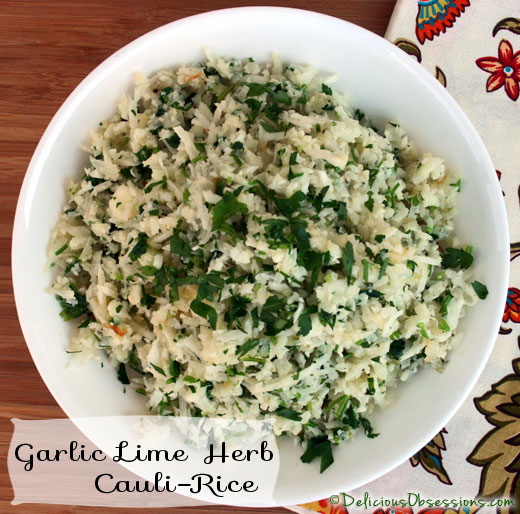 Going grain free was not that difficult for me. The only grain that I actually miss is rice. Some things just need rice. Then, I started noticing all of these Paleo and Primal bloggers talking about cauli-rice. What on earth was that, I thought? Come to find out cauli-rice is a delicious substitute for regular rice.
I have paired this with a wide variety of dishes and it tastes great. I've eaten it with creamy Italian dishes, spicy Chinese and Mexican dishes, even cold with some canned salmon and lemon juice. It also makes mighty tasty fried rice too. While you can make your cauli-rice with any seasoning you like, I must confess that I love the cilantro-lime rice from Chipotle and miss that often. This often hits the spot when I have a craving!
Garlic Herb Lime Cauliflower Rice (Cauli-Rice)
Ingredients
1 head of cauliflower
1/2 cup chopped cilantro
1/2 cup chopped parsley
5-10 cloves of garlic (the more the better, IMO)
1 lime
sea salt and fresh ground pepper to taste
coconut oil for sautéing
Instructions
Finely dice the garlic cloves and herbs.
Wash the head of cauliflower, remove the stem/core, and break into smaller chunks.
Using a food processor or a box grater, shred the cauliflower. I use the small shredder disk on my food processor. It ends up roughly the size of rice.
Heat a couple tablespoons of coconut oil in a large sauté pan over medium heat.
When the oil is hot, add the garlic and sauté until very lightly browned. Add the riced cauliflower.
Stir the riced cauliflower around until coated with some of the oil and place the lid on the pan. You may find that you need to add a tad bit more oil.
Cook for 5-7 minutes and then stir in the fresh herbs.
Replace lid and cook for a few more minutes and then remove from heat.
Add a dash of salt and pepper to taste. Toss with the fresh lime juice right before serving.
Stores well in the fridge for a few days. I have not tried freezing it yet, but I have heard it does well.
If you like what you've read here, please keep in touch! You can subscribe to my semi-monthly newsletter or subscribe to email updates so you never miss a new post. You can also find me on Facebook, Twitter, Pinterest, and Google+. Have a question? Contact me here.
*Advertisements from my trusted affiliate partners*
Paid Endorsement Disclosure: Delicious Obsessions is a participant in the Amazon Services LLC Associates Program, an affiliate advertising program designed to provide a means for sites to earn advertising fees by advertising and linking to AMAZON.COM. This post may contain affiliate links and/or ads. We only recommend products or services that we have personally tried and love. When you make a purchase through any of these links, we earn a small commission on each sale, which allows us to cover a portion of the cost of this site. This has no effect on your sale price and is simply a cost of doing business for the company you are purchasing from. All funds received help with the continued maintenance of this website and free content. You can view it like leaving a tip. Thank you! Read our full terms and conditions here.

Jessica is a real food wellness educator and the founder of the Delicious Obsessions website. She has had a life-long passion for food and being in the kitchen is where she is the happiest. She began helping her mother cook and bake around the age of three and she's been in the kitchen ever since, including working in a restaurant in her hometown for almost a decade, where she worked every position before finally becoming the lead chef. Jessica started Delicious Obsessions in 2010 as a way to help share her love for food and cooking. Since then, it has grown into a trusted online resource with a vibrant community of people learning to live healthy, happy lives through real food and natural living.