FTC Disclosure: Delicious Obsessions may receive comissions from purchases made through links in this article. As an Amazon Associate I earn from qualifying purchases.Read our full terms and conditions here.

I am here to show you just how easy it is to freeze rhubarb!
Summer is in full swing and it's time to start thinking about preserving the season's bounty for the cold, dreary winter months ahead. Here in Colorado, I am freezing up rhubarb to save for pies and other recipes in the dead of winter. I get my rhubarb from my mom and her plants are producing way more than they can eat, so she's happy to share! I am happy to take the excess and toss it in the freezer. Do you also have tomatoes, zucchini, or chard / other greens coming out of your ears? If so, I have tutorials for how to freeze those items as well:
Now, back to rhubarb. Freezing fresh rhubarb for a later date is super easy, so let's get started. Make sure you check out the tasty recipe ideas at the bottom of the post. Don't forget to check out my recipe for Red Raspberry Rhubarb Limeade. It is UH-MAZING. 🙂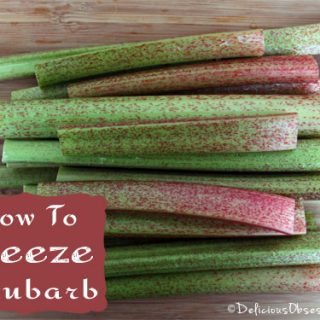 How to Freeze Rhubarb
It's very easy to freeze your rhubarb.
Instructions
Once you have gathered your rhubarb, wash it well and trim off the root end.
Chop the stalks into bite-sized pieces and set them aside.
Start a pot of water boiling. You can either blanch or steam the rhubarb, but I prefer blanching, as steaming is not as consistent.
While your water is heating, prepare an ice bath.
Once your water is boiling, place your rhubarb in the water for 2-3 minutes.
Strain off the rhubarb and toss it in the ice bath as quickly as possible to stop the cooking.
Let the rhubarb stay in the ice bath for 5-10 minutes so it's completely chilled. Most, if not all, of the ice will be melted.
Pour off the water and let the rhubarb drain in a colander.
Line a few cookie sheets with parchment paper and then spread a single layer of rhubarb on each pan.
Place in the freezer for an hour, or until mostly frozen.
You can now transfer to your freezer bag or other container. I like to pick up the edges of the parchment paper and create a funnel that easily dumps the rhubarb into my container.
Now you can easily scoop out the right amount for whatever recipe you need!
Will keep in the freezer for 9-12 months.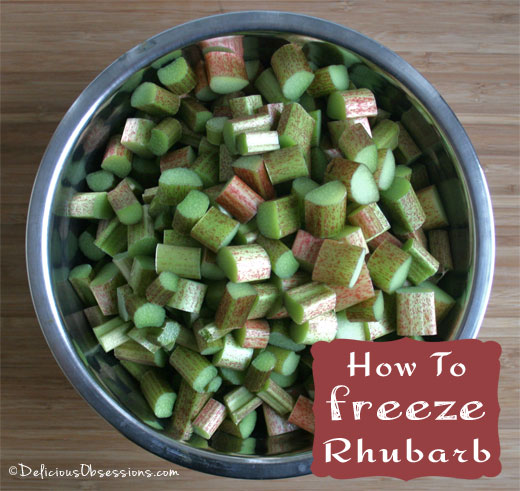 What Do I Do With All This Rhubarb?
I love rhubarb. It is high in vitamins C, A, and K, as well as calcium and manganese, among others. I actually like it fresh and raw. Some people think I'm weird, but I love the tartness of it. It's like eating a lemon wedge (yes, sometimes I do that too). 🙂 If you're new to using rhubarb or just need some new ideas, check out these delicious recipes gathered from around the Web. Some of these will have some non-real food ingredients in them, but they are easy to substitute. I tend to look at recipes for inspiration and then tailor them to suit my own dietary needs. Many rhubarb recipes call for tons of sugar, but you can often dramatically reduce the amount of sugar you use, or use other natural sugar-free options.
What is your favorite way to eat rhubarb? Do you have a favorite recipe? Leave a comment below!

Delicious Obsessions is a participant in the Amazon Services LLC Associates Program, an affiliate advertising program designed to provide a means for us to earn fees by linking to Amazon.com and affiliated sites.Read our full terms and conditions here.